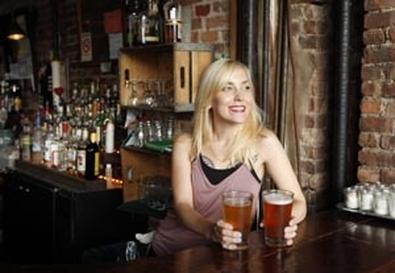 Jaime Andrews moved to New York five years ago to pursue a film degree at the School of Visual Arts. When she graduated last year, she found that she no longer had to worry about balancing her two part-time jobs (coordinating an SVA film festival and doing the blue polo shirt thing at Best Buy) with school. Instead, she suddenly had to worry about balancing real-world work with her creative pursuits. Like so many performers trying to catch their first breaks in New York, Andrews—a comic who performs with the sketch group Pink Axe at venues such as the Upright Citizens Brigade Theatre and the Peoples Improv Theater—found that a full-time job wasn't leaving her the spare time she needed.
"I of course started looking for jobs in my industry, in the film world," Andrews says. "I worked for a production company for a couple months, and it's kind of difficult when you want to work on your own projects. I think it's easier to get a job like bartending in the service industry. You go there, you do what you need to do for a couple hours, then you leave. I found it difficult to leave the production office, come home, clear my head, and work on my own stuff."
So now, two nights a week, Andrews tends bar at Buttermilk, a popular no-frills dive in the south end of Brooklyn's Park Slope neighborhood. Leaving the kind of steady office job that many film-school grads would be happy with in order to sling suds wasn't an easy decision to make—but it was, Andrews says, the right one. "Having a four-year degree, it's probably not fun for my parents to say, 'Oh, Jaime's bartending.' But at the same time, and I know it sounds corny, I believe in myself, and sooner rather than later I know that I'll be able to do what I want to do full time."
Until then, bartending gives her the daylight hours she needs to work on the Web series, feature script, and TV pilot she's developing and to perform with and shoot videos for Pink Axe. Of course, New York bartending jobs aren't always easy to get. Performers who think the service industry might suit them but who don't have experience toting trays or pouring drinks could always follow Andrews' example.
"I never actually bartended before, so I lied and said I did," she says. "It's a dive bar, so it's all mixed drinks, shots, and beers."
You're Fired
Shelleen Kostabi is a dancer, singer, and actor who moved to New York six years ago to attend the School for Film and Television (now the New York Conservatory for Dramatic Arts). After graduation, she found success as a choreographer, working on shows such as the Irish Repertory Theatre's "Beowulf." But soon choreography was taking up so much of her time that she found herself drifting away from acting.
Opting for a course correction, Kostabi quit choreographing and signed up for temp work with a promotional agency, "doing all that crazy stuff where you see people on street corners in yellow jackets, promoting whatever it is," she says. The work gave her time to pursue acting but left her ego bruised. "I was standing around in weird costumes, literally standing in one place all day trying to sell something to somebody. A lot of actors do that. Every single person who I've worked with as an actor has done it."
Kostabi soon got tired of the job. She then took a well-paying position as an assistant at an interior design firm, but her boss was "totally like 'The Devil Wears Prada.' " Leaving the office one day in tears from the stress, she was so hysterical and distracted that she walked smack into a fellow pedestrian. "I literally face-planted Donald Trump," she says. "My mascara print was on his shirt. He just grabbed me by the shoulders. At first he was probably going to chuck me out of the way, but then he looked and saw how distressed I was and told me, 'Pull it together.' "
Trump moved on with life, and Kostabi, following his instructions, pulled it together. She eventually was hired as a receptionist at Flywheel, an indoor cycling gym. The job has gone so well that she was recently promoted to instructor—a gig that will pay her more money, will require her to work fewer hours, and helps her stay in shape.
"I committed to this job at the beginning of this year, and they have been so helpful to me," Kostabi says. "You don't have to be starving and living out of a car to pursue your acting dream."
Discount Daze
Águeda Ramírez is a New York native who returned to the city in 2005 to pursue an acting career. Since then, she has worked a number of survival jobs. "I got into those things because I heard from people, 'Oh, this is something good to do where you can still go to auditions and make a little bit of money,' " she says. But not all survival jobs, according to Ramírez, are created equal. Her first was as a cater waiter, but she missed out on more than one audition because the company she worked for wasn't flexible when it came to scheduling.
"People take the job because they think they can just come and go," she says. "But if you say you're going to work, people are counting on you to work. Certain jobs are a bit more flexible when you call in because you just got asked to go perform a monologue in front of Tara Rubin."
Two years later, Ramírez took a job at the clothing store Anthropologie. The good news was that switching shifts with co-workers to accommodate auditions was easy. The bad news was that the pay was low, and much of Ramírez's went toward replenishing her wardrobe.
"It's not a lot of money," she says. "And you have to have discipline, because when those employee discount days come along, you can be like, 'Ooh, I can just buy a couple things.' No, you can't. You have to pay the cable bill."
Ramírez stresses that no survival job is perfect. Before accepting one, actors should weigh the pros and cons: "I think the thing with all survival jobs is 'How much is it giving me?' You have to think of it in a sustainability kind of way."
EDITOR'S NOTE: The original version of this article misidentified Shelleen Kostabi. The current version has been revised to correct the mistake. Back Stage regrets the error.