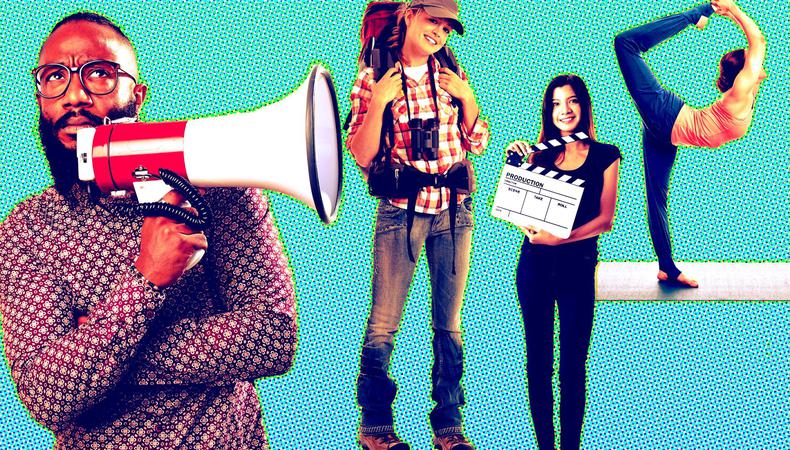 Sure, catering and food service jobs are always a good option for the working actor. But what about the kind of work that keeps your acting muscles toned during dry spells? Particularly during the summer, when actors not employed in summer stock or touring shows need to pay the rent, it's helpful to find a gig that both keeps you in the black and develops performance skills. Below are 12 summer survival jobs, in no particular order, that will make you a better actor.
Tour guide
If you're looking for a gig that constantly puts you in front of a crowd of people, tours are a fantastic option (just ask Broadway star and former guide Patti Murin). Museums, schools, and city tourism boards need energetic types who can memorize information and field questions. In other words, ideal improvisation training!
Theme park performer
Much like tour guides, costumed performers or impersonators are needed every summer at theme parks around the country. Keep in mind that working at a park can be exhausting—and dehydrating!—requiring hours of improv on your feet. But Wayne Brady, Michelle Pfeiffer, and Steve Martin have done it, and look where they are now.
Usher
The benefit to working at a local theater or cinema is obvious: free entertainment! Even if you're shushing patrons or cleaning up popcorn, chances are you're also frequently watching actors do their thing. Ushers must also be sociable but assertive, which are very actorly qualities.
Nanny or babysitter
A flexible gig year-round, babysitting is especially useful in the summer; kids often have different schedules, which means parents are looking for fun, creative people to take care of them at all times. Plus, working with kids leads to recapturing that childlike sense of imagination that actors crave when constructing their different characters.
Camp counselor
Like babysitting but to the nth degree, working as a camp counselor means engaging with children and looking after their well-being. Many summer camps ground their programming in the arts—theater, dance, music—but all camps offer valuable opportunities for actors, who must listen intently to kids while stepping into their role as summertime parent.
Film production assistant
Whether it's preparing props and equipment, operating a boom mic, or assisting directors, behind-the-camera experience is invaluable to any performer. Emmy winner Jon Hamm paid the bills by working as a softcore porn set designer, after all, which no doubt informed his own on-camera work.
Theater company or festival intern
Few summer internships in the theater industry are paid gigs, but even the ones that aren't can provide future acting work. Surrounded by the tastemakers of the theater, interns and apprentices are well positioned by summer's end to take on more responsibilities or even land auditions.
Temp
Here's the secret about temp agencies: They like actors. Temp jobs, which often require receptionist work or collaborating with others in an administrative setting, allow performers to develop their people skills. This option is both the most varied and flexible gig on this list.
Retail
Think acting doesn't demand skills in sales? Think again. Much like actors in front of a live audience or camera, retailers must bring the charm and the know-how to their jobs, listening closely to others and developing an ability to read their desires.
Promoter
A job as wide-ranging as it is flexible, working as a promoter requires many of the skills possessed by ideal actors. Whether it's handing out fliers or even dancing in a flash mob, a promoter is the ultimate people person: enthusiastic, brave, and an excellent listener.
Yoga instructor
Becoming a yoga (or Pilates, Zumba, or any kind of fitness dance) instructor may not seem related to the acting profession. But think about it: an entire summer of getting into excellent physical, spiritual, and mental shape? Auditions will be rendered stress-free by your zen.
Lifeguard
Similarly, lifeguards must be in impeccable physical shape; achieving certification alone requires real brawn and dexterity. Ask any casting director: It doesn't hurt to be hot. And just imagine the look on that one acting rival's face when you return to the audition waiting room fit, relaxed, and tanner than ever.
Inspired by this post? Check out our audition listings!