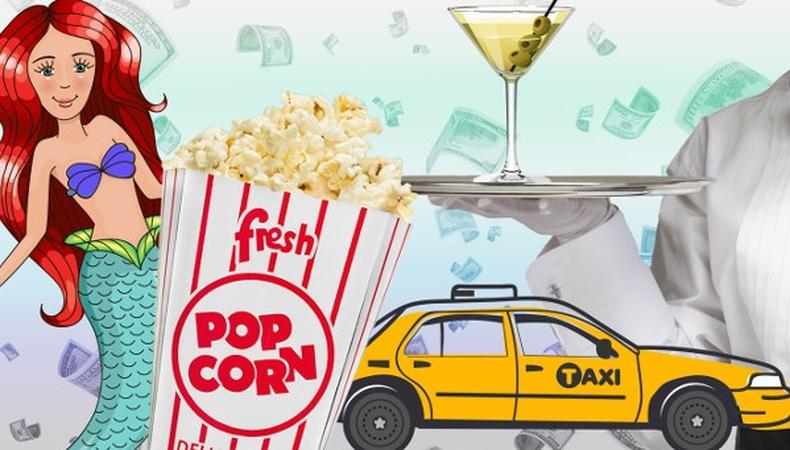 We all have different measures of what it means to be successful, but there's one thing we can probably all agree on: Being able to say we've made a living solely from being a performer is a biggie! As is the ability to pay your rent in the ridiculously expensive city you moved to to pursue your dream—and with the check you received from your Equity contract or series guest role. It's one of the most rewarding feelings after what's presumably been a good handful of years struggling between gigs.
But until we help you get to that point, landing the right survival job is essential. The ideal position provides flexibility so you can make it to your auditions, offers steady and decent pay, and doesn't suck the life out of you. We spoke to dozens of accomplished and award-winning actors in everything from "The Handmaid's Tale" to this year's Oscar winner "Moonlight," plus some of our Experts, about the survival jobs that pulled them through the tightest of days. From the tried-and-true to the more obscure, keep reading for some ideas on where you can make your hustle before you catch your big break!
BARTENDING
It's a classic go-to for actors in big cities because the money's decent if you're at a busy bar, and the hours are usually at night, leaving your days wide open for gigs and auditions!
"I was a bartender for a pretty long time," says "The Handmaid's Tale" star Samira Wiley. "I actually remember being cast in a show and I was like, 'All right, this is it! I got it. I made it.' It was a recurring role, and we did the pilot, and the pilot got picked up. Then we did the second episode, and I felt so great—and then they never called me again. When I was bartending, that's when I got the audition for 'Orange Is the New Black,' and I was so afraid that [my character] was going to get out of prison or just not be written in anymore or something like that, so I did not stop bartending the entire time we filmed Season 1. I just felt like I was not going to be asked back. I would film all day and then I would work on weekends and I would work at night. It's actually pretty funny now that I think about it."
AIRLINES
For current "Claws" star and two-time Emmy nominee Niecy Nash, the airport was where she made her money before finding success as an actor. "I worked reservations for United Airlines, and that wasn't even a bad job because I got to play different characters when I answered the phone. But then you'd put someone on hold and come back and not remember the character you were playing!"
TEMP WORK
"If you are good with computers and can type fast, this is great," advises Backstage Expert and New York–based acting coach Matt Newton. "I did this for the first two years I lived in New York and loved it. You work in an office environment with very little responsibility, can make $12–$20 an hour, and you have your nights free. When auditions come up, you either leave your temp job for an hour or call out for the day. You can take jobs that are day-to-day or week-to-week and do theater at night, plus you work the same hours as most of your friends, allowing you to carve out a social life. There are tons of temp agencies in New York and Los Angeles, and some even specialize in entertainment jobs."
Kathy Bates knows exactly what he's talking about. Before an Oscar nomination—let alone a win—was even in the cards for her, Bates was pursuing an acting career and balancing it with her work in a very interesting office.
"I was in Washington, D.C., and I was working as a temp and got hired for one day to work for Ringling Bros. in their accounting department," she remembers. "When I arrived, I took the elevator to the top floor and the doors opened and there was this gigantic gorilla in a cage and there was nobody else there. The secretary had gone and it looked like the people had just vanished. So that was really, really creepy. But after a while, I got a hold of people and then I spent a day there writing down, 'Clown cars, x amount of money. Tigers, money.' "
CAB, LYFT, OR UBER DRIVER
"A guy told me once, he said, 'Listen. Performing is the key to being a good actor,' " says character actor and '80s TV star William Devane. " 'Guys who go to work as bartenders and waiters and things like that, they satisfy their performance instincts doing that kind of a job. What you want to do is a job where you're a little closed off. Drive a cab. You're one-on-one with people and you don't have a need to perform and you don't have any feedback from performing. You want to save your performance for when you're working [as an actor].' So I drove a cab for 10 years in New York."
Driving people from one destination to another is also a great source for material for when you do perform, according to Jack Falahee ("How to Get Away With Murder"). "I was driving the graveyard shift overnight, when I would get a lot of intoxicated people in the back of my car, and you would see all sorts of characters," he says. "I had this little journal where I would write down passengers' characteristics that I found interesting."
What do you need to become a cab, Lyft, or Uber driver? A registered vehicle made in 2006 or later (for Uber, specifically), a designated driver's license and plates fitting your city's requirements, car insurance, to pass a background check, and be 21 or older. You can set your own work hours and make it to your auditions without having to answer to a boss! Plus, chances are you'll already be in your car—and have already made enough to pay for parking.
ON-SET CREW
Did you know Emmy winner Jon Hamm was a set dresser for softcore porn? While you don't have to go into that specific genre of filmmaking, learning your way around what goes on behind the camera can only benefit you as an actor. From how lighting works to how the boom operator thinks, gaining more expertise about crew members and their jobs will undoubtedly inform your on-camera work.
USHER
"The benefit to working at a local theater or cinema is obvious: free entertainment! Even if you're shushing patrons or cleaning up popcorn, chances are you're also frequently watching actors do their thing," says Backstage awards editor Jack Smart. "Ushers must also be sociable but assertive, which are very actorly qualities."
Actors agree: "My first great [survival job] was the Angelika Film Center. I was an usher," says Gretchen Mol, who's had roles on "Boardwalk Empire" and "Mozart in the Jungle," and can now be seen on Hulu's "Chance" opposite Hugh Laurie.
"My brother was at NYU film school, so he was here first," she recalls, "and whenever he got a new job, I would always get a job there shortly afterward. He was working there in the great days of independent films, and it was so fun because you had to announce the lineups. It wasn't just picking up the popcorn—you really felt the importance of cinema and what was happening, and people [were] really excited to see the film."
SINGING WAITER
It keeps your singing skills sharp, as well as teaches you to stay focused while juggling multiple things at once!
"I was a singing waitress for many years at a restaurant in Los Angeles called the Great American Food & Beverage Company, and in order to get a job there you had to have some kind of talent," recalls Katey Sagal, Golden Globe winner for "Sons of Anarchy." "That was kind of a fun job because I got to sing, but I was a for-shit waitress. I was the worst waitress. I'd get your order wrong. I'd get mad if you were rude. I was not pleasant. But I actually made pretty good money because I could sing and play and entertain you and then…always be forgiven."

TEACHING
Nick Kroll recently made his debut on Broadway alongside fellow funny guy John Mulaney with "Oh, Hello" (which premiered on Netflix June 13). But the comedian has always been eager to share his talents.
"The main job I had before I was able to transition over to acting full-time was working at an afterschool program at a middle school, teaching improv and standup," he says. "So even when I had a regular job, I was still lucky enough to be doing the stuff I loved in some way. It was hilarious that I was teaching a class on improv, because I barely knew what I was doing on my own. But sometimes teaching does help you clarify what you believe and how you want to do things, so it was pretty useful."
PERSONAL ASSISTANT
Character actor and New York City native Griffin Dunne was a personal assistant to some very interesting people in his survival job years, a position at which he openly admits he was "terrible." "I got one job with a very rich, very elegant older actress, and she lived in the Dakota, where she would have dinner parties. Her best friends were Tennessee Williams and Truman Capote, and I was this young kid and I'd run the bar at those parties and get pinched on the ass by Tennessee. It was one of those crazy jobs while you're hoping to be an actor. But they're experiences!"
PARTY ENTERTAINER
"I would entertain children's parties as the Little Mermaid," Broadway actor Kerry Butler tells Backstage. "It was actually a good job because you could make good money—the bad part was you had to drive to the party in your costume, and as Ariel I couldn't really walk.
"The birthday party would be in the middle of this park in Harlem, and I'd have to hop with my fin on, with people staring at me. And then sometimes they would hand me my costume and things would be missing. One time, I had short brown hair and my Ariel wig was missing. I had to show up and all the kids were like, 'You're not Ariel!' They were all mocking me. 'You're not the real Ariel!' "
Creators are always seeking actors to portray princesses, superheroes, and cartoon characters for children's parties! Check out our Entertainment Jobs & Crew section at backstage.com/casting to see if there are any events happening in your area that fit your needs.
Looking to get cast? Apply to casting calls on Backstage.