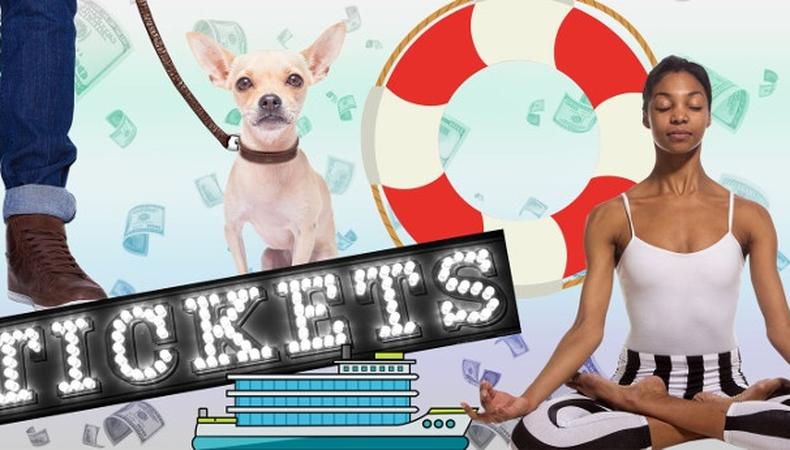 We all have different measures of what it means to be successful, but there's one thing we can probably all agree on: Being able to say we've made a living solely from being a performer is a biggie! As is the ability to pay your rent in the ridiculously expensive city you moved to to pursue your dream—and with the check you received from your Equity contract or series guest role. It's one of the most rewarding feelings after what's presumably been a good handful of years struggling between gigs.
But until we help you get to that point, landing the right survival job is essential. The ideal position provides flexibility so you can make it to your auditions, offers steady and decent pay, and doesn't suck the life out of you. We spoke to dozens of accomplished and award-winning actors in everything from "The Handmaid's Tale" to this year's Oscar winner "Moonlight," plus some of our Experts, about the survival jobs that pulled them through the tightest of days. From the tried-and-true to the more obscure, keep reading for some ideas on where you can make your hustle before you catch your big break!
DECK HAND
It's been a momentous few years for recent Oscar winner Mahershala Ali, who followed up his magnetic turn on "House of Cards" as Remy Danton with an even more captivating performance in "Moonlight" that left us wanting more. But before he was holding golden statues and giving acceptance speeches, Ali was on a boat. "I used to work as a deck hand on these ferry boats in San Francisco, and they did day tours," he recalls. "It wasn't a bad job. I made decent money. But you were sitting down all day, tying up the boat, wiping it down. For some guys that's a dream job, but for me it was kind of torture." Where do you stand on deck work?
LIFEGUARD
Vince Vaughn was a YMCA lifeguard long before he got on the map with parts in films like "Swingers," "Dodgeball: A True Underdog Story," and "Wedding Crashers." "Lifeguards must be in impeccable physical shape; achieving certification alone requires real brawn and dexterity," says Newton about the gig. "Ask any casting director: It doesn't hurt to be hot. And just imagine the look on that one acting rival's face when you return to the audition waiting room fit, relaxed, and tanner than ever."
BUSSER
If you can't or don't want to get a job as a waiter or bartender, being a busser will get you the same flexible hours of the restaurant business without having to take all the orders (from the patrons, not your boss). "I was a busboy at the Art Institute of Chicago in the café, which is outside," says Sean Gunn, star of "Guardians of the Galaxy" and its recent sequel. "It was summer in Chicago and the place was in shambles and no one cared about anything. It was really something."
OFFICE MANAGER
"When I first moved [to New York City], I had a friend I knew from summer stock," recalls theater and TV actor Marin Ireland of Amazon's "Sneaky Pete." "She was one of the only people I knew who lived here full-time, and right when I moved here, she was going out of town to do a play, and she let me sublet her apartment. I was trying to get temp work for a couple of weeks, and after I moved in, she was like, 'I'm never moving back.' She fell in love and moved to Saranac Lake, New York. It was insane. But she gave me her day job! When I was in college, I bussed tables and I was a barista at a coffee shop, but I didn't have the restaurant experience to wait tables in New York. So I was trying to get office work, and she was an office manager at a school—you could set your own hours, and she just gave me the job. I got to inherit it from her."
Office work in general can be a good fit for actors! Oscar nominee Carol Kane of Netflix's "Unbreakable Kimmy Schmidt" used to work at Backstage licking stamps and envelopes! "I had that job even after I did 'The Last Detail,' " she says. "Literally, I was just putting mailers in envelopes, licking them closed, and putting stamps on them. I worked in a health food store, I worked in a candy store. For some reason, I never did wait tables, but I did work a lot of tedious jobs—but I was just proud to be earning my living."
TICKET SALES
Michael Potts recently made a splash with his phenomenal performance in August Wilson's Tony-winning revival of "Jitney." As an actor looking for work in New York City, Potts found some of it at the Metropolitan Opera, in its phone ticket sales department. "I don't know if you know Lincoln Center that well, but there's a huge pool right in front of the theater," he says. "Well, right below that pool is where the office that I worked in was. So [I was] basically underground all day, on phones, selling opera tickets. I had to learn how to pronounce a lot of the German and Italian operas, know the various singers, and give people information on who would be singing that night, where they last sung, what the story's about. And then listening to them buy tickets that could've paid my rent and all my bills for the month. Like, Wow! What I'm getting paid is just pocket change for you. And they were serious, these opera aficionados. They were very serious about it. I thought, Maybe I need to get into opera!" (We're glad he stuck to acting!)
PERSONAL TRAINER/FITNESS INSTRUCTOR
Rewatching episodes of "Orange Is the New Black" when he was playing Officer John Bennett, it's clear Matt McGorry had experience in the fitness realm.
"I was a personal trainer for 10 years and I was lucky enough to love and enjoy that," he tells Backstage. "It never really occurred to me at the time that it was a survival job, because I found a lot of fulfillment [in it]. Life is a marathon, not a sprint, and I think in many ways, pursuing incremental fitness goals is the same as pursuing career goals. For example, powerlifting is so objective: Either the weight goes up or it doesn't go up, and if it doesn't, you need to find a new way to approach it and give yourself hope you can still push forward and succeed. I think it's the same in many ways with acting. I would set myself up to book five co-star roles, [and they were] the bare minimum achievements I'd need to feel like I'm moving forward."
RETAIL
Even if they're not in the audition room, make fans anywhere you go, because you never know when you're going to need them. That's a lesson "Dr. Ken" star Suzy Nakamura learned after she left her survival gig and had to return. "I worked at Crate and Barrel in Chicago for a couple of years and I left to be an actor full-time. They threw a huge goodbye party, and my co-workers even made me a T-shirt that had the years I was at Crate and Barrel on it," she says. "And I think I made it about six months and I had to come back because I couldn't sustain myself. I didn't go back to the same store, but my manager had moved to another one so I followed him to the new store and worked there probably for two or three more years. It taught me a lot—you've never made it, you're always on the hustle."
And working in retail teaches you how to hustle! Because if you think a successful acting career doesn't require you to sell something, you're in the wrong business. You're the product! Question is, who can you get to buy it?
TOUR GUIDE
If you live in a city with a decent tourism industry, becoming a guide can be a great way not only to make a buck, but to get in front of a captive audience, keep you memorizing material quickly and your entertainment and improv skills sharp, and, of course, learn more about where you're based.
Theater legend Beth Leavel knows! "I got to see the Statue of Liberty and the U.N. and the World Trade Center and the Empire State Building and Times Square, so I was really just as much of a student as they were. It was an adventure," she tells us. "I remember one time I had to take a group during one of those fluke April blizzards, and I had a group of Southern students in little skirts and pumps at the U.N. and the sky just collapsed into a blizzard. Trying to get them in cabs back to the Edison Hotel...was memorable. They did it, and no one died!"
SUMMER CAMP COUNSELOR
As Kroll mentioned earlier about being an afterschool teacher, there's something about explaining something to a young child that has the potential to illuminate aspects for you about your own craft. Plus, it feels good! Emmy winner Carrie Preston, who's currently on TNT's "Claws," taught at a theater camp for kids before she became a full-time actor. "[That was] good because I was one of those little theater kids who had stars in my eyes and loved it so much," she says. "I was the kid who started her own theater company in the backyard in the seventh grade. It's always fun to pass on what I've learned to the younger people."
TELEMARKETER
"I was a telemarketer for the University of Michigan, trying to raise money for the alumni foundation—which I was really good at! But the hours went by so slowly," remembers Broadway star and three-time Tony nominee Celia Keenan-Bolger. "You sort of just sat in this cubicle and called alumni and asked them for money. That was bleak. But it wasn't labor-intensive and it paid pretty well, so it was a pretty good college survival job."
DOG WALKER
Backstage Expert, experienced working actor, and acting coach Newton was a dog walker for his first year in L.A. "If you love dogs and being outside, this is a great option," he says. "Early morning, late evening, and weekend hours make it very easy to balance with auditions. You can freelance by putting up fliers and handing out business cards, or you can work for a staffing company (sort of like a temp agency) that will take a cut of the fee and give you lots of opportunities."
THEME PARK PERFORMER
Broadway star and originator of the title role in "Aladdin" Adam Jacobs got his start in a theme park! It was great preparation for the eight-performances-a-week schedule working on the Great White Way demands, he tells Backstage. Taking on roles as impersonators and costumed performers not only helps keep your improv skills sharp, it also helps you narrow down a specific type as it applies to the superhero and princess demographics. Others who got their starts in theme parks? Wayne Brady, Michelle Pfeiffer, and Steve Martin! The Six Flags in Jackson, New Jersey, is hiring actors to play Justice League characters from now until July 31.
NANNY OR BABYSITTER
A flexible gig year-round, babysitting is especially useful in the summer; kids often have different schedules, which means parents are looking for fun, creative people to take care of them at all times. Plus, working with kids leads to recapturing that childlike sense of imagination that actors crave when constructing their different characters.
YOGA INSTRUCTOR
The benefits of yoga are so undeniable, there's a list of already accomplished actors, including Emma Watson and Demi Moore, who became certified even after they'd found success in Hollywood. "Becoming a yoga (or Pilates, Zumba, or any kind of fitness dance) instructor may not seem related to the acting profession. But think about it," implores Newton, "an entire summer of getting into excellent physical, spiritual, and mental shape? Auditions will be rendered stress-free by your zen. If you are physically fit, work out, and are interested in health and nutrition, this is a great option (with very flexible hours). You decide how hard you work, how many clients/classes you have, and how much money you make. You need to get a certification, and some gyms even offer free membership to teachers/trainers as well."
DISASTER CLEANUP
"There was a chemical fire on a building site, and I and a bunch of friends got a job having to clean up," Toby Stephens, best known for his work on Starz's "Black Sails," tells Backstage. "Basically, we had to scrub all of the metal parts of this building site to get all of these corrosive chemicals off from this fire. It paid quite well, I seem to remember. They couldn't get anyone else to do it!"
READ: 13 Actors Who Started Their Careers as Models
PROMO WORK OR MODELING
Modeling can be a great way to not only keep yourself busy between auditions, but also to get your foot in the industry door. January Jones, Ashton Kutcher, Cameron Diaz, and Vanessa Williams all started out as models. And look at them now! Backstage has plenty of casting notices for modeling gigs, both for print and on-camera opportunities. Remember, this doesn't have to stay a side gig; if you find you really love posing in front of the camera, consider modeling full-time!
Looking to get cast? Apply to casting calls on Backstage.