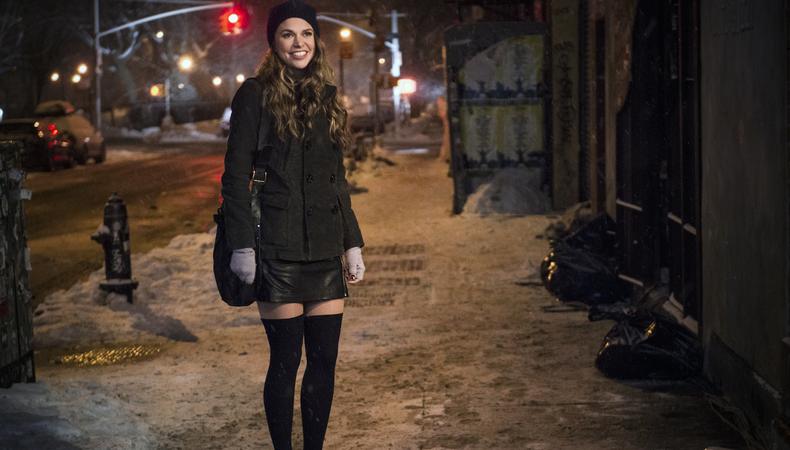 Unbeknown to junior editor and millennial Kelsey Peters (Hilary Duff), Liza Miller (Sutton Foster) is a 40-year-old woman pretending to be a girl in her 20s. "She's 43. She says she's 41 but trust me, I know," Kelsey tells Liza of their boss, Diana Trout (Miriam Shor). "She lies about her age. How pathetic is that?" Liza nervously nods in agreement, trying to keep cool as she weaves the web of lies that lay at the foundation of TV Land's new sitcom "Younger."
From "Sex and the City" mastermind Darren Star, "Younger" follows single mother Liza, who finds herself returning to the workforce only to realize her age and experience make getting a job more difficult. After being mistaken for a 26-year-old by tattoo artist Josh (Nico Tortorella), Liza decides to go with it and give her career, love life, and 20s a second chance.
With the help of her friend Maggie (Debi Mazar), Liza's look and mind are made over—highlights in her hair, a wardrobe reboot, some One Direction knowledge, and, of course, an email address change from AOL to Gmail complete the transformation. Fibbing about her age works, and she ends up working alongside Kelsey at a bigtime publisher.
Premiering March 31, the show's masterfully assembled cast agrees on two things that brought them together: The script was phenomenal, and…you don't say no to Darren Star.
"I thought the script was so great and relevant," says Shor, who plays "the boss from hell," as she calls her, and who worked with Star on the 2012 series "GCB." "He asked if I would come in and test for this role and I was, like, 'Yeah,' 'cause why would I say no to Darren Star?"
The gig came similarly to Duff, whose agent sent her the script and reported that the show's creator really wanted her for the part. "Darren was, like, 'I really see you in this. I really love you; I want to write for you,' " she says. "And how do you say no to that?"
For Mazar ("Entourage"), however, auditioning for the esteemed showrunner was a nerve-racking experience. "He's very specific; he wants to hear his words and he knows what he wants," she explains. "I was a little shy because he stares at you and has this very Cheshire Cat smile. I didn't know how to feel when I walked out!"
Coming off her leading role in Broadway's "Violet," Foster considers herself just a sophomore in the world of television, and was eager to get back after a two-year break since the end of ABC Family's "Bunheads."
"I got the script and, like, read it right away standing in my kitchen," recalls Foster. "Usually when I get scripts I read them a couple of times and go, 'Mm, I don't know,' and [with this one] I don't even think I sat down. I just stood there and read it.
"I remember that I thought, Oh, this is a character I think I could play, 'cause I was falling between the cracks a little bit [in my own career]," she adds.
Foster turned 40 on March 18, a defining age for female actors as cemented by countless recent acceptance speeches, comments in the media, and examples in Hollywood. As Amy Poehler joked at the Golden Globes this year regarding Patricia Arquette's performance in "Boyhood," " 'Boyhood' proves that there are still great roles for women over 40 as long as you get hired when you're under 40."
So for Foster, the role of Liza enables an individual opportunity to mature as an actor on camera, making it a transition for all to see.
"I was going in for age-appropriate roles, but I was reading young for them…which is a wonderful problem to have," she says, laughing.
"I'm too old to play the ingénue, so all of a sudden I went, 'Oh my God, it's like my life right now!' I think this is a fun way to bridge the gap into old, spinster-y character women," she adds.
But while age and experience are at the foundation of "Younger," the show's humor doesn't discriminate, providing a little something for everyone, according to Shor.
"There's an element of silliness and then an intellectual element, and they're not afraid to swing between the two," she explains.
References to Jane Austen and Lena Dunham exist side by side, a tool that keeps audiences of all ages engaged while allowing a glimpse of just how endearingly out of touch Liza can seem. She might be lying to get ahead, but Star and Foster make her someone you can't help but champion.
Inspired by this post? Check out our television audition listings!