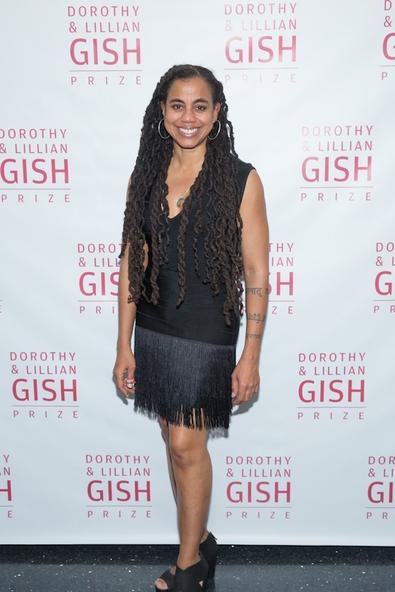 The Public Theater played host to an awards ceremony honoring one of its own Nov. 30. Suzan-Lori Parks, groundbreaking playwright, novelist, musician, and the Public's master writer chair, accepted the esteemed Dorothy and Lillian Gish Prize, winning $300,000 and becoming the 22nd recipient of the award.
Given to such innovative artists as Bob Dylan, Arthur Miller, Peter Sellars, Anna Deavere Smith, and Spike Lee, the prize was established posthumously by Lillian Gish in 1994. In her opening remarks, Jacqueline Elias of JPMorgan Chase Bank, trustee of the Dorothy and Lillian Gish Prize Trust, read an excerpt from the legendary actor's will. "It has been my desire to contribute through the performing arts to the beauty of the world and to mankind's enjoyment and understanding of life. I have also sought to assist and encourage others who share the desire to contribute to these ends," Gish wrote.
Oskar Eustis, artistic director of the Public, spoke with fondness about this year's recipient. "[F. Scott] Fitzgerald famously said that American lives don't have second acts. Suzan-Lori is vigorously proving that that's not true." A longtime collaborator of Parks, Eustis went on to call her "an artist who is not afraid to share herself, who is not afraid to share her thoughts and her deepest, sometimes most vulnerable, feelings."
Actors Brandon Dirden and Jason Dirden performed a brilliant reading of "Topdog/Underdog," the 2002 play that made Parks the first black woman to win a Pulitzer Prize in Drama. Playwright and screenwriter Tony Kushner opened his rapturous speech by saying, "When you talk about somebody who matters to you, whose work matters to you as much as Suzan-Lori's work matters to me—and I think to everybody who cares about theater or who cares about the world—it's really hard. What you wind up doing is making long lists of adjectives!"
Kushner added that in preparing for his remarks, he re-read all of Parks' plays, compiling over 30 pages of quotes. "No work produced by any English language dramatist of our time surpasses Suzan-Lori Parks for depth, complexity, poetry, originality, insight, and stunning dramatic power," he said.
Parks herself and bandmate Steven Bargonetti took the stage to perform three beautiful songs on the guitar, continuing the musical collaboration that began in last year's Pulitzer finalist "Father Comes Home From the Wars (Parts 1, 2 & 3)," developed at the Public.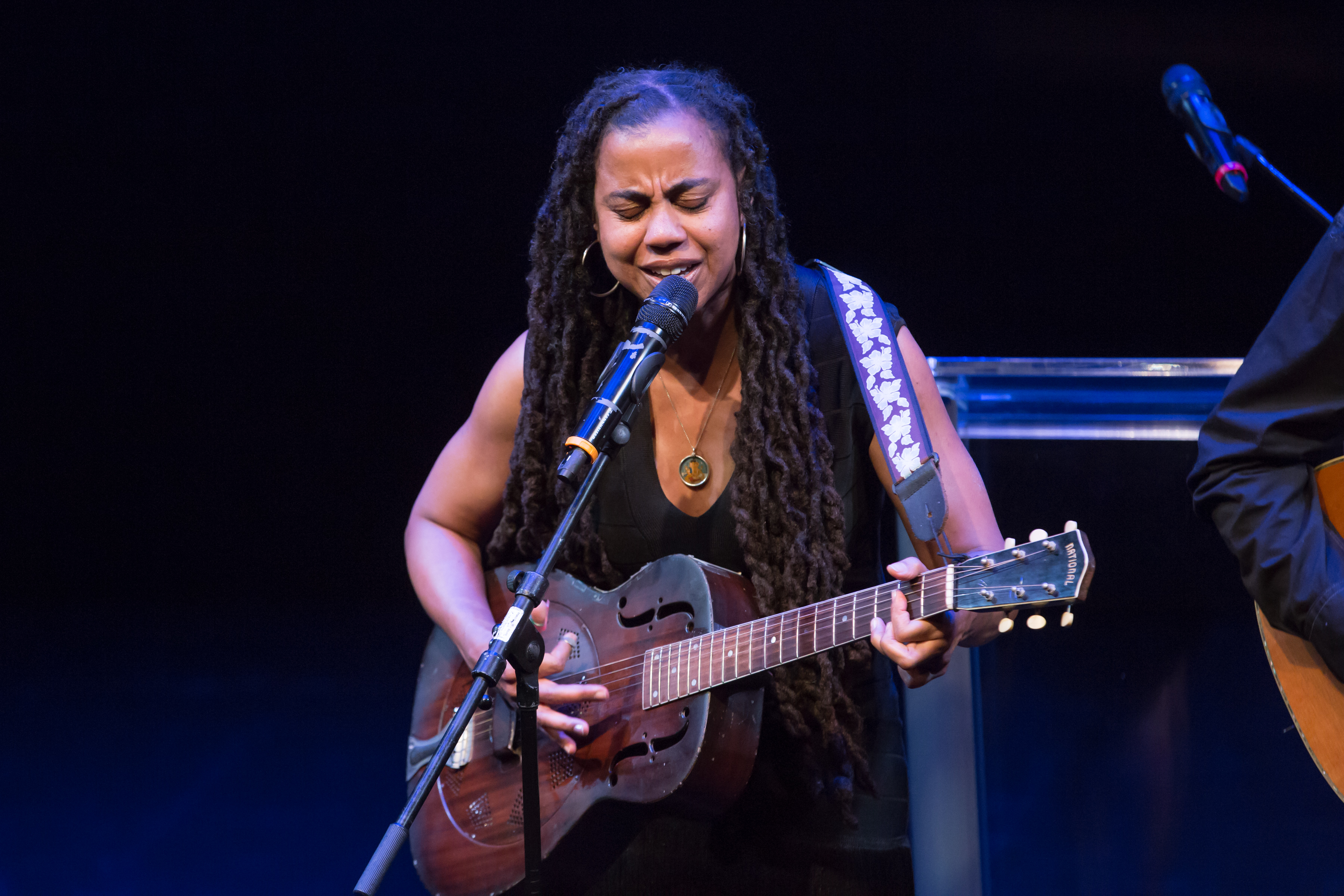 Suzan-Lori Parks performs at the 22nd annual Gish Prize ceremony.
Accepting the prize itself, Parks named her many friends, colleagues, and professors in the audience. "This is bling!" she exclaimed. "They say God doesn't give you what you can't handle. In difficult times I have said that phrase to myself quite a bit; it helps me take the next step, it helps me get out of bed. But in good times, it's also something to say to yourself. I want to thank Dorothy and Lillian Gish for thinking of me, without even knowing me."
She went on to detail her journey as a writer, which continued despite a high school teacher calling her a "lousy speller.... But context is everything. Their advice was not looking far back enough to remember the power of the oral tradition. And of course, they weren't looking far forward enough to see on the horizon the miracle of spell check." James Baldwin, the teacher who later recognized Parks' potential, encouraged her to "give playwriting a try," she remembered. "Which is what I'm still doing today: giving playwriting a try.
"There is so much work that has been done and so much work to be done," Parks concluded. "Here we are, many of us making art, because there is no better testament, no better way in my opinion to demonstrate evidence of the greater good. So the Gish Award gives me the fuel to boldly continue and I thank you for recognizing me as one of your own."
The 2015 Gish Prize selection committee was made up of Russell Granet, A. M. Homes, Kevin Moriarty, Mikki Shepard, and chair Ella Baff. For more information on the prestigious honor, visit www.gishprize.com.
Inspired by this post? Check out our theater audition listings!