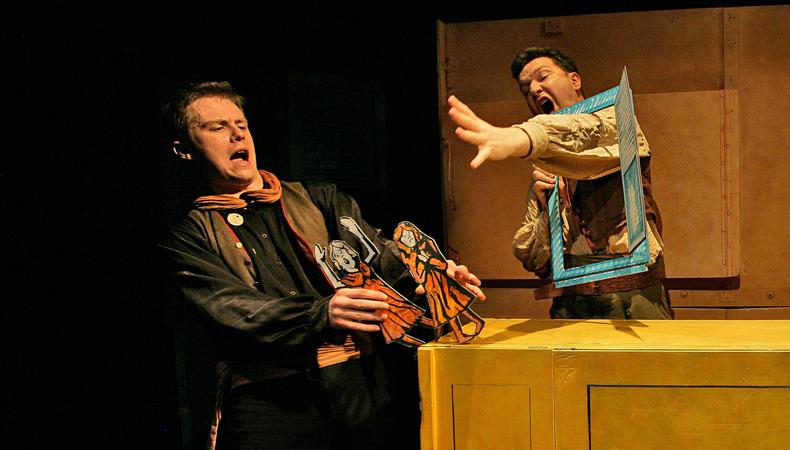 More than four decades before the birth of Spider-Man, another masked hero with a dual identity and an indifferent girl next door left his mark on evildoers and generations of eager children. Created by pulp fiction writer Johnston McCulley in 1919, Zorro leapt from the page to the silent screen in just one year. "The Mark of Zorro" starred Douglas Fairbanks, and there have been many adaptations since. Just last week Gael García Bernal talked about the likelihood of his starring in a forthcoming big-budget flick from Fox, "Zorro Reborn," and there is a Zorro musical, with music by the Gipsy Kings and John Cameron, set to open in April at the Alliance Theater in Atlanta.
Now playwright Davey Anderson's stage version of "The Mark of Zorro," directed by Douglas Irvine and created with the Scotland-based company Visible Fictions, has arrived at the New Victory Theater, right next door to "Spider-Man: Turn Off the Dark." There are some differences between the two shows. "The Mark of Zorro" is in town for just a couple of weeks, with tickets costing as little as $14; even its top ticket price of $38 is about 30 percent cheaper than the lowest-priced "Spider-Man" ticket. On the other hand, "Spider-Man" has a cast numbering more than three dozen and millions of dollars worth of sets. "The Mark of Zorro" has a cast of three, and there is no set to speak of; instead, there is an endless series of designer Robin Peoples' clever paper props and cardboard puppets. When the actors need a horse, one of them holds up a big cartoon horse head in one hand and a cartoon tail in the other. When they need an explosion, they hold up a drawing of a bomb and a sign that says "Boom." Whether it be a parrot, a mustache, a stagecoach, an army, or a town square, all are pulled out of an oversized storybook or a shuttered wooden gazebo that sit onstage.
The show's low-budget aesthetic is a major source of its considerable charm, although there are drawbacks. Some of the tinier creations might be more effective in a theater smaller than the 499-seat New Victory. Also, Tim Settle, Denise Hoey, and Neil Thomas portray so many different characters that their acting is in the spirit of fun rather than conviction. It is not always immediately clear who is doing what with whom, which is why it is a good thing that Hoey also acts as narrator.
Given that New Victory theatergoers are primarily young people, the performers smartly begin when Don Diego de la Vega is just a tyke, living in a California ruled by Spain, before villains kill his father. Once that happens, Diego becomes the masked avenger, using his sword to carve a Z wherever he goes. Unlike the other props, the swords are real, and the few moments of sword fighting in this hourlong romp are a reminder of the never-ending appeal of Zorro the swashbuckler.
Presented by the New 42nd Street at the New Victory Theater, 209 W. 42nd St., NYC. Feb. 8–24. (646) 223-3010 or www.newvictory.org.
Critic's Score: B+