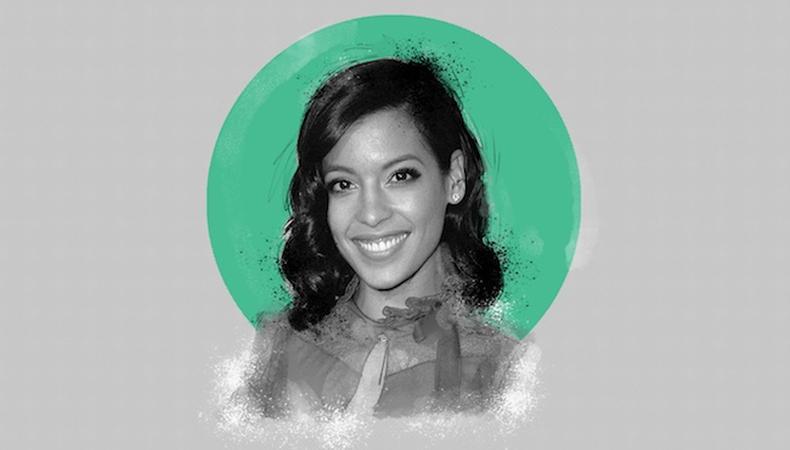 Before she was Captain Jessica Cortez on CBS's "S.W.A.T.," Bond girl Estrella in 2015's "Spectre," or Valeria Velez on Netflix's "Narcos," Stephanie Sigman starred alongside Shakira in the music video for her 2005 song "Illegal." At the time, Sigman had not yet made the transition to acting (her breakthrough role would come in 2011 in the drama "Miss Bala") and was working as a model. Now, she speaks to the significance of her "S.W.A.T." character—a Latina who is the boss—at a time when diversity and inclusion mean more than ever.
What has working on 'S.W.A.T.' added to your acting skills? It seems like Jessica is driven by her head. Is that natural for you?
Actually, no! I'm a very emotional person. Jessica is a little more brain. She has learned to be that way, otherwise she wouldn't be where she is as a captain. It's taken me a minute to understand and process the way Jessica processes things. It's not easy, because I usually do what I'm feeling, and Jessica is the kind of person…[who is] very careful and very cautious.
Between "Narcos," "Spectre," and "S.W.A.T.," you've stepped into roles in familiar worlds and stories. Is that a challenge?
Every story, every role, every character is a different challenge. I approach every project in a very specific way. Sometimes I'm a little bit more Method and sometimes I'm not because it wouldn't be good for me. Sometimes I'm a little more physical in terms of how I learn my lines and how I approach the backstory of my character. It depends on how the character behaves, if it's a very emotional character or a character that's driven by her head or her heart.
Is Jessica someone you wish you'd seen on network TV growing up?
I definitely didn't see this growing up. When I was growing up, you never used to see any accents, there was not a lot of diversity. To work with such an amazing, diverse cast, it's great to be able to show the younger generations.
How do you approach and audition for a character like that?
I actually didn't audition for this role. I had a meeting with Shawn Ryan, Justin Lin, and Aaron Thomas to talk about the project. I was very excited to have the opportunity to be playing a female boss, which I knew was going to be challenging. I wanted to do it because it represents so much and it means so much, much more than me being an actor playing a role. I think it means a lot for society. It means a lot for network television to have a Latina as a boss and have somebody with an accent on TV, somebody with all of those things and also being the lead. It's much bigger than me. I thought it was a great opportunity for me, for the show, and for the network, but also for women, for girls, for Latinos, for immigrants.
What advice would you give your younger self?
I started acting when I was 20 years old; it was not super young. I would say to be patient with myself and focus on the learning and the process more than the result. Everything will come.
What was your most memorable survival job?
I started working as a model when I was 16 years old, so I did commercials and runway and photo shoots, but I also did music videos, not necessarily being the lead or loving the singer, just things I had to do because I had to pay the rent. I was always pretty fortunate to be able to work in the line of work that I do. I didn't have to do anything else. I've always been doing this, either modeling or acting. I consider myself pretty lucky.
What special skills do you have listed on your résumé?
I don't know if this is surprising, but I'm a pretty good dancer. It's a fun skill to have. I'm pretty physical. I don't sing very well, but I like singing, so I don't mind it. [Laughs]
I consider myself very skilled with kids. I'm a good driver—I think.
What was your first headshot like?
I've never, ever had a headshot in my life! It's actually a very funny question, because I've done so many photo shoots as a model that I've never done a headshot photo shoot for myself, as a lot of people do. I was thinking about that: Maybe I should get a headshot?
At least you don't have anything embarrassing for people to Google.
We all have something embarrassing. Probably for me it would be more than one thing—so don't Google me!
Check out Backstage's TV audition listings!