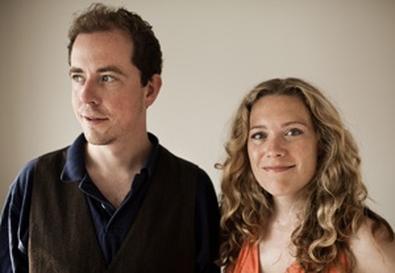 Carey (Kate Hewlett) is celebrating her husband's birthday with friends and her mother-in-law, Bev (Mimi Quillin). Carey sings a song she wrote, accompanied on guitar by her friend Owen (Christopher Stanton). But how did we get here?
That's the basic setting of "The Swearing Jar," written by Hewlett and directed by Rosemary Andress. With an exquisitely light touch, Hewlett creates snapshots of the happy lives of Carey and her husband, Simon (Vince Nappo), moving seamlessly between present day and three years before, when Carey becomes pregnant and strains start to appear in the marriage. When Carey meets Owen, a sweet fellow from the local bookshop, it seems like she will stray. But the story takes a surprising turn.
Most of the play's charm comes from the teasing banter between husband and wife, as well as Carey's scenes with the awkward Owen. Hewlett's writing has a gentle wittiness that Andress highlights to good effect. The folk musical interludes underline the play's themes of trust and forgiveness. Though the story is slight and sometimes a bit predictable, the talents of the terrific cast make "The Swearing Jar" a pleasure to see.
Presented by the Bridge Theatre Company as part of the New York International Fringe Festival at the Connelly Theater, 220 E. Fourth St., NYC. Aug. 14–29. Remaining performances: Tue., Aug. 24, 2 p.m.; Sat., Aug. 28, 10:15 p.m.; Sun., Aug. 29, noon. (866) 468-7619 or www.fringenyc.com.