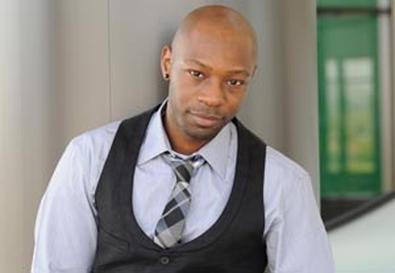 Nelsan Ellis is full of stories. Ask him about the unusual spelling of his first name, and you'll learn about the uncle he was named after with whom he shares a birth date—though not the same year. "My father would get letters from Social Security, and he'd have to tell them, 'My son can't be in the military. He's 8!' " Ellis says with a laugh. Inquire about landing the role of homeless-shelter counselor David Carter in
The Soloist
, and you'll learn Ellis was originally cast in a small part as a homeless man; but after the film's star Jamie Foxx was unable to attend a table read and Ellis filled in, director Joe Wright was so impressed that he bumped Ellis up to the more sizable role. As for portraying flamboyant fry cook Lafayette Reynolds on the HBO vampire series
True Blood
(which returns this weekend for its second season), well, Ellis' journey to that breakthrough role is a fascinating one, full of enough tragedy and triumph to fill its own movie.
Ellis was born in Illinois but moved to Alabama at age 6. In high school, he played sports and was a part of the speech team but had never considered acting until several teachers suggested he try it. After attending Illinois State University, he decided to give acting a serious try and was accepted at Juilliard. "The studies were so intense and the institution is so white, and I'm a black man from the South with a very specific vernacular and palate," he recalls. "I felt like an alien, and I struggled the first couple of years. But it transformed who I am as an actor and a person."
He hardly seems one to back down from a challenge. At Juilliard, he set his sights on the man who would become his agent, Adam Schweitzer, now at ICM. "He'd seen me in a play and didn't have any interest in meeting me," Ellis recalls. But the young actor pushed for a meeting. He "wooed" Schweitzer—checking in regularly, inviting him to plays and showcases, and asking for advice. "I wanted to put him in the frame of mind that I was going to be his client and he should get used to it. So I'd say, 'I'm going to get some headshots; what do you think I should do?' " Schweitzer eventually sent Ellis on auditions and received good feedback, but the actor believes his final showcase at Juilliard sealed the deal.
In May 2003, while at Juilliard, Ellis suffered an unspeakable family tragedy: His sister, three months pregnant, was murdered by her husband in front of their young son. That brother-in-law was murdered in county lockup while awaiting trial three months later. Ellis believes that the brother-in-law felt remorse about the crime. "Interestingly, my brother was in the same prison at the same time," Ellis reveals. "They didn't talk, but he saw his behavior and believed he had regrets." To cope with the events, Ellis became active in domestic-violence causes and penned a play called
Ugly
that was performed December 2003 at Juilliard and then at the New York Fringe Festival. He has adapted the show into a screenplay he hopes to direct. "Domestic violence is an epidemic, and yet we don't address it," he says. "Until it happens to celebrities."
'True' Believer
Upon graduation from Juilliard, Ellis landed a role as an FBI agent on the Fox procedural
The Inside
. Noting that he's not that great at auditions, Ellis says he booked the part because he auditioned at 6 p.m. and he was too tired to be nervous. "Based on my tape, I went to network," he says. "And that same day I went to network, they took me to the set to work. Suddenly, I'm on set, shooting 13 episodes."
But when the show ended three months later, Ellis found himself struggling. He put all his money into his passion projects; he mounted L.A. productions of
Ugly
and the other play he'd written,
Darkly I Die
, about a victim of child molestation with split personalities. "I wanted to actually pay the actors," Ellis says. "All my money from
The Inside
went to those productions." He also funded a short film he had written,
Trespass
, starring Harry Lennix.
As a result, Ellis lived out of his car for a time. His phone was turned off. He would find random jobs on Craiglist: production-assistant work on film sets or driving people to the airport for cash. He sold his plasma. "I don't think my family took my acting career seriously until then," he says. "I'd call and ask for $50 just to buy some gas and ramen noodles."
Eventually he began booking guest spots on such shows as
Veronica Mars
and
Without a Trace
. A role in the football film
The Express
followed, and then came
The Soloist
. Then he auditioned for a new series from Alan Ball (
American Beauty, Six Feet Under
) based on a series of books about a Southern town where vampires are a known part of the population. Having portrayed a transvestite in his Juilliard showcase, Ellis brought the same character in his first audition. "It didn't really work," he admits. "Libby [Goldstein], the casting director, called me back but had some comments. She said it came off like a caricature, and they wanted a person. So I had to build Lafayette from the ground up."
Ellis admits he had a moment's reservation about portraying a gay man on a weekly series. "I knew it would be controversial in my family," he says. "My father and brothers don't watch the show. But the character is so exquisite, that fear vanished. He's laid-back, but he's bold." Ellis says he hasn't heard much feedback from the gay community. "Oddly enough, a lot of fans are housewives and sort of thugs. They come up and tell me how much they like what I do. It's kind of disconcerting. They're like, 'Man, I dig what you do. Do your thing.' "
While Lafayette's fate at the end of Season 1 seemed tragic, Ellis can confirm he appears in Season 2, starting June 14 on HBO. "I can't say much about the new season," he warns. "But the great thing about the show is even if you die, you're not gone."
The Road Not Taken
In talking about his family and his struggles, Ellis is startlingly frank, admitting he feels that acting helped him avoid a less law-abiding life: "I don't think I would be in prison, but I definitely think I would be a little shady, only because it's the path that's often taken. It's something I would be so familiar with." He pauses, before adding that he uses his art to express himself in ways he normally can't. "I'm not an emotional person; I keep it in, and I wouldn't know how to get it out if it weren't for acting and writing."