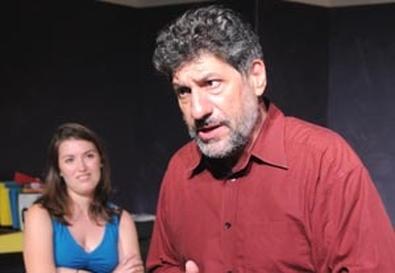 A play concerned with creating a human-animal hybrid is teed up to explore the nature of humanity, but "Sweet, Sweet Motherhood," written by Jeremy Kareken in collaboration with Lee M. Silver and currently running at Here Arts Center, whiffs at the opportunity, ultimately deriving neither heat nor meat from its Frankenstein story.
The plot centers on Henry Stein, an eminent professor of molecular biology at Princeton University, who agrees to become the thesis adviser of a student named Shelley McAnn after she impresses him with her chutzpah. His admiration turns to horror, however, when Shelley informs him that she intends to fertilize one of her eggs with chimpanzee sperm and give birth to a human-chimp hybrid. Henry attempts to force her to drop the idea, but Shelley barrels ahead, eventually becoming pregnant and giving birth. Then she disappears, leaving Henry to wonder if her child was normal or monstrous, only to reappear two years later with her son, Hank, in tow, about whom she vaguely says, "He's got quite the personality."
It's not enough to pick an important subject; one has to say something meaningful about it. The science behind Shelley's mad obsession is clearly laid out, thanks to the involvement of Silver, providing a framework on which to drape profound discussions and debates. But instead, "Sweet, Sweet Motherhood" turns out to be an assertion that human nature is fundamentally a battle of wills, for that is what the conflict between its two characters boils down to. Not one profound, original, or dangerous thought is plumbed, even though a human female lolls about the stage with a belly full of potential "humanzee." Shelley's claim that she's siding with progressive science against middlebrow morality sounds like the sophomoric ranting of the college student she is. Henry's counterarguments merely echo our own squeamishness. Ultimately, the play devolves into a bizarre sitcom about teacher-student relations gone grotesquely and (unintentionally) comically awry. Its most successful moments are those in which it abandons its delusions of grandeur and focuses on Henry's search for a scrap of personal meaning in his unmoored life.
Michael De Nola, as Henry, and Caroline Cooney, as Shelley, never flag in energy, though they occasionally seem uncomfortable with their lines. Director Michael Bigelow Dixon does a superb job of keeping the proceedings believable, not an easy task. In this he is abetted by excellent design work from Ray Neufeld (sets), Christopher Brown (lights), and Zoë Woodworth (video).
Plays that make us feel uncomfortable can be good for us, by demanding that we confront deep-rooted fears and hypocrisies. Or they can be icky. "Sweet, Sweet Motherhood" falls unambiguously into the latter bin.
Presented by and at Here Arts Center, 145 Sixth Ave., NYC. July 11–31. Thu.–Sat., 8:30 p.m.; Sun., 3 p.m. (212) 352-3101, (866) 811-4111, www.theatermania.com, or www.here.org.