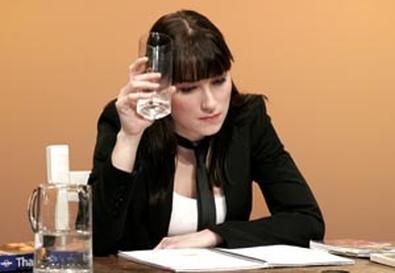 Riffing on the late monologuist Spalding Gray's seminal "Swimming to Cambodia" is an ambitious—and some might say foolhardy—undertaking. Initially, it seems that writer-performer Lián Amaris' "Swimming to Spalding" might fall into the latter category as she self-consciously describes her final night of a trip in which she mimicked the itinerary Gray related in his piece. Stiltedly imitating the late performer's delivery, Amaris resembles a grad student attempting to pay earnest homage to an idol. It's sweet, touching, and unconvincing.
But once Amaris frees herself from her conceit and moves from sitting behind a desk—one that replete with water pitcher, glass, and spiral notebook perfectly evokes the accoutrements of Gray's work—"Swimming" becomes a riveting piece of theater. The shift in "Swimming," interestingly, comes when Amaris describes how she, like Gray, hunted out a strip club, but unlike Gray, used the experience to further her own agenda: She purchased the services of a woman only so that she could allow this performer to have a full evening to herself. It's a tale that's both wryly amusing and touching.
From her trip she describes two Australian soldiers on leave from their tour of duty in Afghanistan. These stories, along with two she shares about encounters with American war veterans (Iraq and Kosovo) after her trip, prove not only the focal point of the piece but some of the most powerful indictments of contemporary warfare that have been on stage in recent memory.
Under Richard Schechner's direction, the performer brings these men and others to life ably. With the support of Lucian Ban's continually impressive soundscape and Melissa Mizell's gently atmospheric lighting design, Amaris delivers a terrific companion piece to Gray's original.
Presented by and at Here Arts Center, 145 Sixth Ave., NYC. Dec. 6–20. Wed. and Thu., 8:30 p.m.; Fri., 8:30 and 10:30 p.m.; Sat., 4 and 8:30 p.m.; Sun. 4 p.m. (212) 352-3101, (866) 811-4111, www.theatermania.com, or www.here.org.