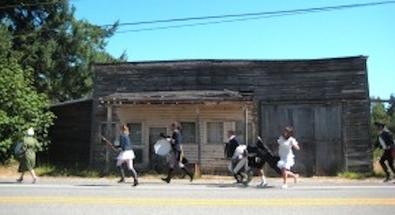 A few years ago, Dayna Hanson and a ragtag team of Seattle actors, musicians, and dancers collaborated on what was dubbed a "dance-rock love child" deconstructionist take on the American Revolution. The process—and the fallout—are chronicled in Hanson's lightly fictionalized "Improvement Club," premiering today at South by Southwest and starring all of the original collaborators.
Often uncomfortably intimate and sometimes vicariously embarrassing, the movie is as good a representation of the dedication and tunnel vision required to make art as any ever filmed. Hanson spoke to us in Austin about tricking herself into believing the film would get made and the importance of failing.
The moment the movie clicked into place for me was when Peggy Piacenza put on that eagle mask alone in her kitchen and started working on her eagle character. You let that moment slide from funny to uncomfortable to inspiring, which kind of sums up both the movie as a whole and the process of making art, right?
Dayna Hanson: Yes! And of course, we shot a lot of footage of that. Peggy worked very very hard on that and that also illustrates some of our relationship, my relationship with Peggy as an artist and a collaborator. There's a line she says in the movie that she probably said 10 years ago or more, which is, "You have to go to a place of embarrassment to find the truth." And she embodies that willingness to risk and to just be confident enough to be really vulnerable.
Like that scene when she gives you an impromptu lapdance during rehearsals?
That was uncomfortable and developing that was uncomfortable. That was definitely a moment I chose to fictionalize but it was barely fictionalized; the way that whole scene developed and what was attached to it was straight from our rehearsal studio experience and was pretty intense. And came to contain a little more than the elements that were just on the surface in the room at the time. That's what's so powerful about her, is there's so much more than what's on the surface. And I really admire that. She's special.
At what point did you look around during rehearsal and say, "This is a movie!"
I think I made the decision to do that before we really even started. I kind of told myself, "I'm going to keep my eyes open and really be present throughout the process because I want this to be the concept for my first feature. I was pretty present in the creating the work but in the back of my mind, when the New York performance fell through, it was like, "This is perfect for the end of act one!" It was in those failure moments when I felt like, well, that's the redemption in the thing.
Did you start filming as soon as the premiere was over?
Yeah. We spent most of 2010 making that show, premiered it, and then immediately went into script development. Everyone getting together, asking, "What do you remember? What was the most difficult part of the process for you?" Then I started to distill it all into the screenplay. And because of the nature of filmmaking, you say this is going to happen and you sort of hope that by saying it out loud you'll make it happen, but then I'm hoping I can indeed pull it off.
And I'm just really indebted to everyone for being so generous and allowing me to take this first-person plural, self-mocking tone. As I was showing everyone the rough cut I said, "I just have to tell you that I'm sort of making fun of you all. And I don't think that I'm making fun of myself any less!"
The really remarkable thing about this movie is that you chose to make this weird, avant-garde performance piece the focus of the movie, instead of swerving to something that might have seemed a little more accessible.
It's all I had! It's definitely a weird show. And that's exactly why I wanted to create this linear plot that doesn't float around very much and is really tangible because I wanted to create enough room for these other tangential and rhapsodic moments with music and dance. Like the scene with Peggy and the mask, I think that advances the story and the character really well but it's a pretty long set of brackets there.
It probably wouldn't have worked as well if everyone hadn't been so personally invested in the work you were creating, too.
Yes! It has to be coming from people's own personal stories and the research they did. It obviously is a pretty heartfelt little movie and I think that's a big part of why.
As a newly anointed South by Southwest filmmaker, any advice for people out there struggling to make their own art?
I studied Robert McKee kind of religiously in prep, but I really had a little bit of a renegade, "I don't know what I'm doing but I'm going to do my damndest" attitude. And that we're not only accepted but in the narrative competition, I think the victory or the amazing honor should extend to anyone making a film that feels it's outside the formula. If you have this passion project, you have to do it. It's so worth it. And that's part of the story of "Improvement Club," that anything worth doing is going to be difficult and anything you really want to try is worth risking failing. You have to be willing to try for it and know that you may fail. If I feel kind of validated, I want to extend that to any aspiring filmmaker who wants to push the boundaries.