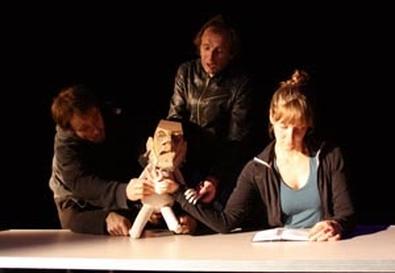 "What is life but a series of detailed movements?" asks the cardboard hero of "The Table," a screamingly funny and achingly sad little piece of puppetry and pathos from Britain's Blind Summit Theatre. The speaking character is a tiny bunraku puppet on a table that's manipulated by a three-man team. Like a Beckett hero, he has no idea how or why he is there.
The puppet jokes with the audience in a raspy voice provided by one of his handlers, frankly acknowledging his artificiality, and keeps threatening to begin a 12-hour epic on the life of Moses. But he goes off on tangents about his meaningless existence until a real woman enters. At first the puppet is furious with her, because she doesn't fit into the scale of his limited world. But he soon acknowledges that she is his wife and begs her to show some him some affection. She coldly rejects him, and in a ballet of rage she tosses the table around, ultimately destroying the puppet's universe.
During the course of this brief and charming work, the little man made of cloth and cardboard somehow comes alive as a desolate figure in a bleak landscape, doing a little dance or telling a story in order to pass the time and give his empty life some meaning.
As an encore, the company follows this existentialist comedy-drama with a bit of ingenious whimsy. As an Elgar symphony plays in the background, the four cast members create a sort of movie by pulling pieces of paper with stick figures drawn on them out of a brief case. It's like a delicious sherbet after a rich main entrée.
Mark Down, Nick Barnes, and Sean Garratt are the skilled manipulators who give life to the pathetic puppet, and Sarah Calver plays the woman with repressed fury.
Presented by La MaMa ETC and the Public Theater as part of the Under the Radar Festival at La MaMa ETC, 74A E. Fourth St., NYC. Jan. 5–8. Remaining performances: Fri., Jan. 6, 8:30 and 10:30 p.m.; Sat., Jan. 7, 4:30 and 8:30 p.m.; Sun., Jan. 8, 2:30 p.m. (212) 352-3101, (866) 811-4111, (212) 475-7710, www.theatermania.com, or www.lamama.org.