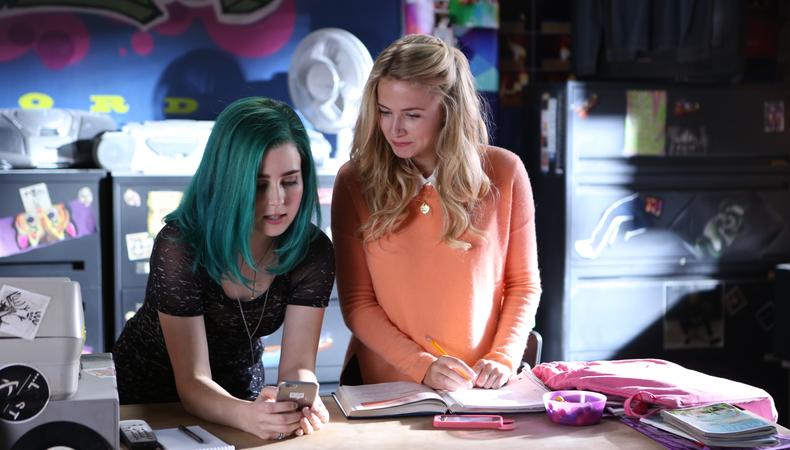 "We're trying to, in a way that isn't like making anyone take their medicine, put a story on television that's not just a Very Special Episode that airs once," explains Jennifer Kaytin Robinson, the creative force behind MTV's ambitious new series, "Sweet/Vicious." The superhero dramedy centers on two starkly contrasting young women, secretly acting as vigilantes to combat sexual assault on their college campus.
At the time of its premiere, "Sweet/Vicious" could not feel more prescient. However, when Robinson wrote the pilot two years ago, the discussion surrounding sexual assault was not had with the same fervency it is now. "It's been amazing to see that the consciousness has kind of collided with the premiere of the show," Robinson marvels. "We're trying to shine a spotlight on what is happening with sexual assault, how it is being handled. We want this to be fun and we want this to be kickass...but we also hope it educates some people."
READ: "How to Become a Production Assistant"
At the story's core are Jules (Eliza Bennett) and Ophelia (Taylor Dearden), who meet one evening while a masked Jules is exacting revenge upon a proven campus predator. She herself is a survivor of assault, while Ophelia, a rebellious hacker coping with depression, entangles herself in Jules' mission to bring abusers to justice. Though somewhat dark in subject matter, the series blends bubbly humor and irony, ensuring it never dips into too-bleak-to-enjoy territory.
In devising the characters, Robinson's vision stemmed primarily from her fatigue of seeing female roles on television that were nothing like herself nor the women in her life. "I feel like when women are on television, if she's the sassy, wisecracking sidekick, then she's got to be this, this, and this," says Robinson. "I don't think it exists. When I was writing the characters...I would really take a moment to break it down: 'What would a real human woman do in this situation?' "
When actualizing the multifaceted characters, Robinson insists that the work by Bennett and Dearden is instrumental. "I could think of no two people better to bring the story to life than these women," she says. "A lot of people came in [to audition] and they played the characters a little one-note. I think that speaks to the fact that there aren't a lot of roles for 20-somethings where there's nuance."
That Robinson felt well-rounded representations of women were so absent from the entertainment landscape has fueled her industry ambitions. "You see movies that are female-led and have these big female names in them, and then the writing credit is two dudes," she laments. "I think it's so important for women to just keep pushing the door down. Yeah, you're going to be a little bit of a squeaky wheel, but the squeaky wheel gets the oil."
APPLY NOW for MTV casting calls in Backstage casting!
Having heeded her own advice, Robinson now helms a series of her own, and though she doesn't dwell on the fact she is a woman in a proverbially male-dominated industry, she doesn't deny its inherent pressures, either. "Not only am I a woman but I'm 28 years old, so I have two things I'm trying to move past so no one knows I'm faking it til I make it," she says with a chuckle. "It's learning to be comfortable with yourself, and learning to be unapologetic in what you want, but gracious in asking for it."
With the 10-episode season of "Sweet/Vicious" before her, Robinson is not overly concerned with its perception. Rather, she is proud to tell a distinct story and hopes it resonates with those who share her sensibilities—as well as those who do not. "It's like when you play an obscure song at a party and that's the barometer of, 'Who in this room am I going to talk to?' " Above all else, she hopes the series will provide a new perspective and, ideally, a bit of enlightenment. Speaking to the show's tackling of sexual assault, Robinson concludes, "If even one person learns something they didn't know, that is amazing."
Check out our TV audition listings!
And for practical acting advice from industry professionals, visit Backstage's YouTube channel: