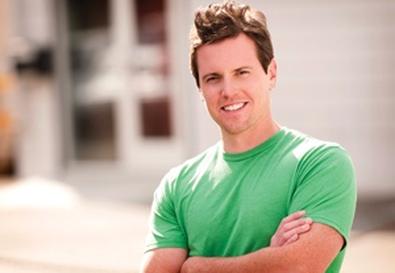 Michael Mosley plays Jim in a new Off-Broadway production of "The Glass Menagerie." As the actor describes the iconic gentleman caller, "He has huge heart but not much between his ears. He really thinks he is helping Laura, but he's way off and ends up doing the worst possible thing, compounding an already difficult situation." After all, Mosley says, Jim is in no position to see her again. "I'd like to think that when Jim leaves their home he's learned something: that in the future he'd better shut up and check his impulses." Mosley was determined not to allow Jim to become a prop, which can easily happen; he envisions Jim as a disappointed man, despite his cocky style. And, as much as Jim has affected Laura, she has elicited troubling feelings in him that he can't quite define. "He says to her at one point, 'You make me feel sort of….' He's caught off guard," says Mosley. "I'm still trying to figure out what that 'dot, dot, dot' refers to. What does she make him feel, and how do I play that?" The Tennessee Williams' classic is a Roundabout Theatre Company production, starring Judith Ivey, Patch Darragh, and Keira Keeley.
Perhaps best known as aging and cynical medical student Drew Suffin on the TV comedy "Scrubs," Mosley says his method varies with the project, though usually he finds his character through physicality. "When Jim stands up, he's far straighter than I would ever be," the actor says. "He puffs out his chest and swaggers. That creates the confidence. The physical inspires the emotional."
Still, Mosley adds, an actor's approach is "a cocktail," and a common danger is overthinking and pre-deciding how a scene should be played. When that happens, the actor is no longer noticing, let alone responding, to what the other actors are doing on stage. Further, an actor's preconception of a character may be all wrong, he says. "I remember in ninth grade playing Tevye in 'Fiddler on the Roof,' " Mosley recalls. "There was one scene where I was convinced Tevye was outraged, and when I suddenly realized he was not outraged but hurt, that changed the whole scene."
An affable Iowa City native, Mosley has come a long way from his junior high production, having appeared on stage, film, and television. "When I'm not working, it scares me," he admits frankly. "I love acting on both screen and stage. But I love theater for giving me two to three hours to live in the confines of the play's world and completely forget who I am. In film the moments are more like little sprints, and it's more intimate. The challenge is to forget there are camera and boom lights in the room." In coming back to the stage, he acknowledges, he had to "relearn how to reach an audience and get rid of some of my bad habits, like mumbling."
Don't Compare Yourself to Others
Mosley always wanted to act. Still, he spent a semester at the University of Northern Iowa, drove to Boston, lived in a car or hostel, and, by his own admission, "bummed around" before auditioning for the American Academy of Dramatic Arts in New York. He was accepted, matriculated, and two years later joined the school's acting company. He says an important lesson he learned at the school was how to juggle many activities simultaneously. By the time he was out in the real world—auditioning for a play in the morning and a pilot or two in the afternoon, then performing somewhere else in the evening—the frenetic pace had become second nature.
On the flip side, however, he was not remotely ready for the world of TV or film. Trained as a serious stage actor, "where the playwright's word is gospel," there was nothing that had prepared him for a universe "where the script is a blueprint for what we create," he says. "TV and film are altogether more egalitarian. In 'Scrubs,' if an actor comes up with a funny line, they keep it. There are five or six writers on each episode. The writing team picks the script apart all week and is open to actors' contribution. The whole process of writing the script is collaborative and creative." And, unlike film, there is no one directorial voice, he notes; on TV, new directors surface for each episode, thus putting a far greater responsibility on the actor. "I wish school had taught us how to work within those confines," he says.
Mosley supplemented his acting income by waiting tables for about five years and harbored many doubts about his chosen profession. He recalls being torn between those who said stick it out, work hard, and roles will come your way, and, conversely, those who felt pursuing an acting career was an opportunity to spin your wheels. The turning point was his appearance in the 2005 indie "Swimmers," which was well-received and brought him an agent who was determined to help him and who did not take a paternalistic view toward him. On the contrary, he treated Mosley as if he were an equal partner. For the first time, the actor felt he was moving in the right direction. Landing a regular gig as FBI Agent Atkins on "Kidnapped" reinforced his feeling. Guest-starring stints followed, and Mosley grew more confident at auditions. "I felt I deserved to be there," he says. "Auditions were no longer quite as hit or miss."
Although Mosley knows it's easier said than done, he says for actors to maintain their sanity they must not compare themselves to where other actors are in their careers: There's always going to be someone ahead of you. "You'll go nuts," he says. "You just have to keep your nose to the grindstone and accept the idea that you have your own path." Acting ambitions aside, Mosley says in five years, "I'd like to have a yard for myself, my wife [actor Anna Camp], and my dog."
"The Glass Menagerie" runs through June 13 at the Laura Pels Theatre at the Harold and Miriam Steinberg Center for Theatre, 111 W. 46th St., NYC. Tickets: (212) 719-1300 or www.roundabouttheatre.org.
Bio Brief
- Has performed at the Manhattan Theatre Company, SoHo Playhouse, Ohio Theatre, and Cherry Lane
- Was featured in such films as "The Accidental Husband," "27 Dresses," and "The Proposal"
- Guest-starred on "The Education of Max Bickford," "Law & Order: SVU," "The Wire," "The Mentalist," and "Three Rivers"