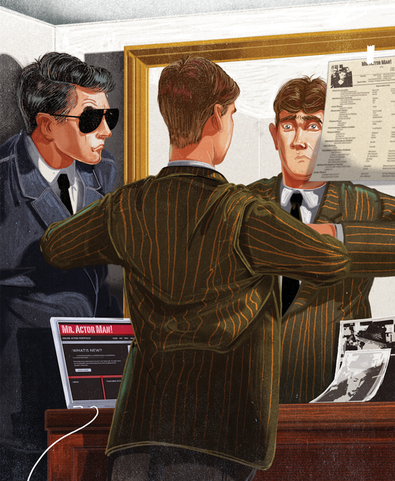 Merry Christmas!
I'm writing this column from the international terminal at LAX. My flight to Thailand doesn't leave for another hour, so I have just enough time to share some holiday advice.
Forget about acting. Just turn off that part of your brain and use the holidays to recharge your batteries. That's why I'm flying to Southeast Asia. I want to get as far away from the industry as possible.
While I'm gone, spend your days with friends and family. There's not much love in this business, so collect as much of it as you can. Then share those feelings by volunteering with a charity that needs a helping hand. The experience will help you see beyond your needs. Believe it or not, there are people in this world with bigger problems than finding the right agent.
And now, I want you to stop reading. I'm serious. Put this column down. You can pick it back up right after Christmas…
…Welcome back. I hope you had a fantastic holiday. By now, I'm on an island where no one speaks English and Internet access is miles away. Some call it Koh Phangan. I call it heaven.
As for you, it's time to put your actor cap back on. There are some issues you need to address when 2013 knocks at your door. The most important one is, Are your marketing tools in order?
Let's start with your headshots. Are you 100 percent satisfied with them? If the answer is no, it's time to take another run at getting the perfect picture. Start looking for a new photographer right after Jan. 1.
Let's say you do have fantastic headshots. Congratulations. But are they current? If those pictures are more than three years old, it doesn't matter how good they are. You're still going to need new ones. Most actors think they're Benjamin Button, but I've got a news flash. You're getting older, not younger, and your headshots need to reflect that.
Now what about your résumé? It should be formatted correctly, with neat columns and a simple font. There's nothing wrong with a little white space, especially when you're just starting out.
Do you have a reel? If you do, make sure it's up to date and your best work is at the beginning. Also, the entire reel should be under five minutes. Remember, less is always more when we're talking about reels.
If you're lucky enough to have a ton of material, you should place a menu on the DVD. It can have links to comedy and drama or TV and film or any other combination. But please keep it simple. Links inside of links are hard to follow, and your reel isn't a remake of "Inception."
Finally, take a close look at your website. It should be freshly updated and easy to navigate. Make sure your current headshot is on the home page, right next to a navigation bar and your contact information. You can also include a Recent News section if you like.
Now check your website for the following issues:
• Remove any annoying music that automatically plays when someone logs on.
• The video links should load quickly and run smoothly.
• A few personal touches are fine, but keep the kitty-cat pictures to a minimum.
It's important to start the year off right by having your marketing tools in order. So make notes about what has to be done and get on it right after the holiday season.
Next week, I'll check in from Thailand, so I can share my resolutions for the New Year.