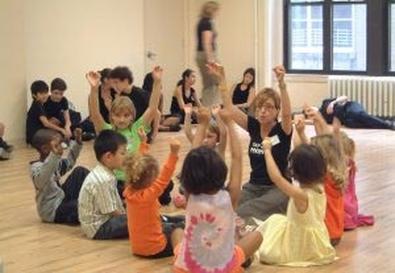 The tap dance community is no longer homeless. On Jan. 4, the American Tap Dance Foundation opened the doors of its new American Tap Dance Center, located at 154 Christopher St. in Manhattan's Greenwich Village.
A nonprofit organization committed to the creation, presentation, teaching, and preservation of tap dance, ATDF was founded in 1986 by tap master Charles "Honi" Coles, his protégée Brenda Bufalino, and the foundation's current artistic and executive director, Tony Waag. Called the American Tap Dance Orchestra until 2002, the organization presented hundreds of stage performances and films from 1986 through 1999. From 1989 to 1995, it also operated Woodpeckers Tap Dance Center, where tappers from all over the world gathered for classes, workshops, jam sessions, and performances.
Located in downtown Manhattan, Woodpeckers was not only one of the most popular professional dance studios in the city; it also served as a vital meeting ground for the tap community. It was a place where artists could watch and hear what other tappers were doing and share their work and discoveries with one another. Woodpeckers was a beloved institution among tap dancers and an important force in nurturing, promoting, and legitimizing the art form.
"I still get phone calls from dancers asking for information about Woodpeckers," said Waag at the new center's open-house celebration on Jan. 20. The foundation hopes that the American Tap Dance Center will take the place of Woodpeckers and provide a central location that the increasingly diverse global tap community can call home.
Many tap dance luminaries—including Bufalino, RumbaTap inventor Max Pollak, choreographer Maurice Hines (the brother of the late tap star Gregory Hines), and old-timers Mable Lee and Harold Cromer—showed their support for the new center by attending the open house and mingling with the crowd, talking about the significance of this space. Bufalino explained how important it is for tap artists to have the opportunity to work in close proximity to one another. She feels it is key to the artistic development of individual artists and the art form that dancers have a place where they can walk down the hall and easily hear the sounds other dancers are making, peek into a studio and see what kinds of experimental work is being done, or simply sit and chat with other tappers about what is going on in their careers.
Particularly in the concert-dance world, tap has always been looked at as something of a stepchild and hasn't garnered the same respect as other dance genres. Therefore, the support that tappers receive from one another can play an essential role in their sense of achievement.
A Cross-Generational Opportunity
Pollak also stressed the significance of the center as a gathering place for tap professionals and noted that he is now bringing his young daughter to the studio to take tap dance classes. He sees the center as an exciting location for cross-generational interaction within the art form.
One of the foundation's most popular programs is its Tap City Youth Ensemble, a performing troupe of intermediate and advanced tappers between the ages of 11 and 19, directed by Susan Hebach. The young dancers work with professional choreographers to learn classic and contemporary tap repertory. They are also exposed to tap history through master classes, workshops, and archival films. The troupe rehearses weekly and performs in formal concerts, school shows, benefits, free public events, and at Tap City: The New York City Tap Festival, produced annually in July by the foundation. Dancers interested in auditioning for the Tap City Youth Ensemble should visit www.atdf.org for further information.
From a purely practical standpoint, the American Tap Dance Center is also important because of its 3,000 square feet of space, which includes two large dance studios with sprung hardwood floors. "It's a rarity in New York City to find such beautiful wood floors that they'll let you tap-dance on," said Waag, who plans to make the studios available for rental around the clock, though special arrangements may need to be made for late-night hours.
In addition to the youth classes, which include a creative rhythms pre-tap course for those as young as 3-1/2, the center will offer adult classes for absolute beginners, beginners, and advanced beginners; master tap choreography intensives; intermediate and advanced tap technique and repertory classes; tap talks; jams; and film screenings.
In addition to operating the new center, the foundation also produces touring shows, inducts tap titans into its International Tap Dance Hall of Fame, sponsors the annual Hoofer and Tap Preservation awards, and supports the Gregory Hines Collection of American Tap Dance archives at the performing arts library at New York's Lincoln Center. A tap revue written and staged by Waag, "Thank You, Gregory: A Tribute to the Legends of Tap," has been touring the Midwest this winter and will play in theaters throughout Pennsylvania in April. Also in April, the foundation will present its annual "Sound Check" at Dance Theatre Workshop in New York, a show featuring contemporary work by both established and emerging tap dancers and choreographers.