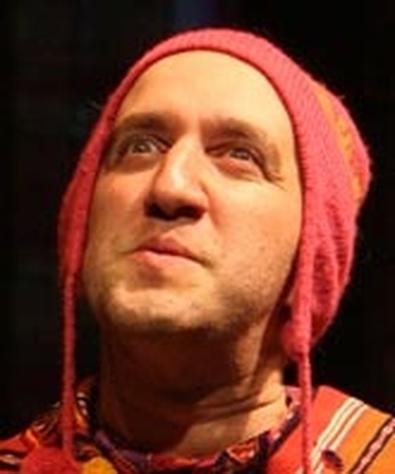 Danny Hoch's solo show may predate the economic downturn plaguing the city, but that doesn't mean this provocative play exploring the gentrification of Williamsburg, Brooklyn, is out of date. Rather, it can be seen as an indictment of some of the practices that have led us to the edge of an economic abyss.
In Taking Over, Hoch moves with ease among a variety of characters, including a bitter Latino who's taken over the microphone at a summer block party and a young woman from Michigan who's dropped out of NYU to sell trinkets she's brought back from her trips to Mexico. He finds comedy in this character, in the Dominican cab dispatcher who's named his kids Ashley and Justin, and in the oily French real estate broker who touts the advantages of living in the luxury high-rise building he reps as he downplays the low-income housing next door.
Native New Yorker Hoch has no patience for the influx of money, tourists, and the "resident tourists" (a term coined by one character) who are now displacing the Williamsburg residents who weathered tough times there. Unfortunately, he may be a bit too angry: The play loses focus in its final third. Thankfully, though, his performance, ably guided by director Tony Taccone on a set by Annie Smart that beautifully merges elements of old neighborhood architecture with the new, remains sharp throughout and is at times surprisingly moving.
One other character Hoch brings to life is a 60-year-old developer who cynically describes what the new residents of Williamsburg want: a "user-friendly" multiethnic environment. This man also believes that in 20 years the city is "only going to be for the rich." Perhaps the economy will forestall this. Perhaps performers like Hoch will too.
Presented by and at the Public Theater,
425 Lafayette St., NYC.
Nov. 23-Dec. 21. Tue., 7 p.m.; Wed.-Sat., 8 p.m.; Sun., 2 p.m. (Additional performances Wed., Nov. 26, 2 p.m., and Sat., Nov. 29, 2 p.m.; no performance Thu., Nov. 27.)
(212) 967-7555 or www.publictheater.org.