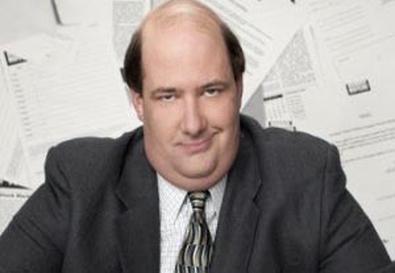 There's something inherently endearing about Kevin Malone, the slack-jawed, mild-mannered accountant who regularly steals scenes on NBC's long-running hit
The Office
. Maybe it's his oft-childlike approach to the world, the sheer delight he takes in things like footbaths and M&Ms. Or perhaps it has something to do with his knack for messing up spectacularly—take a recent episode wherein he cooked up a batch of his "famous chili," only to dump it all over the floor.
Or maybe it's that the
Office
scribes and Kevin's portrayer, Brian Baumgartner, have been determined from the beginning to make this balding, loser character a thoroughly unique presence. "I wanted to keep him not a stereotype," says Baumgartner. "There was a decision that happened very early on, a very simple thing with me and the costumer. This is the kind of character in an American sitcom that his shirt would be untucked and too tight and his hair would be a mess and he would have stains all over himself—that sort of slob. I said, 'Look, he's slow, but let's say he really makes an effort. He may be wearing Dockers pants, but they're gonna be pleated and he's always going to wear a jacket.' "
Despite his affection for the character, Baumgartner doesn't have all that much in common with his onscreen counterpart. His speaking voice is quick and lively, no trace of Kevin's loping monotone. And he conveys a refreshingly forthright "go for it" attitude, which has served as one of the guiding forces of his acting career. "I was one of those odd people who was pretty singularly driven from early on," he says. "In high school, I participated in the summer program at Northwestern University. I went away from home and studied acting for six weeks in the summer, lived in the dorms, the whole thing, and I was like, 'This is the best thing ever.' "
After graduating from the Meadows School of the Arts at Southern Methodist University in Texas, Baumgartner relocated to Minneapolis, where he joined the local Hidden Theatre. He rose through the ranks, eventually taking on the mantle of artistic director. Being involved with the company and the Minneapolis stage scene, he says, helped him hone his craft. "It enabled me to have a say very early on in the kind of work I wanted to do," he says. "And it gave me an opportunity to play roles that, in larger houses, I would not have had the opportunity to do." These roles included Lennie in
Of Mice and Men
, the Maniac in
Accidental Death of an Anarchist
, and a headlining gig in the one-man show
Rum and Vodka
. Baumgartner also performed at Theatre de la Jeune Lune in Minneapolis as well as Berkeley Repertory Theatre and the Guthrie Theater. But eventually, Los Angeles and the world of film and television beckoned. "At this point, I was working in regional theaters around the country and traveling a lot, and quite frankly, at a certain point I went, 'Well, if I'm traveling around everywhere, why am I coming home to Minnesota, where it's negative 87 degrees?' " he recalls. " 'Why don't I give L.A. a try?' "
Baumgartner relocated in 2003 and, upon arriving in Los Angeles, made a potentially risky decision: For a year, he would turn down all theater work and attempt to pursue roles in film and TV. "I think it's incredibly difficult for people to make decisions, just full-on do something—and especially with theater work that I was getting, it was very difficult," he says. "I had had a thought about coming to L.A. for some time, but it was always, like, some other project came up or some other great opportunity came up for another play. And it finally reached a point where I decided if I was going to do it, then I just had to do it. I couldn't move to L.A. but then end up in San Francisco for three months doing a show at Berkeley Rep or whatever. I had enough money saved up; I knew I could sustain for a year and do that."
When Baumgartner got wind of the American adaptation of
The Office
, he had a feeling it was the show for him. "They were looking for people that were unknown—though as I was told by an agent that I'm no longer working with, they were looking for unknown people but not, like,
me
-unknown," he says with a chuckle. "Not people who had done nothing. But fortunately I was able to meet the casting director and went in, and I guess we hit it off okay."
Baumgartner initially tried out for a different role: that of cantankerous sales rep Stanley. But he was familiar with the original
Office
and knew that he had a good shot at the role of Kevin, who was based on the British version's dry, monotone-prone Keith. "I went in to audition for the producers for the role of Stanley and basically did it as I saw Kevin," he says. "Thankfully, they saw the same thing."
As the years have passed, Kevin has revealed various hidden talents, all of which have further enhanced Baumgartner's efforts to keep the character from falling into stereotype. We've learned, for instance, that Kevin is quite good at poker, basketball, and music. But despite Kevin's lead singer–drummer gig in Police cover band Scrantonicity II, musical talent is yet another thing Baumgartner claims not to share with the character. "It's funny that it ended up being the Police," he says bemusedly. "The rhythm of the Police songs, a lot of the downbeats are actually off the beat, so to actually be singing and playing the drums for that, you would have to be a virtuoso."
BIO BRIEF
Won two Screen Actors Guild Awards as part of The Office's ensemble and a Daytime Emmy for his work on the webisode series The Office: The Accountants
Other credits include Arrested Development, License to Wed, and the upcoming indie Into Temptation, opposite Kristin Chenoweth and Jeremy Sisto