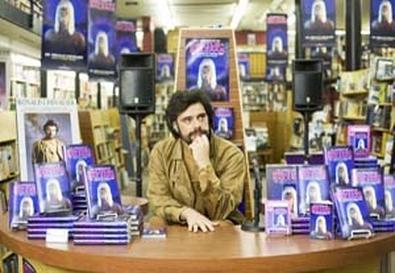 After completing the pilot for their offbeat HBO series "Flight of the Conchords," New Zealand-bred folk music-comedy duo Jemaine Clement and Bret McKenzie got some good news: The network wanted to order a full series.
Or at least…for most people, that would be good news.
"I went, 'Oh no,' " says Clement, with a self-deprecating chuckle. "It was so hard making the pilot, and then we've gotta make 11 more of 'em? I'm always ready to give it up."
Indeed, rumors are flying that the series might not return for a third season, despite multiple Emmy nods and legions of die-hard fans. Clement is mum on the topic, but says there "should be a press release" soon. In the meantime, he's amusing himself by taking on a role of a different stripe. As self-important sci-fi author Ronald Chevalier in "Gentlemen Broncos" from director Jared Hess ("Napoleon Dynamite"), the actor sports lacquered-to-perfection hair and an impressive array of leather vests and high-waisted pants. Though he's the film's antagonist—he plagiarizes a budding writer's work—Clement's loony, thoroughly fearless performance nearly steals the show. In the end, we can't help but wish that "Gentlemen Broncos" was all about him.
Back Stage:
What was your audition process like?
Jemaine Clement:
This is good, 'cause I didn't have to audition for this one. They just offered me the part. I only [get] auditions when I don't want to do the part, like it's for a commercial or something and you don't really want to do it and you don't care and then you've got this attitude—so relaxed—and that's what they're always looking for. [Laughs.] Anything I've been interested in, I don't get.
I did like this script, and I was a fan of these guys. I wanted to do this. I probably would've messed up [an audition]. Fortunately, they just said, "We've seen your show and we really like it and we'd love for you to do a part."

Back Stage:
I read that you and Jared sent pictures of various hairstyles back and forth. How did you settle on Chevalier's?

Clement:
The bouffant? I think we started to think of it as, like, a mane. It gives him more presence by being quite big. And a cropped beard was the other thing. There's just something quite uptight [about that]—and it's not a good look. But we sort of thought of Terence Stamp in "Superman II." My beard's not as thick as his, but that's what we were thinking of originally.

Back Stage:
I love that Chevalier always has a Bluetooth clipped to his ear, even when he's using an actual phone. Was that Jared's idea?

Clement:
Yeah, they're really detailed about the way the characters look. Not their faces but what they wear. Jared always made sure it was there. I think there's one scene, like, one shot in a montage where it looks like I'm not wearing it—but it's actually on the other ear. Jared was like, "Where's the Bluetooth? Where's the Bluetooth?!"

Back Stage:
Chevalier is set up as a pretty unsympathetic character, but he's so charismatic, you can't help but like him. As an actor, is there anything you did to make the audience feel for him a little more?
Clement:
Yeah, when he's stealing the book—when he's actually typing it out—I tried to make that quite painful for him. [Laughs.] Like, he doesn't want to do this to a fellow science-fiction author, and also, he doesn't want to stoop that low. I tried to get that in there.

Back Stage:
I also feel like you did that with "Eagle vs. Shark"—that character, Jarrod, does really obnoxious things, but you still like him.

Clement:
Right, yeah. I would try and try to convince [writer-director] Taika [Cohen] to put in something nice. And they had other nice things that Jarrod did—like, he bought his daughter a gift. Then, they rightly decided the focus of the story was Lily, the female character, so a lot of those little things went bye. I tried to make him less jerky, but in the script, it's like, "He's a jerk." [Laughs.] But I will say, I guess the main character I've played is Jemaine, a version of myself, on the TV show. I don't think of myself as a character—neither of us thought of ourselves as a character—so we just thought of negative things. What's negative about us? Sometimes I'm uptight or—not that I'm rude to people, but I want to be rude, or I'll be rude by mistake. I try to push that—if you have some things that are likable and some things that are unlikable [about a character], hopefully that means it's interesting or more textured.

Back Stage:
You mentioned you were a big fan of Jared's—are there any other directors you'd really like to work with?
Clement:
I don't even think of myself as an actor; I think of myself as a movie fan. So if someone like Jared Hess calls me up, I'm gonna go and do it. The other day, my agent says, "Are there any directors you like?" I mentioned a few people: Wes Anderson, Alexander Payne. And then next time I saw them, they said, "Oh, we rang Alexander Payne, and we said you'd like to work with him." What! Don't ring him! I didn't say that! I was so embarrassed. If I ever meet him, I'll be like, "I didn't ask them to call you." [Laughs.]

Back Stage:
When you and Bret were putting together the "Flight of the Conchords" sitcom, did you ever think of focusing on something other than the music angle?

Clement:
Our first time we had to pitch a show was Channel 4 in England. They said, "We're gonna make a pilot, whatever you want to do." We'd been playing our live show for a month, like, 30 nights in a row, and we'd been writing the month before that. So we were sick of that, and we were like, "It's going to be science fiction; there's no songs. It's set in 1970." They were like, "Where did the songs go?" [Laughs.] Different people had different ideas—we talked to lots of writers. We ended up hiring ourselves, but originally, because we hadn't written a sitcom before, they wanted us to get some more-experienced writers. Some ideas other writers pitched to us were, like, "You're a band and you play from town to town and you play those real-life gigs and then you go and save people in the town." Or, one of my favorites was, "Every episode's different. In one episode, you're racecar drivers and it's a musical about racecar drivers. And then the next time, you're astronauts. And the next time, you're dinosaur hunters." I really liked that one.