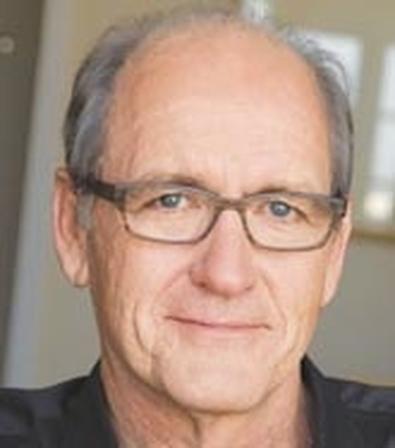 At the 2007 Toronto Film Festival, Richard Jenkins took the stage after a screening of his new film, The Visitor. The sophomore effort from The Station Agent writer-director Tom McCarthy, the film tackles the global issue of immigration on an intimate scale, telling the story of how an ordinary man's life is changed by his relationship with a pair of foreigners he finds squatting in his New York apartment.
After years of stealing scenes in supporting roles — the uptight FBI agent in Flirting With Disaster, the deceased father of the dysfunctional Fisher clan in the HBO series Six Feet Under — Jenkins had top billing in a movie for the first time. When asked what the experience was like, the actor quickly exclaimed, "It was tiring! I can't believe they waited until I was 60 years old to give me a lead!"
Jenkins is certainly not a typical movie star. Despite a lengthy résumé that includes playing the fathers of Jennifer Aniston (Rumor Has It), Scarlett Johansson (The Man Who Wasn't There), and Charlize Theron (North Country); is full of big hit movies (Fun With Dick and Jane, There's Something About Mary); and lists an Independent Spirit Award nomination (for 1996's Flirting With Disaster), Jenkins was content to fly under the radar. In person, he's modest to the point of shyness, frequently relying on self-effacing humor. Before Toronto, he had never attended a film festival. He didn't have a publicist or an assistant. He had never done a press junket. And, as he said, he's 60. At one point, the Internet Movie Database had his age listed as five years younger, and he wrote to ask them to correct it to reflect his true age. Definitely not your average actor.
In Toronto, Jenkins scoffed a bit at the idea of promoting himself. "It's not something I'm familiar with, and it's not something I know about," he demurred. "The work is the work, and it speaks for itself. I know a lot of actors who have publicists and love them. And I may be naive — " his voice trailed off. "Well, not 'may be.' I am naive." He also claimed he hadn't been avoiding doing press junkets or interviews. "I haven't been asked," he explained. "I'm a character actor."
What a difference a few months makes. After the warm critical and audience reception The Visitor got in Toronto, the film was acquired by Overture Films for a platform release beginning April 11. The film then played several more festivals, including Sundance in January, which Jenkins attended. He got a publicist. And he has lived through his first press junket, in which he was the star attraction. Remind him of his reluctance to hire a publicist, and Jenkins can't help but laugh. "Did I say that?" he muses. "Well, it's just never occurred to me to do. But I talked to my agent and manager and Tom, and they all said it was something I should think about. I didn't know what to expect, what it entailed — I didn't know anything. And I've been pleasantly surprised."
Strangely, Jenkins seems taken aback by his entire career. Growing up in the Midwest, he had an inkling from junior high school that he wanted to be an actor; he just didn't know what that meant. "I would say things like, 'I want to be a comedian,' " he recalls. "Except I wasn't funny, which was a drawback." His first audition was for the theatre program at Illinois Wesleyan University; he performed a monologue as Big Daddy from Cat on a Hot Tin Roof. "I don't think I even read the whole play," Jenkins reveals with a groan. "But they must have needed students or something, because they put me in." His freshman year, he saw the school's production of Hamlet, and things clicked. "I said, 'Oh, that's what I want to do,'" he notes. "But I still didn't know how."
It was professor John Ficca who finally taught Jenkins the basics. At the end of the school year, Ficca called to ask who he was. "He said, 'Your name is here, but you don't participate in anything,' " Jenkins says. "I said, 'Well, I don't know how. Aren't you supposed to teach me?' He kind of laughed and invited me to the summer stock program. That's where it really began. And he was instrumental in not ending it right there; he really encouraged me."
In 1970, Jenkins and his wife moved to Providence, R.I, where he had landed an apprenticeship at the Trinity Repertory Company. He spent 15 years there as an actor, also serving as interim artistic director for four years. From the start he was up-front with his longtime manager, Bill Treusch, that he wouldn't move. "He told me he didn't care, as long as I was willing to go to New York," Jenkins recalls. "So for many years, I would schlep to New York, sometimes four or five times a week. Sometimes I would go in for two minutes, and they'd say thank you, and I'd have a four-hour train ride home. But that was my decision."
Parts in TV movies and tiny roles in Silverado and Hannah and Her Sisters followed, but Jenkins considers his big film break the 1987 black comedy The Witches of Eastwick. Casting director Wally Nicita pushed for Jenkins in the role of a put-upon husband driven to murder, though to this day Jenkins says, "I have no idea why. But it was my first decent part in a studio movie and absolutely my entrée into film." For the next 20 years Jenkins was a reliable presence onscreen, usually playing the stalwart Everyman or a commanding authority figure. But with his roles, there was always more than meets the eye, be it his inept attorney in Intolerable Cruelty or the button-down FBI agent in Flirting With Disaster who ends up jogging in nothing but his badge and underwear after accidentally ingesting LSD. Even his Six Feet Under patriarch continued to reveal hidden secrets and depths after his death.
Such roles elevated Jenkins to "Hey, it's that guy" status to the general population, though the industry caught on long before. Jenkins rarely auditions, though he notes, "If someone's not familiar with my work, I would rather audition as opposed to letting somebody else talk them into using me." He's sought after by the same directors time and again: He has worked with Joel and Ethan Coen on three occasions, twice with David O. Russell, and multiple times in projects produced or directed by Bobby and Peter Farrelly. Even directors who don't know the actor want to work with him: When McCarthy was penning The Visitor, he wrote the character of Walter Vale with Jenkins in mind, even though they had met only in passing. Recalls McCarthy, "I was thinking of someone who had the chops to carry a film, but I also really liked the idea that Richard hadn't had a lead role in a movie yet. He's not a movie star we know inside out yet. He's a well-respected actor who's on top of his game. And when I would tell director friends about my idea, they all said, 'Aw, I wanted to use that guy in that way!'"
So when McCarthy and Jenkins happened to be staying at the same hotel in L.A., working on movies, the director invited him to dinner, where they talked about everything except the script. "But by the end of the meal, I knew he had the look and the voice that I wanted," McCarthy reveals. "And we have the same agent. So after I finished the first draft, I got it to him, and we had an informal lunch, and he was on board. It was very simple." Jenkins had only a moment of hesitation. "The thought entered my mind, 'What if I screw this up?'" he recalls. "But it goes away, because I'm 60 years old and I just decided, 'Let's do this thing.' I don't know if 10 years ago I would have been ready to do this."
Asked what drew him to the actor, McCarthy can't pinpoint an exact moment or role. "There's not an actor alive who doesn't massively respect that guy," he notes, adding that the same goes for those outside the industry. "I spent a lot of time shooting with him in New York. You walk the street with Richard Jenkins, and people just love him. They stop him, they adore him, they have so much affection for him." Asked what he's most recognized for, Jenkins replies, "Whatever's on HBO that week."
Though the film was shot quickly on a shoestring budget, Jenkins says the experience "was everything I could have hoped for. It was an incredible environment." The only major adjustment for Jenkins was getting used to being in every scene. "I'm used to them calling, 'Cut,' and being able to go get something to eat," he notes. "Here it was, 'No, you're in the next scene.'"
McCarthy has nothing but praise for his leading man, not only for his performance but also for the atmosphere he helped create on the set. "Working with him was a dream. He shows up ready; he's a pro. He really led by example," McCarthy raves. "I think the secret is he's a blue-collar actor. He knows what he's got to do. It's in his blood, and he was meant to do it. But I think he feels very fortunate where he's at. He's got a great perspective on his career, and he shows up and does his work and does it well. As a director, what more could you be looking for?"
When told of McCarthy's kind words, Jenkins demurs: "Look, there are lots of jobs you can do to be miserable; this is not one of them. It's a great way to make a living. And it's nice to be in a position where you can create that atmosphere. And that's what this movie was for me." Asked if he's prepared for his profile to change now that he's a leading man, with his face on a poster and his name coming first, Jenkins returns to his default position of modesty. "Oh, I'm the last person to ask," he says. "I've been doing this long enough to know there are no guarantees for anything. Geraldine Chaplin said to me once, 'All you can control is what you do and the work. After that, it's out of your hands.'"
Outtakes
Recently shot his third film with the Coen brothers, Burn After Reading, and the comedy Step Brothers, in which he plays John C. Reilly's father
His character in The Visitor learns to play the drums, giving Jenkins his first opportunity to tackle the instrument since high school: "I was never very good. But at least I finally did something in my early life that paid off."
Admits he has occasionally taken a role for the money: "You have to eat, and I have two kids to educate. So there's been times where I've said, 'I need to do this. I'm building a house.'"
See next week's cover story for a continuation on the topic of character actors, featuring breakouts Judy Greer, Garret Dillahunt, and Ty Burrell.