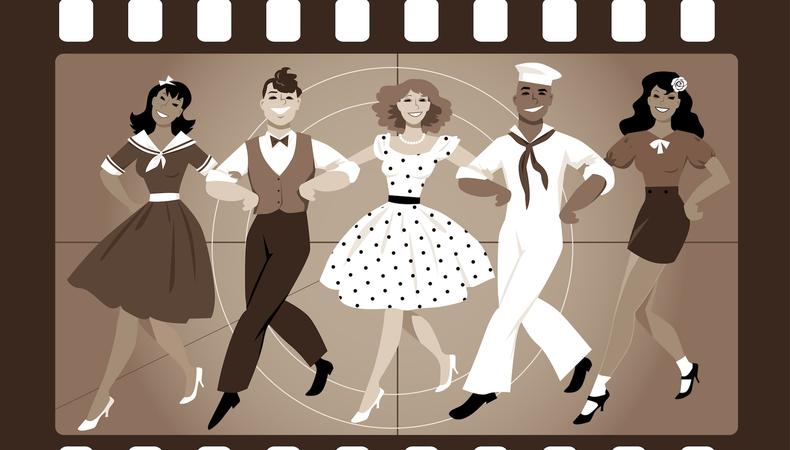 For many of us, our lifelong love affair with the theater first blossomed in summer. As kids we watched "Oklahoma!" or "The Music Man" in an amphitheater under the stars, or enjoyed the antics of Shakespearean clowns in "green shows" before an afternoon performance of "Twelfth Night" or "Romeo and Juliet."

Those of us who grew up near a summer theater could look at the stage and picture ourselves there. Such was the case with Jeremy Webb, a New York–based actor (Lincoln Center Theater's "The Glorious Ones," Ensemble Studio Theatre's "Photograph 51") who grew up near the Hangar Theatre in Ithaca, N.Y. "The theater was kind of like the circus that came to town every summer in my hometown," he says. "I was allured and awed by all the incredible artists that were there for the summer."

A VERY Good Place to Start
Webb began taking classes at the Hangar's Next Generation School. "I remember playing George in 'Who's Afraid of Virginia Woolf?' when I was 12," he says. He also recalls one night a year later when he crept out his upstairs window, shinnied down a tree, and pedaled his bike to the theater to catch a midnight performance of Christopher Durang's "Laughing Wild."

Eventually Webb started getting small roles on the Hangar's main stage, including a one-liner in "Gypsy." He worked behind the scenes too, absorbing theatrical lessons and lore. For a summer theater, the Hangar was remarkably ambitious in its programming, staging Shaw, Tennessee Williams, and Kurt Weill in addition to the usual Neil Simon and Rodgers and Hammerstein shows.

The Hangar started Webb on a career that would include regular stints at summer venues. During breaks from his training at the University of North Carolina School of the Arts, he worked as a non-Equity acting intern at summer theaters across the country. One of his most valuable seasons, he says, was at Summer Repertory Theatre in Santa Rosa, Calif., where he played Frank Butler in "Annie Get Your Gun," Brick in "Cat on a Hot Tin Roof," and 10 roles in the fight-heavy "Three Musketeers"—all in rotating rep.

"That was a pretty incredible time for me," Webb recalls, "to be able to study technique in its most ideal form in an acting studio at School of the Arts and then go off in the summertime and try to apply what I was learning to real-time experiences, where an audience was showing up and you had to sort of cobble a performance together."

As he matured as a performer, Webb retained the summer theater habit, working at places like the Cape Playhouse in Dennis, Mass., and the Maine State Music Theatre in Brunswick. Last summer, he returned to the Hangar to play the lead role of Richard Hannay in "The 39 Steps."

Picking Up the Cues
Like Webb, many a young performer has used summer theater as a steppingstone to a professional stage career. As a kid, New York actor Jim Stanek (Broadway's "A Funny Thing Happened on the Way to the Forum," "Lestat") worked at Pittsburgh Civic Light Opera. He studied at its Academy of Musical Theater, appeared in a traveling children's show, and served as an apprentice, chauffeuring people like Jon Cypher, Vicki Lewis, and Karen Ziemba to and from the airport and hotels. Stanek appeared as a chorus member in "The Student Prince" and soon landed speaking roles in "Camelot" and "Mame."

In 2010, he returned to the theater as Leo Bloom in "The Producers." Says Stanek, "I would tell everyone who would listen, 'That's where I got my start, that's where I cut my teeth, that's where I got my first inkling of what it's like to be a working actor.' "

For some actors, working in summer theater constitutes the bulk of their training. At age 18, Sara M. Bruner was cast as Miranda in "The Tempest" at the Idaho Shakespeare Festival in Boise. At the time, she had little idea what she was getting into. "I memorized a Shakespeare piece for it, not really understanding what I was saying or doing," she says, "but apparently I was all right for it." (The director of Bruner's first foray into professional acting was a young Bartlett Sher, who would go on to win a Tony Award for his production of "South Pacific.")

Because Bruner was perfectly content taking a paycheck for doing what she loved, she delayed her formal higher education. Eventually she would return to school to earn a B.A. in theater studies (and later studied briefly with Shakespeare & Company in Lenox, Mass.), but she credits her on-the-job training in Idaho with giving her the basic and necessary tools. She has now been with the festival for more than 15 years. Recently she revisited "The Tempest," this time in the role of Ariel.

Dancer Shari Katz has had a relationship with Maine State Music Theatre since appearing there in "Beauty and the Beast" the summer before she was to begin work on a master's degree in psychology. After the musical's final performance, she turned to her mother and said, "You know what? There is nothing in my life right now that makes me happier than being on stage." The psychology plans were scrapped and Katz moved to New York to pursue a theatrical career. She's returned to Brunswick a total of six summers.

Katz has come to learn that Maine State Music Theatre is something to highlight on her résumé. In New York, she says, "I go to an audition and the people behind the table see a name like Marc Robin or Donna Drake"—people she's worked with at Maine State—"and they look at me and say, 'Kiddo, you're lucky you've worked with these directors. They are the best.' "

Beat the Clock
As valuable as working in summer theater can be, it also presents significant challenges. The speed with which shows must be assembled is the primary difficulty. Some theaters still use the traditional summer-stock model, in which an ensemble performs one show by night while rehearsing an upcoming show by day. Some companies perform in true rotating-repertory format, with two or more shows alternating. But regardless of the model, time is of the essence.

Shannon Lea Smith has spent two seasons with the Sacramento Music Circus. In 2009, she attended an Actors' Equity call for the theater and landed a job in "Cats." The next year, she appeared in both "Dirty Rotten Scoundrels" and "Joseph and the Amazing Technicolor Dreamcoat." Because "Cats" is particularly movement-intensive, it was allotted about a week and a half for rehearsals. "Scoundrels" and "Joseph," however, were each mounted in a week.

Smith had rarely seen a show put together so fast, but she had a couple of advantages. First, she had experience in the rigors of replacing a cast member in an up-and-running production—something that tested her ability to work quickly. Second, she had performed in "Cats" and "Scoundrels" for other companies (though she needed to adapt to the arena staging in Sacramento, as the other productions were on proscenium stages). With "Joseph," though, everything was brand-new to Smith, including the memory-testing lyrics listing all the colors in Joseph's coat. "It was tricky," she says, "but you just have to kind of force yourself to do it and learn it."

Stanek had appeared in "The Producers" before, at Massachusetts' North Shore Music Theatre, though he found relearning it in just a week for the Pittsburgh production to be "a shock to the system." But an alarmingly short lead-up to opening night can create quick bonding in a company, he says. "There's a lot more work happening on the perimeters of the room or out in the hallways than with a show with a normal rehearsal process. When there's a break, people are still in the corner working on their choreography…or even in the bathroom working on something."

Like Smith, Stanek thinks a buckle-down-and-do-it determination is the best attitude for facing intimidating deadlines. "Thousands of people before me have learned shows in a week," he says. "If they could, I should be able to."

Still, there are times when actors may be pushed beyond their limits. One of Webb's early internships was at a Minnesota theater where the interns were expected to work 17-hour days without a day off in three weeks. On the morning before tech rehearsal for "The King and I," he and seven other company members walked out. It was the only time in his career that Webb has ever quit a job. He felt traumatized afterward, but he came to value the experience as a lesson in knowing when to say no. (Of course, actors working under an Equity contract would never be subjected to such a schedule.)

Great Lakes, Idaho Shakes, Raise Stakes
It's not just rehearsal periods that tend to be truncated at summer theaters. In many cases, the shows' runs will be only a week or two. That's something that has frustrated Smith about Sacramento Music Circus. "There's this sense of wanting to stay in Sacramento longer," she says. "Even if you're there for the whole summer, it goes by so fast."

But things are different in Boise. The Idaho Shakespeare Festival's rehearsal periods tend to be relatively leisurely, with 60 to 70 hours of preparation per show. And the company's novel partnership with Cleveland's Great Lakes Theater Festival allows actors to settle in and live with a show for a much longer run.

Here's the general model: Shows A and B will rehearse and perform in early spring in Cleveland and then move to Boise in mid-May for the summer season. Soon afterward they'll be joined by shows C and D, which will have rehearsed in Idaho. Then, when Idaho's summer season ends, C and D will move on to Cleveland for an autumn run.

This arrangement has provided Bruner with enough workdays each year to maintain her Equity health insurance benefits. She doesn't mind shuttling between the two cities. The performance spaces are very different, which keeps things interesting: Idaho Shakespeare is an outdoor theater with a picnic-on-the-lawn vibe, Bruner notes, while Great Lakes is a "gorgeous" remodeled indoor space. She and her fellow actors value the opportunity to take a break after a show closes in one city, move to the second venue, dust off the production, and address some of those "should haves" that arose in the original staging.

Recently the alliance was extended to a third company, the Lake Tahoe Shakespeare Festival in Incline Village, Nev. (Charles Fee is the producing artistic director of all three theaters.) This will allow actors to spend even more quality time with certain productions.

Summery Disposition
The atmosphere behind the scenes of a summer theater may be harried, but it can also be festive and rejuvenating. Actors tend to enjoy the quality of life—at least once a show has opened. Webb's stints at the Cape Playhouse, for instance, have sold him on the pleasures of Cape Cod living.

The actors interviewed for this article were mostly pleased with the living accommodations they encountered. Setups range from hotel residencies to apartments to stays in private homes. Katz notes that Maine State provides actors with 10 to 12 different housing options. Idaho Shakespeare's venue is located far from convenient housing, says Bruner, so a local car dealership donates vehicles for actors to use for commuting during their stay.

Webb plans to continue pursuing opportunities at summer theaters. He relishes having variety in his career. While he likes working on "heady," abstract roles back in New York, he is also happy to be part of the more lighthearted fare he finds in out-of-town summer engagements.

"In the summer…people are ready to be rocked with sidesplitting laughter or transported to faraway lands," he says. "You feel like you're contributing to people's overall summer experience of being at the beach and eating lobster rolls and enjoying their vacations."