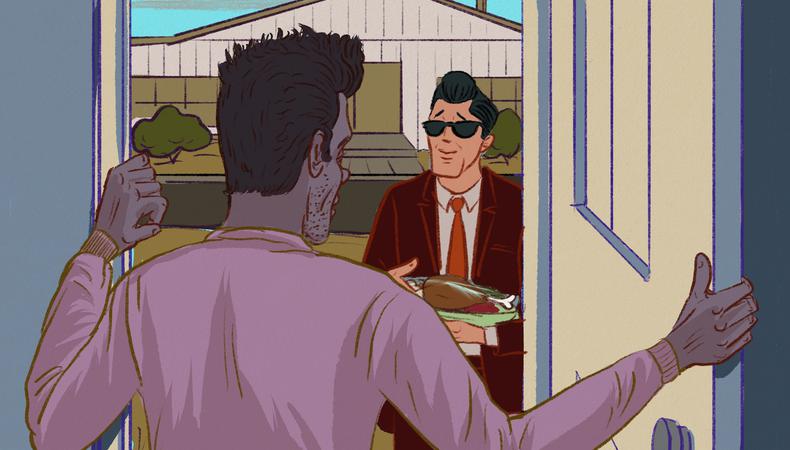 In the spirit of Thanks-giving, I'd like to share a story that gives me hope about the entertainment industry and the people in it. This happened a few years ago right before the Christmas break, and thinking about this tale of joy eases me into the holiday spirit. I hope you enjoy it, too.
At the time, I was representing a character actor in his 50s named Chuck. He had an extensive résumé, and everyone in casting knew him. Clients like this are worth their weight in gold, because they work all the time.
As you can imagine, Chuck was professional and super reliable. That's why I was surprised when he started missing auditions. When I asked what was going on, he explained there were some personal issues he was dealing with, and I shouldn't worry. I accepted that. Then we received some good news. Chuck had booked a major guest star role on a hit sitcom. He was thrilled. His résumé was mostly drama, so this would be an especially fun job and the perfect way to end the year.
When you work on a sitcom, they buy you for a week. The first day is a table read, then there are three days of rehearsing, and the last day is a live taping in front of a studio audience. It's one of the sweetest gigs in town. Two days in, my assistant told me the show's casting director was on the line, and he sounded pissed. When I picked up, all I heard was screaming. "Your client is drunk! He can barely walk! You need to get down here now!"
I broke the land speed record as I raced from Century City to Burbank; the stunt community would be proud. When I finally reached the stage, the casting director was there waiting. He wanted to yell at me in person. I let him. Then the producer joined us, and we made our way down to my client's dressing room. There was no doubt about it: Chuck was drunk. The poor guy looked embarrassed and miserable.
At this point, the screaming stopped, and the tone softened. Chuck was fired. They wanted him to pack up and leave. That was when I noticed the star of the show had been standing by the door the whole time.
"No one is firing anyone."
I can't share his name, but this is a man of stature. When he speaks, everyone listens.
The star told the producer to reassign most of Chuck's lines to the other characters so the story would still work. He also explained that he would be responsible for Chuck's presence on set. And then he asked us to step outside so he could speak to my client privately.
The rest of the week went well. Chuck had fewer lines, but he did all of his scenes, and they paid him in full. I later learned the star used to have a substance abuse problem, so he was especially sympathetic to my client's condition.
The fact that a major star with his own show took the time to help a fellow actor in need still touches my heart. So let's follow his example. Let's look out for each other. Remember, we're all in this together.
I hope you had a great Thanksgiving, and happy holidays!
This story originally appeared in the Nov. 26 issue of Backstage Magazine. Subscribe here.
Looking for remote work? Backstage has got you covered! Click here for auditions you can do from home!