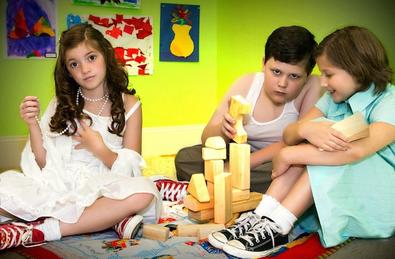 Since co-founding the Plano, Texas–based Fun House Theatre and Film, artistic director Jeff Swearingen has turned an upstart children's theater program into one of the go-to venues for edgy stage work in North Texas. Of their staged productions, three—"Yes, Virginia Woolf, There Is a Santa Claus," "A School Bus Named Desire," and "Daffodil Girls" (a twist on "Glengarry Glen Ross")—have taken classic authors (Albee, Williams, Mamet) and put age-appropriate adaptations in the hands of kids; a fourth, "Game of Thrones Junior," was Swearingen's skewering of the "juniorization" of adult theater works such as "Rent," because according to the artistic director, "people are constantly taking out debatable yet necessary material from stories, and even worse, just flat-out making them simple, crippling the learning process from the get-go."
So how did this actor-director-playwright who was never serious about theater programs in school—opting instead for sports and martial arts—come up with a training method for young actors? We sat down with Swearingen to explore his technique, his philosophy, and how those skills translate to adulthood.
What led you to start Fun House? Bren Rapp actually started it. I [began teaching in 2001], but had reached a ceiling I couldn't go beyond with the program I was in; there was no point in teaching an advanced teaching method to students who didn't want to advance. I had decided to stop teaching when Bren proposed the idea of Fun House.
What sets your philosophy apart from other theater programs for youth? There are several, but if I were to go with one, it would be that we turn [students] away. We only take people who are serious about the work. I have no interest in talent level at all—it's nice to have, but it won't help you survive the amount of work we do. It won't help you survive professionally, so it can't help you here. You have to be a team player. My program is great for two kinds of kids: Those who are serious about becoming good at acting and those who need to find a path to heal. The kids who don't do well are the ones who just want to be told they are stars without ever working for it.
You've become known for writing "kid" versions of adult plays. What was the impetus for that? They were designed to teach tiny children how to perform the various classic authors' styles and keep the emotional weight of the originals… and at the same time, create a viable entertainment option for the public. We create theater with children that is entertaining to audiences whether or not they are related to the performers.
When casting a child actor, what are you looking for? What do the best auditions manifest that sets them apart? Acting is controlling yourself physically, mentally, and emotionally, all at the same time. If a kid can't sit in a chair and be quiet, he can't play Hamlet—I don't care how "dramatic" he thinks he is. I also look for the ability to learn new information. I do not care about talent. You can have all the talented kids in the world—give me the ones who can grow and in a short time they will become better than what natural talent can ever offer.
What's the key to entrusting younger actors with mature roles? There really is no difference, but you have to have a kid willing to do the work. [Fun House Alumnus] Chris Rodenbaugh was an excellent Hamlet at age 15 because he not only spent many excruciating hours learning all of the text, but he spent even more time becoming good at performing it and never stopped trying
to be better.
What advice can you offer to child actors as well as to those who want to grow into adult roles? Read. Watch the greats. See what they do well and think about how they do it well. Pay attention in history and English. Your English assignments are better for your training then 75 percent of the acting classes out there. Literature and poetry are your best friends. Learn about other art forms and find the connections between the ones you engage in and the ones you don't. Studying story structure should be borderline religion for you. Knowing the story will always inform you how to play it. For an adult, I would just add, find a way to support yourself financially.
Inspired by this post? Check out our Texas audition listings!