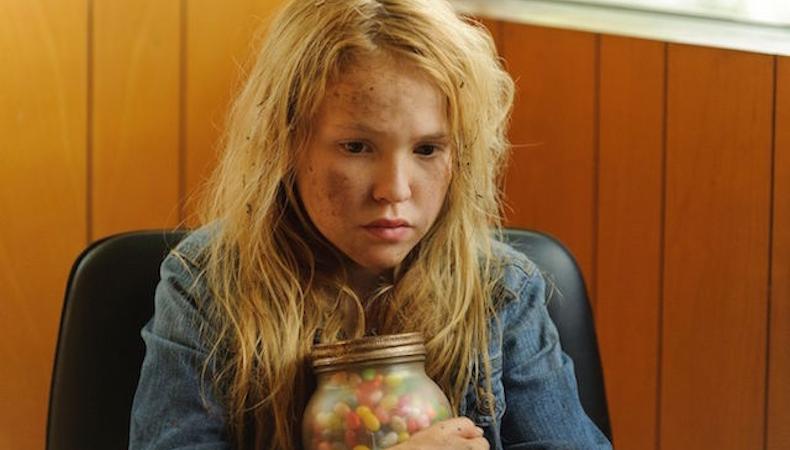 After leading a hit horror franchise this past summer with "Annabelle: Creation" and then adapting a beloved children's novel for the screen with "So B. It," Talitha Bateman is proving to be her generation's breakout leading lady. The 16-year-old talent came by Backstage HQ Oct. 5 to talk about her blossoming life in Hollywood and advice she has for other young actors looking to land roles.
Adapting a book for the screen is nerve-racking!
"Having such a good book to start out with just helped me find out who Heidi was already. I didn't really need to add a ton of backstory to her because I found out where she came from and everything about her [from] reading the book and then going straight into the project. So that excited me more than anything. But it also made me a little nervous because people don't always like film adaptations [of books]. I was afraid of that, so I tried to do my best to do it justice."
She's confident carrying two films as the lead role.
"It's actually really exciting because I feel like they don't always have the little girl lead the film—you know what I mean? They don't always put it on the kid's shoulders. And I think it's really cool that they're trying to open up that idea now and just make other kids the star of this thing. Now, we can have little kids go and see it and look up to those unique characters and really appreciate them."
READ: How to Get Cast in a Horror Film
The key for kid actors is an agent.
"You really have to get started by trying to find an agency that will look at you and just be interested in what your work is and what you've done so far. Then they'll start submitting you from there. Then you'll do headshots or whatever comes next. And don't be discouraged if you just start and you're not booking anything immediately—that's just kind of how it is. You have to wait. It's all about waiting, actually. And rejection. There are a lot of things that you'll go out for that you'll really want and you won't get, and that's just what sucks the most, I feel like, about the industry."
Improvisation on set came in handy for 'Annabelle.'
"Just on set in general, you always have to be open to ad-lib or to anything that goes along with the scene because sometimes you're supposed to be drinking Coke, and then someone drops the Coke and spills it on the floor—that's just an example, this didn't really happen. But then you have to go with the scene. It could make a great scene. Some of the best scenes in movies were improvised and [actors] added in randomly what they felt the character would do. And I think that's really cool, when someone can just go with it. There is one [scene] in 'Annabelle: Creation' where I'm on the little stair lift and I grab onto this post that's right on the side of the stairs. And it broke off! That wasn't supposed to happen—it broke off and I screamed and then David [F. Sandberg, the director,] was like, 'That's great! We're gonna use that one.' "
Want to get started in film? Check out Backstage's film audition listings!