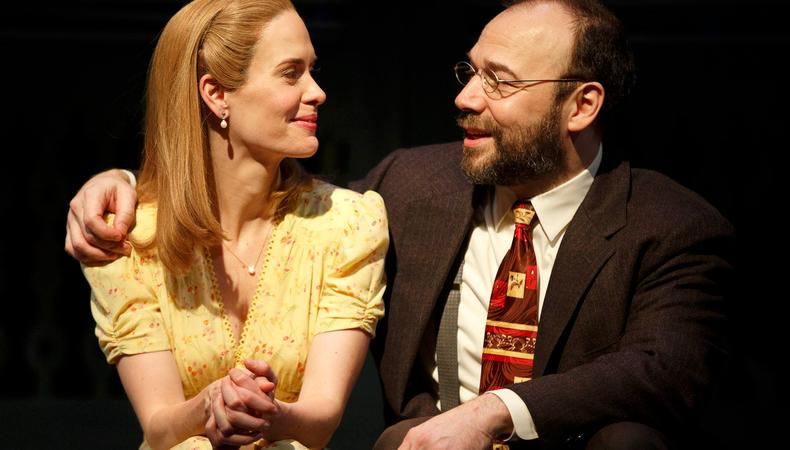 The brilliant Danny Burstein and Sarah Paulson dance a delicate, enthralling waltz in "Talley's Folly," Lanford Wilson's Pulitzer Prize–winning 1979 play about two damaged people who unexpectedly find each other despite being trapped by the stultifying bigotry and conformity of 1944 Missouri. Director Michael Wilson's exquisite production for Roundabout Theatre Company is, as critic Walter Kerr deemed Marshall W. Mason's masterful original, "a treasure."
Matt Friedman is a tightly wound 42-year-old Jewish immigrant accountant from St. Louis who lost his family to German persecution in World War I. The previous summer, on a visit to Springfield, Mo., he met the iconoclastic, free-thinking Sally Talley, 11 years his junior, and they had a brief summer romance. In the intervening year Sally has refused to answer all but one of his daily letters and avoided seeing him when he visited the hospital where she works as a nurse's aide. Nevertheless, Matt has come to the Talley homestead with the intention of sweeping her away to be married that night. Run off the place at the point of a gun by Sally's redneck family, with whom she lives unhappily for financial reasons, Matt retreats to the estate's decaying Victorian boathouse, in which he and Sally used to tryst, to wait for her. She arrives spitting mad, and the dance that Matt describes to us as "a waltz" begins. As dusk deepens into starry moonlit night accompanied by the sounds of barking dogs, croaking frogs, chirping crickets, lapping water, and a far off band concert, Matt presses his case, Sally resists, and each gets to know the other much better until, miraculously, two wounded hearts become whole.
Burstein and Paulson are entrancing together, easily circumventing the indelible memory of Judd Hirsch and Trish Hawkins. The play begins with Matt strolling onstage from the house and delivering a monologue to the audience setting the scene and explaining the situation. "They tell me that we have 97 minutes here tonight—without intermission," it starts, and the affable Burstein has the audience as soon as the line has rolled off his tongue. The actor's acute sense of timing, nimble physical grace, expressive features, and bone-deep emotional transparency combine in a rich, multilayered portrayal of this anxious outsider who thinks he has at last found a way in. Guided by director Wilson's sure hand, Burstein leads effortlessly, cleanly shaping the evening's rhythms. Paulson follows flawlessly. Her Sally is flinty, self-protective, and tersely funny, yet with an underlying tenderness that belies Sally's stated disinterest, as does the brand-new, buttercup yellow tailored dress that she has donned for the occasion (David C. Woolard's costume is perfect). And when Sally mistakenly thinks that Matt is mocking her, Paulson's sudden rage somehow manages to be both volcanic and vulnerable.
Jeff Cowie's enveloping boathouse, nicely set off by a stylized proscenium arch dotted with roses, sets just the right atmosphere, aided by Rui Rita's dappled lighting and Mark Bennett's crucial sound and music. Theater doesn't get much better than playwright Wilson's achingly romantic valentine to that most human folly: love.
Present by Roundabout Theatre Company at the Laura Pels Theatre, 111 W. 46th St., NYC. March 5–May 12. (212) 719-1300 or www.roundabouttheatre.org. Casting by Jim Carnahan.
Critic's Score: A