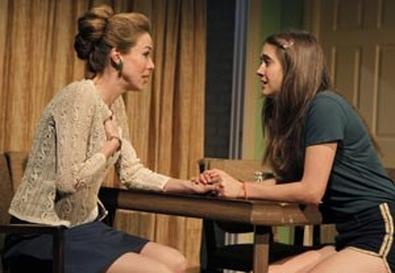 There's nothing particularly wrong with "The Talls," Anna Kerrigan's slice-of-life, coming-of-age comedy-drama set in Oakland, Calif., in the summer of 1970. Kerrigan's characters flirt with stereotype but have just enough specificity not to hook up with it; the playwright's dramatization of family dynamics is acute; and her evocation of period is generally solid. But there's nothing very distinctive about it either, with the 80-minute show playing like a lost episode of the 1970s TV drama "Family." There's fine work from a talented cast of seven and simpatico direction by Carolyn Cantor, but upon leaving the theater I couldn't shake the nagging thought "That's it?"
The slight plot involves controlling family patriarch John Clarke, a lawyer, deciding to run for the post of city comptroller and bringing in a youthful manager, Russell James, to shape up his family for the campaign. However, when his wife Anne's best friend, a Roman Catholic nun named Connie, is hurt in a traffic accident just as the Clarkes are expecting Russell for his first visit, the planned strategy meeting is upended, with Russell getting more than he bargained for as John deputizes him to look after his brood in their parents' absence. As the two middle children, Christian, 16, and Catherine, 15, both athletes, bicker and brawl, 17-year-old Isabelle, intelligent and lovely, with decided hippie tendencies, seduces Russell while 12-year-old Nicholas observes with pop-eyed awe. One more thing: The Clarkes are a uniformly tall family, while Russell is pint-sized.
Kerrigan seems to be most interested in exploring the costs of social conformity and the process of sexual awakening. Both are embodied in the show's most arresting performance, Christa Scott-Reed's turn as Anne, a woman who has suppressed her lesbianism (and her love for Connie) almost without being aware of it, which is why she doesn't understand her enveloping sense of dissatisfaction. Scott-Reed makes Anne an appropriately maternal taskmaster in her opening scenes, then proceeds to unravel with skill and subtlety. Shannon Esper and Gerard Canonico share a quirky chemistry as Isabelle and Russell, which goes a long way toward making Russell's self-sabotaging choices believable. Michael Oberholtzer is spot-on as the narcissistic, self-satisfied Christian, and Lauren Holmes is a convincing mess of low self-esteem as Catherine. Timothée Chalamet's highly stylized choices as Nicholas palpably convey the character's seething hormones, and Peter Rini gives John a combination of decency, ego, and cluelessness that goes far in particularizing this rather bland father.
Kerrigan does occasionally falter in her evocation of these turbulent American times. I was the same age as Christian back in 1970, but I don't recall the term "time suck" being part of teenage slang. Also, Isabelle makes the leap to identifying her mother's lesbianism far too quickly and comfortably, even for a precocious girl growing up in the shadows of Berkeley. Set designer Dane Laffrey, however, does a great job with his very lived-in suburban living room and kitchen (my mother had those plastic cone lampshades, and she was very proud of them too). Jenny Mannis gets the duds right for this middle-class Catholic family, especially with two dresses for Isabelle: a conservative pink-and-white number her mother makes her wear and the boldly colorful and sexily cut one that she changes into for Russell.
There's no question that Kerrigan's got talent and ability, and I look forward to whatever she does next. That said, "The Talls" comes up a bit short.
Presented by Second Stage Theatre Uptown at the McGinn/Cazale Theatre, 2162 Broadway, NYC. Aug. 15–27. Mon.–Sat., 7:30 p.m.; Wed. and Sat., 2 p.m. (212) 246-4422 or www.2st.com. Casting by MelCap Casting.