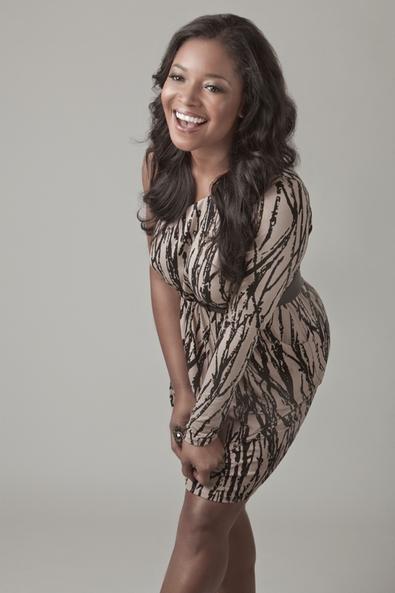 Tamala Jones plays sassy medical examiner (and Beckett's confidant) Lanie Parish on ABC's "Castle." The personable actor enjoys interacting and getting to know her fans, and recently held a Twitter video chat.
As a child, Jones saw classmates Lark Voorhies ("Saved by the Bell") and Jaleel White ("Family Matters") make careers in acting, and the outgoing young actor set her sights on doing the same. Jones booked the first commercial she auditioned for and earned her SAG card for it. Since then she's worked steadily with determination, persistence, and willingness to think outside the box.
How did you get cast on "Castle"?
Tamala Jones: "Castle" came along right after the writer's strike. During the writer's strike it was dry season. So I had a meeting with my manager and agent and I was like, "We've got to step outside the box a little bit. Why don't we ask around to see if they'll let me come in even if the roles aren't written for African-American actresses?" The casting director [for "Castle"], Donna Rosenstein, agreed to let me come in and audition. I literally was the only African-American actress there. The role was only meant to be guest star, possibly recurring if the show got picked up. So I did my thing. Fifteen minutes after I left, they were like "You got it." You would have thought I won the lotto. I was so happy that I got a job.
But it turned into more than that?
Jones: After the show got picked up, I was getting ready to test for "Hawthorne." We called ABC to let them know because if you're going to be recurring they have to know you will be on another network. ABC was like, "No! We want her to be a series regular over here. Don't go to that audition. She's hired!"
Wow. What attracted you to the role?
Jones: I've never played a doctor of any sort. I've always been the girlfriend or the crazy wife or crazy girlfriend smashing up cars and tearing up people's apartments and it got so bad that people were addressing me as if I was really that girl. Now the next challenge was learning all the medical jargon, but I got a doctor role, so it was great.
How did you go about learning all of that?
Jones: They offered to let me tour a morgue and speak to a medical examiner, and I refused because I can't be around dead bodies for real. Andrew [Marlowe], our creator and producer, told me to start watching this show, "Dr. G: Medical Examiner," and I just loved the way that she just knew what she was talking about as she spoke to us about her patients as if they were still alive. She gave you a story behind them, and I adapted that to Lanie…Nathan's [Fillion] like, "You need yourself a medical encyclopedia dictionary," so I got all that. It took me a minute to get comfortable but I got it now and I've conquered that challenge.
What is on the horizon for Lanie this year? Is there any hope for a future with Esposito?
Jones: Oh my God, I hope so, because I'm a big "Castle" fan too. I don't think it's ended. The first half of the season is really focusing on Beckett and Castle's new relationship. But I can see Lanie and Esposito hooking up again. There's something deeper with her. She doesn't take any crap off of anybody, but there has to be a reason why that wall is built up and she won't let anyone in. And I've discussed with Andrew and I have a feeling that Andrew's going to, not do what I said, but come up with something way meatier that explains Lanie this season.
So it sounds like "Castle" was a relatively easy audition process. Do you remember your most difficult audition?
Jones: The audition I totally messed up on was … "The Curious Case of Benjamin Button." I had my little actor's slate; I had my wardrobe on; and I was so freaking nervous that I flubbed every line in there. You would have thought I had a speech impediment. Sometimes you can't help it. And when Taraji P. Henson got it, I was so happy for her and then to see what she did with it. I was like, "Everything is not for you. You have to leave room open in your life to accept that." Some things just aren't for you; they're for other people and she killed it.
"Castle" airs on Mondays at 10/9c on ABC.