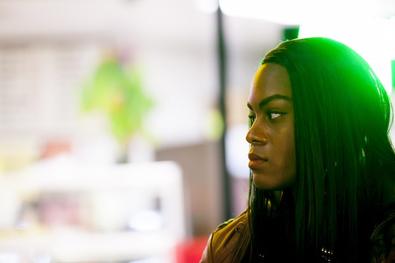 Mya Taylor, star of indie smash hit, "Tangerine," found a leader for her Oscar campaign in reality TV star and former Olympic athlete Caitlyn Jenner. The fellow transgender woman is poised to lead the charge in making history by helping Taylor become the first transgender person nominated for an Oscar.
To mark the start of the push, Jenner is screening the film, which also stars Kitana Kiki Rodriguez as fellow trans streetwalker, Sin-Dee, for Academy members on Jan. 4, and will be following it up with a reception featuring Taylor, director Sean Baker, and executive producers Jay and Mark Duplass.
The vivacious film follows two prostitutes (Taylor and Rodriguez) as they scour all of Los Angeles on the hunt for their two-timing pimp, Chester (James Ransone), on Christmas Day.
Despite the film's critical acclaim, there's trepidation over the likelihood of Taylor's nomination. But with actors such as Laverne Cox ("Orange Is the New Black") receiving Emmy recognition, and other trans narratives like "The Danish Girl," starring Eddie Redmayne as Lili Elbe, the first person to ever undergo a sex change operation, and the TV show "Transparent," for which Jeffrey Tambor won a Golden Globe, hitting the mainstream, the trans community is in the limelight. It might just be the traction and visibility needed for the voting committee, which is made up largely of older white males, to recognize Taylor's acclaimed performance.
Additionally, the nomination would be a huge accomplishment for Taylor, a first-time actor who was cast out of an LGBT center in L.A. with her friend Rodriguez.
"The minute I saw Kiki and Mya together, I thought, OK, here we go. Now we have something," said Baker when Backstage spoke to him in August. "We didn't even have a script at that point. I only knew that we'd be telling a story about friendship and they were going to take the lead."
Taylor has already picked up a Gotham Award win in the breakthrough actor category, so only time will tell if the momentum will continue to the Oscars.
Inspired by this post? Check out our film audition listings!