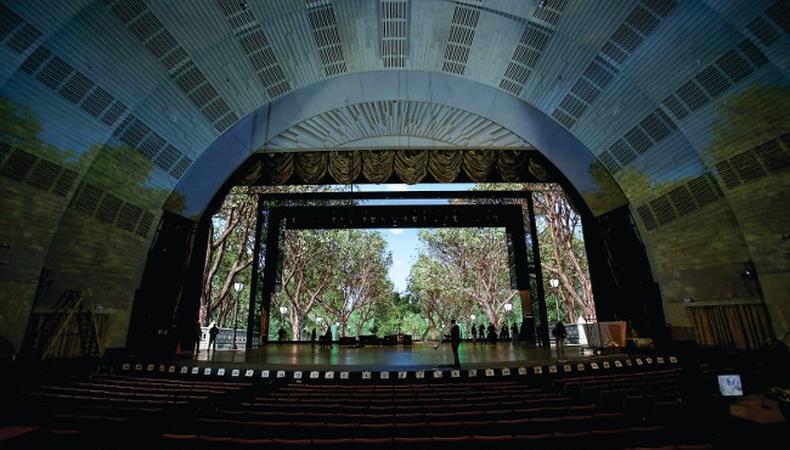 In some ways, the New York Spring Spectacular at Radio City Music Hall delivers exactly what you'd expect. Just like the annual Christmas show, it features jaunty music, high-tech special effects, and precision dancing from the Rockettes, all aimed at family audiences looking for a good time.
But along with the robotically controlled flying kites and the massive Statue of Liberty puppet, there's a subtler surprise: a plot. Instead of a splashy revue, the Spring Spectacular, running through May 3, is a narrative-driven work, with Broadway actors playing the major characters and a cast of 34 joining five puppeteers and 42 Rockettes.
You could argue it's a traditional musical on an especially massive scale.
"Having a story is a new thing here," says director-choreographer Warren Carlyle. (Diane Paulus and Randy Weiner are also aboard as co–creative directors.) "It's an exciting thing for all of us to try to tell a story in this giant, giant space."
Written by playwright Joshua Harmon ("Bad Jews") and featuring a mix of contemporary pop songs, the Spring Spectacular follows an old-school tour guide (Lenny Wolpe) as he shows his version of the city to a tech-savvy businesswoman (Laura Benanti) who wants to replace his tours with a virtual experience.
Carlyle is committed to making the entire house feel connected to this journey, even though Radio City holds thousands of people. "There are many moments where we stop and talk to the audience, and we expect them to respond," he says. "We have image magnification cameras that capture moments in the audience and close-up moments onstage. We're able to see faces and emotions that you don't normally see here."
He's also working with his cast to calibrate their performances. On one hand, that means hitting the very back row, even if it's hard to see that far. "Instead of a scene where they're talking [directly] to each other onstage, I'm turning certain moments out to make sure we can catch that," he says.
But then again, the actors can't get so big that they lose emotional authenticity: "I also want the audience to be able to lean in for certain moments. I want to have moments that are extremely quiet in this big space," Carlyle says.
To that end, certain elements have the "less is more" spirit. Carlyle explains, "Normally onstage at Radio City you tend to fill it with people because if you don't, it looks empty very quickly. But there's a beautiful song that Laura Benanti sings. It's extremely quiet. It's a very intimate moment where she reveals the inner wishes of her character, and I've staged it with just six dancers. It's very small, and I think it's quite beautiful."
He's also working to integrate the Rockettes so they aren't just a brand-name sideshow. In a scene on top of the Empire State Building, for instance, they're dressed like Benanti's character, dancing along with her. "I've used the Rockettes to amplify Laura Benanti in that sequence," Carlyle says, adding that he was inspired by the finale of the classic movie musical "Shall We Dance," in which Ginger Rogers is surrounded by look-alikes.
This underlines Carlyle's goal for the entire production. "I want the Rockettes to be part of the story," he says. "Because then you can't dismiss the numbers. They mean something. You leave space for an audience to engage, to imagine something, and here I would love them to have a truly live experience. I don't want them to be able to sit in the 859th row and watch TV. I want them to be very involved."
Inspired by this post? Check out our New York City audition listings!