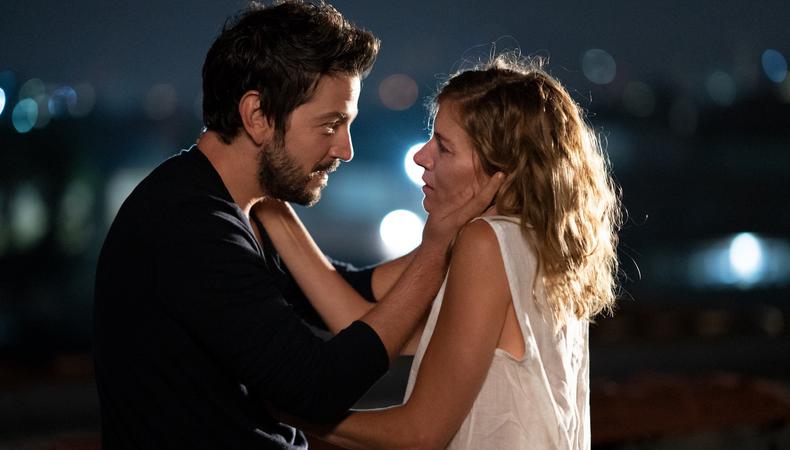 Just like the protagonist in her film "Wander Darkly," writer-director Tara Miele was in a pretty horrific car accident a few years ago. "For just a bit, literally a split second, in my concussed state, terrified, I was like, 'Oh, my God, I died,' " she remembers.
Miele, thankfully, survived the crash, as did her husband. But it became the impetus for the film, an inside-out love story of sorts; Sienna Miller and Diego Luna star as a couple who reexamine the entirety of their relationship—both its wonders and its woes—in the wake of a devastating accident. "I've been really interested for a long time in trying to write a love story that told the best and the worst of it," Miele says, "and how easy it is to get caught in the 'shoulds.' "
Blurring chronology, the film intentionally disorients us as it unspools. It's a big structural risk—and has so far seen big reward; the film was named runner-up for the Grand Jury prize at the Sundance Film Festival earlier this year. Forgoing convention, the story follows Miele's filmmaking approach: Don't just write what you know—write what keeps you fired up.
"This career is not about behaving yourself, and I feel like women, especially, are so raised to be pleasers and to be good girls," she says, citing Patty Jenkins' direction of "Wonder Woman" as boundary-bending inspiration. "And as a writer or as a director, you constantly have to be pushing for what you want and advocating for what you want, and asking for an extra dolly shot or asking for a crane or pushing to keep the scene that everybody wants to cut."
After years of minimal traction in the industry, what turned out to be Miele's breakthrough was her short video "Meet a Muslim," which she calls "the first thing I ever did that was distinctly not for my career." Created in the aftermath of the 2016 presidential election, the three-minute piece was created in response to Miele's mother-in-law voicing support for the Muslim ban at the dinner table.
"I just tried to take advantage of the moment when it came, but the truth is, it was the first time I was using my voice for something I felt had to be said," she remembers. "It was around the same time of the car crash, so it was like: Life is short, Donald Trump is going to be president, my voice is needed, step up. And it's such a good reminder to trust your instinct as an artist and to say the thing you have to say, because that's the thing that really changed my career."
READ: How to Become a Film Director
The video, in which various Muslim Americans are depicted simply existing, caught fire. When it was picked up by Refinery29, clocking millions of views, Ari Emanuel (whom you may know as the real-life inspiration for Jeremy Piven's "Entourage" character) emailed every agent at William Morris to say, "Stop what you're doing and watch this. This is our new client," Miele recalls. Once signed, she had two goals: to make a video for Hillary Clinton and to make "Wander Darkly." (The former remains the one that got away.)
The experience has become foundational—in her career, of course, but also in her life.
"Take lots of advice; go to all the panels; listen to everybody. But then, somehow, when you're sitting down at your desk, you have to make everyone be quiet," she insists. "You're so worried about what the agents might think or what the development assistant might think, or maybe it's what your mom might think. Write what's urgent to you, write what feels emotionally real to you, write what you have to say. It just takes such a long time, too. Hopefully, you care about it enough to work on it for a long time."
This story originally appeared in the Dec. 3 issue of Backstage Magazine. Subscribe here.
Looking for remote work? Backstage has got you covered! Click here for auditions you can do from home!