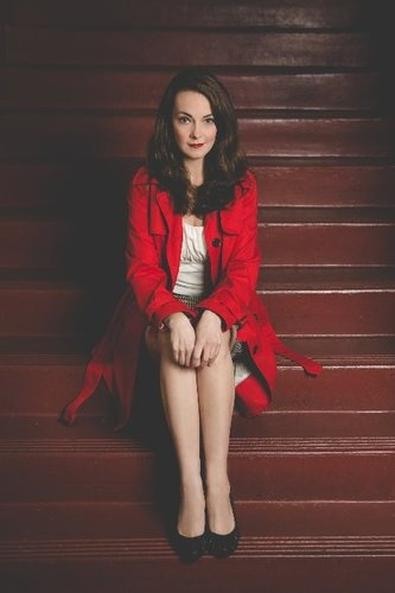 Actor Tara Ochs is a frequent and inspired performer at Dad's Garage Theatre, Atlanta's precursor to SNL and kin to Chicago's Second City, temporarily housed at Little Five Points' 7 Stages Theatre. You may have caught Tara in past productions of Dad's "Spoon the Musical," "Invasion Christmas Carol," and "Durang Durang," but her most notable role to date is as civil rights activist Viola Liuzzo in 2014's "Selma." We spoke with Tara about what she learned from that role, and how she's managed to carve out a successful acting career in the Southeast.
When did you realize you wanted to be a performer?
I was always performing—primarily in church plays—but in so many aspects of my life I was drawn to entertaining, telling jokes, creating imaginary worlds. In high school, though, is when the bug really bit.
How did your career unfold? Was it training, networking, or luck?
The best choices in my career have always been about rebelling. I got into improv because there were no girls in the troupe. I went to Los Angeles without even bothering to vet it first. For better or worse, most of my success has been built on my insistence that I belonged in places I didn't. I got my SAG eligibility and an agent in Atlanta because I booked a commercial that called for a 40-year-old woman when I was 23.
What were your initial inspirations and what led you to the world of theater and improv?
My initial inspirations came from television: SNL, Monty Python, Tracey Ullman. I loved comedy, making people laugh, reenacting old sketches. But what led me into theater were the cute boys. I stayed because I loved it more than the boys. Improv was a lucky break—the guys who started Dad's Garage in Atlanta were originally from Florida State University. They were seniors when I was a freshman. So there you go, cute boys again!
What are some of the major turning points and big breaks in your career?
At FSU Stephen Guarino taught me improv. That was my biggest break. Then I got taken in by the Georgia Shakespeare Festival, and learned how to be a professional stage actor from some of the best in Atlanta. In LA, I had a moment of "holy crap!" that didn't go anywhere—being a regular on Damon Wayan's sketch show "The Underground." But it was exciting. And that's LA, living so close to the jackpot at all times, but still scraping by on small parts and commercial work for years. Moving back to Atlanta was the best thing I could have done for my self. That was my major turning point.
How did you get your role in "Selma" and what did you learn from it?
I got the role in "Selma" by auditioning for it. I have an agent, and the casting directors were also very familiar with my work. I was asked to improvise around the scene, so my improvisation skills were once again useful. I was also very lucky to audition with a very close friend who was reading for the husband role. The two of us work very well together. There was a particular moment in the scene where we connected deeply—I think [Director] Ava DuVernay saw that, and that was the moment that booked us both.
What I've learned from my experience on "Selma" could fill volumes. I've blogged about it. In terms of social consciousness, history, activism—I've had an incredible amount of growth. As to what I can share with actors: extend your responsibility to the story beyond what you do on set or stage. Getting your art seen requires an enormous effort—not just great acting. Educate yourself about the world of publicity, and how you can support your projects outside of the performance—understanding the business of storytelling makes you a much more valuable actor.
What brought you back to Atlanta?
When I came home to Atlanta, all I knew was that I didn't want to wait tables anymore to make ends meet. I wanted a career. I didn't know what that would look like at the time, but I had a world of amazing friends and support back in Atlanta. I thought that I would come "home" and get a normal job while doing community theater in the evening. That never happened. I've been a full-time working actor ever since, but only about five percent of my income comes from film and TV work. In Atlanta I was able to craft a career out of finding places where I was needed. Having to audition for a job makes me nuts! Establishing a résumé that qualifies me for jobs, so that I now have a group of clients who regularly ask me to be part of their projects, is a much better way to live.
When I came back to Atlanta, I reached out to everyone I'd been friends with previously and told them I was ready to work. One of my favorite theater homes (I had several) was PushPush. A great company, always creating risky work and collaborating internationally. That's how I got to be the lead in "Bremen Coffee" (which I didn't audition for) which got taken to Berlin. I worked with my longtime friends, and had an amazing time.
So if every experience isn't a rung on the ladder, or a mark on your résumé, but an island of intense experience, and if you look at each of these islands as merely valuable for its moment in your life, then you start noticing more islands. And you even enjoy the swim between each. "Selma" was one of those islands. People keep asking me what it "got me." If I'm getting more opportunities because of it. What they're really asking if I've suddenly become "successful." I can't explain to them, but I know inside that the experience was its own island, and I'll never know how it connects to the others. It was its own moment. And if I see it that way, then it never loses value because of what I do or don't get in the future.
How does an actor or comic keep honing his or her skills and keep getting better?
Taking classes, performing regularly, learning the other aspects of whatever medium you are operating in. Know what a production assistant does, a sound engineer, a technical director, a publicist. Understand why what you are doing is worth $15, or $100, or $1,000 a day. Where does that money come from and why would anybody pay it to you?
Why is Atlanta a good choice for an actor?
This is a place where we have the resources and energy to create our own projects and to be allowed to do multiple jobs. It's a small family, and hard-working, resourceful, creative people are needed. If what matters to you isn't tons of money and recognition, this is your place.
Are there any parting words of wisdom for actors in Atlanta and actors trying to break into the big time?
If you're having fun, keep doing it. If you're miserable most of the time, seek help to figure out why. Life is too short to let a silly career ruin your fun.
Inspired by this post? Check out our Atlanta audition listings!