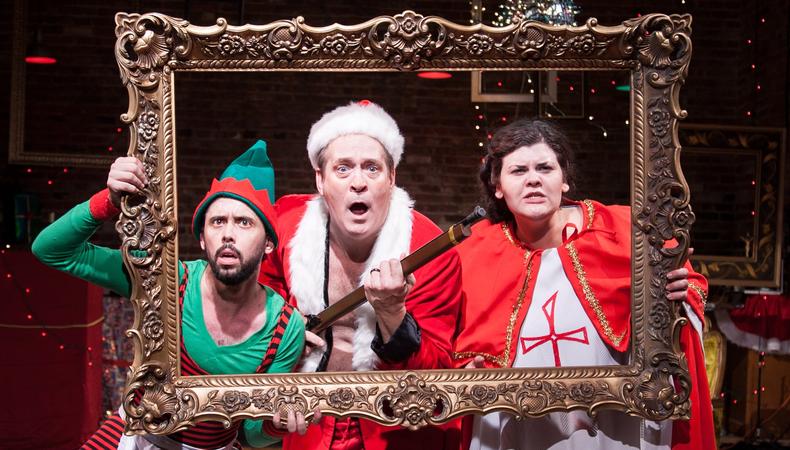 This season Target Margin Theater's Lab is presenting an array of productions—plus a reading and a panel discussion—celebrating the legacy of Yiddish theater. "Dukus," a 1925 play by Lithuanian writer Alter Kacyzne (translated by Joel Berkowitz and Jeremy Dauber), is the second of four mainstage offerings from the company this fall.
Acted by a cast of nine, most of whom assume multiple roles, the play tells of an outwardly haughty yet emotionally sensitive young duke (Sam Trussell) who returns to Poland after time spent in Paris. While abroad he harbored "Jewish fantasies," about which he is now deeply conflicted. The duke has a measure of contempt for the local Jews, yet he finds himself spending time with them and thinking more deeply about their faith. It's partly that he's sexually attracted to a young Jewish woman named Nekhamele (Stephanie Hsu). Perhaps it's also a way to rebel against his dissolute, boorish father (David Fuller). Eventually, the young duke's interest in Judaism deepens, until he has an epiphany and circumcises himself. He's soon fully converted and riding in the fast lane toward martyrdom.
The staging of the play—apparently by cast member Joshua William Gelb, who's billed as "lead artist"—is nonrealistic and savagely comic. It's like a satyr play masquerading as a folk tale. In the scene immediately following the prince's self-circumcision, there's even a mad folk dance with bobbing phalluses (choreographed by Katie Rose McLaughlin).
This is a wild evening of theater, full of bizarre anachronisms, and for the most part it's quite satisfying. True, there are moments, particularly in early scenes, when everyone tries a little too strenuously to let the audience know that this is not naturalism. I found some of the "experimental" touches distracting and a bit stale, such as actors moving in herky-jerky synchronicity or playing scenes face forward to the audience from different parts of the stage instead of facing one another. But there are moments of surreal brilliance in the production too, such as Gelb (as the older duke's clown) sliding across the stage dressed as a Santa's elf while holding on for dear life to a Christmas tree. (That same tree will later double as a Calvary cross, in a scene in which the young duke is presented in a Christlike guise.)
Bradley King's lighting adds greatly to the overall success of the show, as does the splendid and detailed sound work by Kate Marvin, which includes lounge-lizard jazz music, klezmer-inflected Christmas carols, selections from Tchaikovsky's "Nutcracker" ballet seemingly arranged for a burlesque show, and the crackling sounds of execution by burning at the stake.
The acting is not uniform, either in terms of style or effectiveness. Trussell is quite wonderful in the lead; his emotions shift quickly and believably, and the beatific look on his face as he approaches martyr status is perfection. I also greatly enjoyed Fuller as the old duke; he somehow kept reminding me of Cesar Romero as the Joker on TV's "Batman." Hsu, as Nekhamele, is strong as well, especially once the character progresses from shtetl ingénue to proudly unrepentant whore.
Presented by and at the Brick, 579 Metropolitan Ave., Brooklyn, N.Y. Oct. 24–28. www.targetmargin.org or www.bricktheater.com.
Critic's Score: B