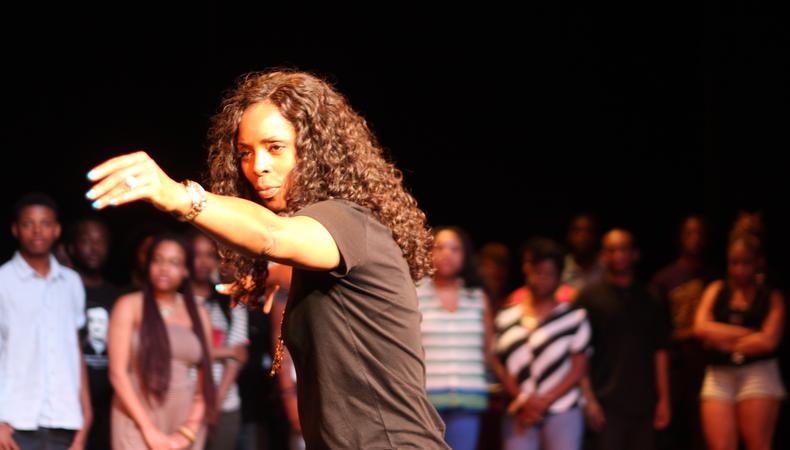 Actor, director, and acting coach Tasha Smith has had an extensive career in the entertainment industry, and her work hasn't stopped in the last few months. Through the Tasha Smith Actors Workshop (TSAW), she's used her motivational life story and experience in front of and behind the camera to inspire and mentor up-and-coming actors. As of August 31, her acclaimed actor resource is expanding its classes to students online, allowing actors to continue honing their craft virtually during the pandemic. Backstage sat down with Smith as part of our ongoing video series, The Slate, to chat about her workshop, and while taking audience questions, she offered advice for actors during this time.
What can you tell us about the move to a virtual TSAW?
What's great is that I have actors all over the world that I work with. People would fly to Los Angeles to take my classes, or I would fly to other cities in order to teach classes and do three-day workshops. What made me so excited about doing it online is that everyone from everywhere in the world could take the workshop. And when you think about the transition of how people are actually auditioning now, people are either putting themselves on tape and doing their callbacks via Zoom. Most of the callbacks and director sessions are via Zoom. So that was exciting because I can not only teach them, but also giving them this tool to be able to work through when they have these auditions, it's a blessing. I love it, I'm excited about it.
What advice would you give to an actor who landed their first role and is surrounded by more seasoned actors?
Preparation is the key. I found that preparing gives security and confidence. When you are clear about the script, clear about the characters, clear about your space within the script, it gives you confidence. But if you don't do your prep and you haven't read your script and you haven't really broken it down—sometimes actors do this, where you may read the script one time and then go to the table read. But I don't think you should look at it like that, especially when it's your first time. You need to read that script at least three to five times. You need to break that script down as if that table read is your performance.
Do you think your acting background makes you a better director?
When I was teaching all the time, I thought I was just there to pour into my students, but I then realized that my students were also pouring into me because they were giving me an opportunity to do what I love to do, which aside from acting is directing. And I got the chance to exercise my instrument working with actors. That's my sweet spot as a director. When people hire me as a director, they don't only have a person that's gonna visually give them something. They can guarantee, put their money on it, that I'm gonna know how to work with actors, know how to communicate with actors, and know how to get what I need, but then also assist them in areas that they may have trouble.
Do you have tips for memorizing lines?
[Focus on] the inner monologue. What's being said in my mind while I'm listening, while I'm thinking? What's on the inside of that dialogue? Once you're clear about that, it's going to give you a foundation of understanding what it is you need to say and what all those words mean to you. Then you'll have a deeper conviction. You won't forget stuff that means something to you.
Should actors take every role they get, or should they turn down roles they don't like?
When you first start out, I will probably say don't be so picky. Allow yourself the opportunity to grow. It's like if someone's like, "Oh, I want to date!" but refuses to go on a date until they find the right guy. Look at it as dating until you find the one. You'll eventually find the one, and when you find the one and your property value starts going up, then you can pick and choose. But every time you get a chance to work with another director, work on a set with different actors, you are exercising your muscle and your instrument. That is preparing you for the bigger opportunity.
How do you train yourself to keep moving forward when you're close to giving up?
I have this scripture, not trying to sound preachy, in Galatians 6:9—"Not to grow weary while doing good, for in due season you shall reap if you faint not." For me, it's about never quitting. It's about understanding that there is a due season, even in a pandemic. All of it is in God's timing anyway. And just because we're dealing with COVID, it doesn't mean that we don't have this time to continue to work on our craft.
For more from Smith, watch her full Zoom webinar session below, and keep tabs on who's coming up on The Slate with our list of programming right here!
Looking for remote work? Backstage has got you covered! Click here for auditions you can do from home!