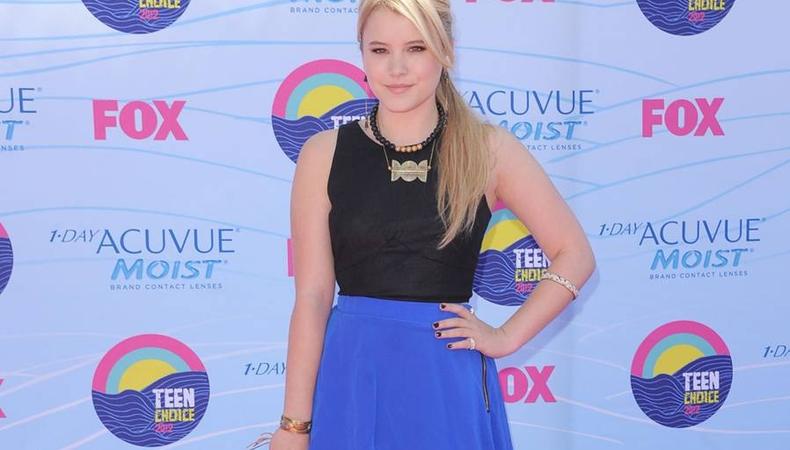 Taylor Spreitler may have missed out on a few teenage signposts, but they're hardly noticed from the fast lane. The seasoned 18-year-old has been a model, a soap opera actress, and now, she's the star of the ABC Family's "Melissa and Joey".
The show, which portrays two teen siblings living with their aunt and a male nanny, features Spreitler as Lennox, the sociable girl who writes her high school's blog and often gets herself into trouble. Playing a kid while she works amongst adults is nothing new for the actor. She chatted with Backstage about working with Melissa Joan Hart and Joey Lawrence, not going to high school, and staying true to yourself.
Before "Melissa & Joey," you acted on the soap opera "Days of Our Lives." How would you describe your transition to a working on a sitcom?
Taylor Spreitler: It's nice going into work and laughing every day and not crying about dead people! It was hard at first. It's a huge transition [to do] a sitcom in front of a live audience. But I work with amazing people. My cast definitely made it a lot easier.
Speaking of your cast, you have some veteran actors working alongside you. Did your co-stars Melissa Joan Hart and Joey Lawrence give you any acting tips from their many years in TV?
Spreitler: Every day they give me a new piece of advice. They grew up in the industry so they know what's it's like to grow up on a set. They're always like, "You show up at work but you have to have fun. And if you aren't, there's no point in doing it." Melissa threw me a graduation on set because I didn't go to high school and didn't get to have a graduation. I have a diploma from "Melissa & Joey High School."
What was it like not going to high school?
Spreitler: I don't really have a lot to compare it to! I grew up very differently than a lot of other people in my hometown in Mississippi. But I can't imagine my life any other way. I flew home and surprised my best friend at his graduation, and I remember turning to my mom and saying, "My graduation was so much cooler than this." I had Melissa Joan Hart give my commencement speech. I never thought growing up in a small town that I'd be working with [Clarissa from] "Clarissa Explains It All."
What have you learned working on the show?
Spreitler: Every episode has had so many relevant issues. As an actor, you come in contact with so many different people and cultures. It makes you a more accepting person. There's a life lesson in every episode.
Is there any particular episode that comes to mind?
Spreitler: There was an episode where [Lennox] pretends to be gay because she doesn't like the way the school was talking about [homosexuality]. I think she's taught me how to deal with situations. There's a way to deal without putting yourself right in the middle of it. That episode stood out to me a lot.
What is the pace of working on a television show?
Spreitler: On "Days of Our Lives," the pace was so crazy. On "Melissa and Joey," it's great. It's fun showing up Monday mornings and doing a table read and figuring out what we're going to do for the week and then seeing it all come together on Friday nights when we're in front of a live audience.
Can you see the audience while you're filming the show?
Spreitler: Yeah, our filmings are like a concert. People are jumping up and down, and we'll sometimes plays Joey's old music, and we have this little dance number that we sometimes do. We interact with them a lot.
What is the secret to staying yourself in the industry?
Spreitler: I think it's who you surround yourself with. You have to keep yourself grounded. In L.A., it's easy to get wrapped up in this young Hollywood mess. You feel like you have to go out every night. You have to realize that you're here to work. I didn't move out here to party all the time. Melissa and Joey have to meet every guy I date.
So it's like their parent roles seep into your real life.
Spreitler: [Laughs] Yeah.
What are some of challenges of being a teen actor that most people wouldn't realize?
Spreitler: Most of us are still in that awkward stage of life where we're trying to figure out who we are. We make mistakes like every teenager in the world, but when you're an actor, people see those mistakes. Twitter and Facebook have made it easier to connect with people and fans, but it's harder to keep your personal life your personal life. It's a lot of pressure, but at the end of the day it's worth it.
What advice do you have for other teen actors who want to make it in the business?
Spreitler: Make sure it's something that you absolutely want to do. It's hard work. I had get over a Southern accent and go through a lot of obstacles. But I love my job, and I love what I do. If it's something that your parents are pushing you into, it's never going to be rewarding.