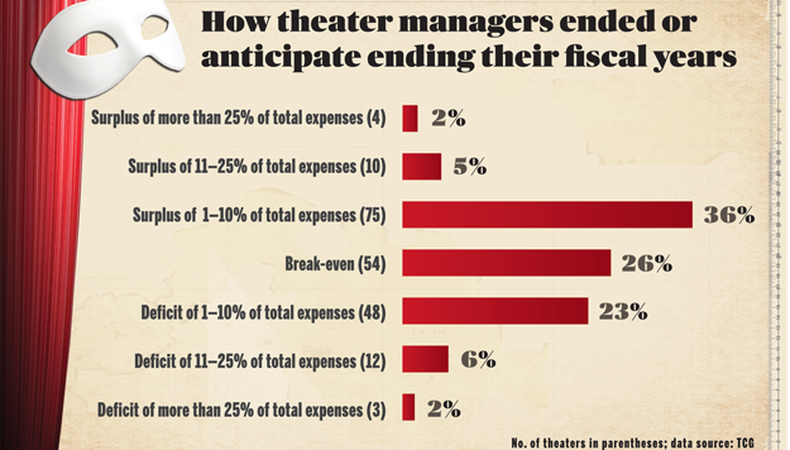 Only four years ago, the theater industry stood on a financial precipice, with countless companies across the nation unsure of whether they would be able to continue. In 2012, however, it appears the future for theater once again looks bright. "I would say we are making strides," said Chris Shuff, director of management programs with Theatre Communications Group, about its recent "Taking Your Fiscal Pulse 2012" snapshot survey. "As far as a full recovery, I think we aren't there yet, but there are signs that are promising."
Following the publication of the in-depth "Theatre Facts 2011" report on the financial state of many TCG member theaters, the group released this most recent survey to capture the current state of affairs for 206 participating theaters around the country. While 69 percent of respondents reported they will break even or end the year with a surplus, a surprising 90 percent of all surveyed theaters believed their financial situation is holding steady or on the upswing. As Shuff explained, the "Facts" survey uses a number of verified data, while "Pulse" is more a snapshot of where theater managers think they are in terms of their budgets. He noted that the positivity displayed by many of the respondents could be due to a rosier outlook of the theater industry itself.
According to Shuff, managers and theater administrators are increasingly getting creative about diversifying revenue streams, from readings and workshops to concession sales and rentals, and believes this new business outlook will hold steady.
"The landscape has dramatically changed. Theaters are looking for more variable forms of income generation," said Shuff. "[Theater managers] are being more savvy and proactive about not relying just on ticket sales. They are looking into new models of support."
Ticket sales remain a main source of income for many theaters and appear to be stable as well. About 72 percent of theaters surveyed said their overall ticket income was equal to or greater than their budget. Also, 73 percent of theaters revealed they had similar or higher-than-expected overall paid attendance.
While much of the "Pulse" data appeared positive, the respondents did raise concerns in the areas of individual giving, donor cultivation, audience development, board development, and corporate and foundation giving as well as cash flow. Of those surveyed, 40 percent of the theaters said they experienced cash-flow problems this year. "That is still a large number and something that we are always looking at," Shuff said.
In terms of audience engagement, Shuff sees member theaters starting to develop relationships with their community through tools such as free programming, which 97 percent of respondents said had stayed the same or increased this year. To this end TCG, with the support of the Doris Duke Charitable Foundation, recently launched "Audience (R)Evolution," a multi-year program to study and promote audience-engagement models.

"Taking Your Fiscal Pulse 2012" is available at TCG.org, as is a narrative version of "Theatre Facts 2011" written by Sarah Hart that recently appeared in American Theatre magazine.