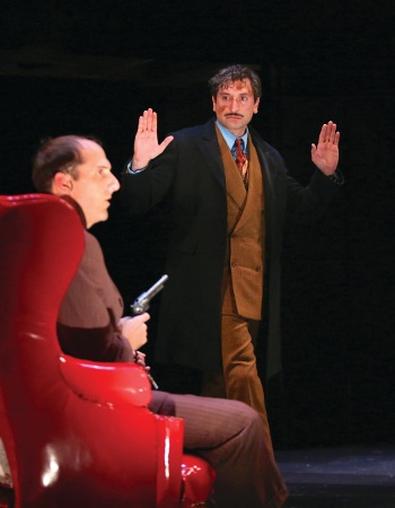 A long, chugging train, straining to climb but doing so steadily and with the mountaintop in view: That's the economic picture painted by the Theatre Communications Group's annual report for 2012 regarding the health of American theaters.
"We're continuing to see improvement with the overall health of the field," said Teresa Eyring, executive director of TCG. "It's been a slow recovery for most industries in the U.S. since 2008. But we're seeing a return to pre-recession levels now."
Among the positive signs in TCG's report was a 6.7 percent rise in contributed income over the last five years, led by individuals but followed closely by foundations. There was also an increase in hiring, as 54 percent of total theater expenses went to payroll, and according to the report, "Every payroll area was at its highest five-year average in absolute dollars and grew at a higher rate than inflation. Theatres added 3.5 percent more employees (full-time, part-time, and jobbed-in) to their payroll from 2011."
"Half of the theaters broke even or had surpluses," Eyring said. "That wasn't necessarily better than last year, but it's better than it has been in the past. That doesn't mean that some theaters aren't doing well. But our gradual gains for theaters are somewhat mirroring the economy at large.
"Working capital is still a bit tight," said Eyring. "We're really trying to focus on that and help theaters improve on that score." Cash flow allows theater owners and directors to spend more time on development and take more risks in their respective markets.
Eyring said that the social media explosion has changed the way theaters are communicating with their constituency as well. "That allowed theaters to use new tools that made it more feasible to market and advertise for a lower cost."
Phil Santora, managing director of TheatreWorks in Palo Alto, Calif., said that his company is a microcosm of TCG's report. "Like many of our peers, we tightened our belts during the recession. Looking forward, our supporters have continued to show real dedication both as audience members and donors. We have a balanced and realistic operating plan in place for 2013–2014."
In Rochester, N.Y., Tom Parrish, executive director of the Geva Theatre Center, said that he has seen two years of growth, in 2012 and 2013, between 18 and 20 percent while also focusing on diversifying revenue and taking more risks. "We have 50 full-time employees, but during the course of the year, we employ about 300 people," Parrish said. Geva also has an extensive social media program, including 10,000 Facebook followers and 2,400 Twitter followers.
"I am optimistic," Parrish says. "We have a new strategic plan that focuses on developing patron revenue, subscriptions, and contributions. We're seeing growth in that area, and we're generating positive working capital now. We have a big hole to climb out of, but we're starting that climb now."