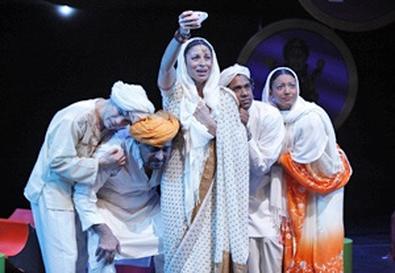 "Tea With Chachaji," the latest production from Making Books Sing, achieves the triple crown of family theater: a worthy message effectively presented in an entertaining manner. If you doubt me, ask the gradeschoolers who sat spellbound last Tuesday watching the adventures unfold at the Lovinger Theatre at Lehman College.
Based on the book "Chachaji's Cup" by Uma Krishnaswami, "Tea With Chachaji" explores the conflicts faced by the children of immigrants, who find themselves caught between their heritage and the American culture swamping them. Composer Denver Casado, playwright-lyricist Gwynne Watkins, and director-choreographer Rajendra Ramoon Maharaj use a shelf full of theatrical tools—from songs and dances to rear-wall projections to masked monkey gods—to make their show fun, accessible, and sticky to short attention spans.
The story revolves around Neel, an Indian-American boy whose schedule of school and extracurricular classes leaves him little time to hang out with his friend Daniel. His mother, a nurse, is determined that Neel become a doctor like his late father, while his great-uncle Chachaji is equally determined that Neel never forget his Indian roots. The clash between his relatives' desires for him and what Neel wants for himself comes to a head when he breaks the teacup that is the physical embodiment of his family's history. As Neel attempts to repair the cup, he searches for a way to meld his family's stories with his own still-unfolding tale.
Casado's eclectic score smartly mixes traditional theater songs, Indian-flavored melodies, and touches of rap. I especially enjoyed the tasty arrangements for guitar, keyboards, percussion, and sitar. Watkins' lyrics and dialogue hew to the characters' ages without condescending to them. Maharaj's direction is wisely cognizant of the need to blend high jinks (to hold kids' attention) with enough reality to make the show's narrative hit home. His choreography conjures a moment of pure musical-theater pleasure when Neel and Daniel cement their friendship on a playground by exchanging contrasting yet somehow complementary Indian and American dance steps.
The cast of five effortlessly creates both realistic characters and mythological figures. As Neel, Raja Burrows proves to be a likable hero and a mean dancer. As Chachaji, Tony Mirrcandani grounds the play as solidly as his character does Neel's family.
The billowing fabrics of Cory Einbinder's set wrap the musical in an exotic but playful atmosphere, and Leslie Bernstein's contrasting Indian and American garments tell the story in their silent but colorful language.
In "Tea With Chachaji," Making Books Sing adds to its roster of family musicals adapted from children's books. If subsequent efforts are similarly charming and successfully realized, New York City's kids have a lot to look forward to.
Presented by Making Books Sing. At the Lovinger Theatre at Lehman College, 250 Bedford Park Blvd. West, Bronx, N.Y.: Jan. 25–28. Mon.–Thu., 10:30 a.m. At BMCC Tribeca Performing Arts Center, 199 Chambers St., NYC: Jan. 30–Feb. 3. Sat. and Sun., 1 and 4 p.m.; Mon. and Tue., 10 a.m. and noon; Wed., 10 a.m., noon, and 7 p.m. At the Goldstein Theatre at Kingsborough Community College, 2001 Oriental Blvd., Brooklyn, N.Y.: Feb. 8–11. Mon.–Thu., 10:30 a.m. (212) 573-8791 or www.makingbookssing.org. Casting by Cindi Rush Casting.