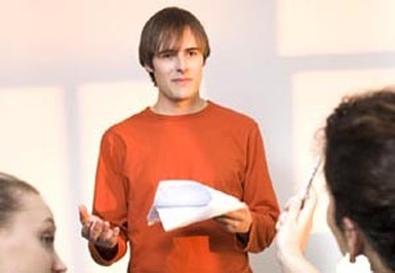 Growing up in the San Francisco Bay Area, Erika Sellin spent many an hour perfecting pirouettes as an aspiring ballerina. Eventually she outgrew her dancing dreams, but a deep love for the stage remained. Sellin became heavily involved in the theater, stage-managing and directing. She segued into casting via an assistant gig on the 2004 film "A Cinderella Story" and soon fell in love with the process.
Now Sellin is in her sixth year with Los Angeles' Center Theatre Group, where she oversees casting for all three of its venues: the Ahmanson Theatre, the Mark Taper Forum, and the Kirk Douglas Theatre. The stages are home to an array of productions, including an upcoming revival of the acclaimed musical "Parade," starring Emmy nominee T.R. Knight. Sellin's other casting credits include shows with L.A.'s Actors' Gang and the Goodman Theatre in Chicago, as well as her Artios-winning work on the Ahmanson production of "The History Boys."
Love a 'Parade'
We cast "Parade" over eight months in New York and Los Angeles, as well as considering some of the actors who did the Donmar Warehouse production in 2007. The sessions mostly had the entire creative team, which was great. What's complicated about "Parade" is it's a very vocally challenging show. Also, most of the actors have to double, if not triple, their parts—some of them have five roles to play. That's always a more complex puzzle to put together.
Homework Help
Unlike film and television, we usually offer the script on every project, so that's available. There's a lot of information out there—we even put it on the breakdown—about our creative team. Actors need to know that if the playwright is alive, chances are very high that he or she will be in the audition room and that they should respect the language that's been given to them. It never goes well if they get into paraphrasing. It's good to walk in there knowing that the playwright's there, who the producer is—whatever information you can get your hands on. Because then some of the mystery of it perhaps goes away and maybe that helps the nerves.
Open Mondays
I really enjoy our monthly open generals for Actors' Equity members, because I find that people who are new to town and really want to do theater find and come to these Mondays. I've been happy to see those people go on to be cast in productions eventually. It's a really great way to meet people. Sign-in starts at 9, ends at 9:30, and we see the first 25 people who show up. They're asked to do two contrasting pieces, and we usually prefer them to be from contemporary plays. It's just a chance to spend five to 10 minutes with somebody and get to know them. The actors who find us on those Mondays are very motivated and passionate about theater. In an industry town that's also about film and television, that's really terrific.
Pre-Read Prep
I try to make sure that in the pre-read world, I prepare actors the best that I can with the material—with notes, with adjustments for the direction they're heading in—so they're most prepared when they enter the room with the creative team. Whether it's suggesting a different song choice, a different take on the sides—all of that comes into play.
A Natural Segue
I got into casting because I was on a short month break between stage-management projects. A friend of mine said there was an assistant position available at Finn-Hiller Casting and that they were looking for somebody to work with actors, look for actors, deal with directors and producers—all of those things that I had done as a stage manager. I thought, "That sounds fun." So I started there on "A Cinderella Story" and quickly fell into really enjoying the process and the atmosphere of it all. It was kind of a natural segue, using a lot of the skills I had from theater.

The Big Picture
Stage management has always been one of my primary interests. I think it informs my decisions while putting together an ensemble in casting, because you intimately know the impact a good ensemble or a bad ensemble has on even a short-running production. I'm always quite conscious of that. As a casting director, you have a unique position for facilitating and being an advocate for the actor but also for the theater, the play, and the creative team. Unlike an acting job that lasts a day, it's a much different investment—for the theater, the director, and everybody else involved—to bring an actor on for 14 weeks. I think the actor needs to be able to join Center Theatre Group's environment and work well with others and all of that. It's a larger institution that they're part of. Maintaining the integrity of the show is really critical. If they're not going to be respectful of that, that's very difficult.
Casting Theater vs. Film
I think theater is inherently different, mainly because you're looking for actors who have the capacity to do eight shows a week and stick with a project for two to 14 weeks. I find that some actors who haven't been doing theater have a hard time connecting in the room, or there are great concerns about their vocal strengths. We rarely use mikes in our theaters, so being able to project and knowing how to take care of your voice become quite important. And the creative team really wants to know, Is this a person I can communicate with and work with for 10 weeks? If they don't connect well, it doesn't necessarily go very well.
I think actors are usually surprised at the amount of material they're asked to prepare. We do a great many sides, and that's based on our creative team's desires. That kind of depth is not always present in other audition scenarios. I think actors have to slow down and listen and be able to respond, because a lot of it is about keeping your focus. It always amazes me how really wonderful actors perhaps don't listen enough and take the adjustment. They've prepared in such a way that they're not going to change it. That's where you lose the job.
Search Terms
What I like about working in theater is the variety. I think it teaches you to be very resilient about your searches and successes and failures. I had never looked for 13-year-old guitar players before "13," and you go, "Wow, this is going to be something new. How do I do that?" You learn a whole new culture and a new world. "Palestine, New Mexico" has several Native American actors—we've just been in development stages with that, heading into November rehearsal. That's been interesting, learning about that community, and the challenges when a playwright writes something and perhaps that person doesn't really exist and trying to get as close as possible to the spirit of what he or she has written and wants, especially when you're talking about a small actor community. But sometimes it has nothing to do with ethnicity or age or anything—sometimes it's hard to find the right 32-year-old Caucasian female. Every single thing teaches you something new about who you're looking for.