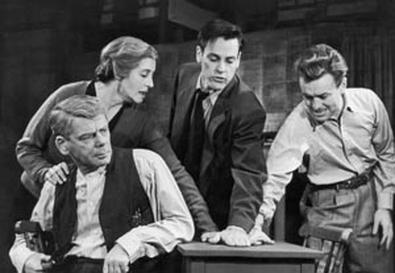 Some years back, my wife and I accompanied Arthur Miller to a performance of
Death of a Salesman
. When we came out, her face was wet with tears. "Never wear mascara to one of my plays," he whispered. She was not alone. Michael Rudman, who directed the 1984 production that starred Dustin Hoffman, said, "The first time I read
Death of a Salesman
…I read it through very quickly. Then I cried." Robert Falls, who directed the 1999 production that starred Brian Dennehy, reacted in much the same way: "I was 12 years old. Upon finishing it, I burst into tears. It made me want to direct plays that had the same force. Decades later, the play still devastates me, still moves to tears."
When he was 16, Hoffman was given a collection of American plays. It included
Death of a Salesman
. "I'd never read a play, so I read that play and I had a kind of small breakdown," he said. "I would walk around just suddenly bursting into tears every once in a while."
There are certain plays that stay in the mind. More than that, there are plays that change the direction of people's lives.
Death of a Salesman
is such a work. Tony Kushner saw his own mother play Linda Loman in a Louisiana community theater production of the play and later recalled that it was at that moment that he decided he wanted to be a playwright.
John Guare's father, a member of the American Legion who had seen Miller listed in
Red Channels
as a subversive, took his son to see the same play. It was only then that Guare discovered his father had once been a salesman. He never spoke of it again. "What was it that so transfixed my father that it compelled this vice-chairman of Americanism not only to break his vows of battling the forces of international Communism and see this story by this man in
Red Channels
, but also risk taking his kid to it? What was he trying to tell me? To this day,
Death of a Salesman
remains the most mysterious play I've ever read or seen." It was a play, however, that for a moment opened a door, previously closed, between father and son.
In England, a teenage Harold Pinter was taken to the play by his parents because they had heard that a Jewish play was coming to town. It was an evening he never forgot, later becoming a good friend of his fellow playwright. In prewar Rhodesia, a young Doris Lessing read the play and thought it spoke to her and her times. When she finally saw it on stage on moving to London, it "shocked and electrified, as it had done on the page."
When David Mamet, who would write a stunning play about salesmen, saw it he confessed to Miller that "you have written the story of my father and me," only to be told that many others had told him the same, a Chinese woman explaining that it was the story of her mother and herself.
It is 60 years since Miller wrote
Death of a Salesman
in a small cabin he had built himself in the Connecticut hills. As he wrote, there were no tears, only laughter at Willy Loman's contradictions. The night I sat beside him, he laughed all over again, as did the audience, until the curtain fell. Then, in the stunned silence that invariably follows this play (which Miller said was about a love affair—between a father and son and between both of them and an America in which they desperately wish to believe), there comes the sound of barely stifled sobs as a connection is made between this failed salesman and those who watch, according him the attention he once craved and which his wife, Linda, demands for him.
Christopher Bigsby is a British literary analyst and novelist, with more than 40 books to his credit. He is currently a professor of American studies at the University of East Anglia in Norwich, U
.
K
.