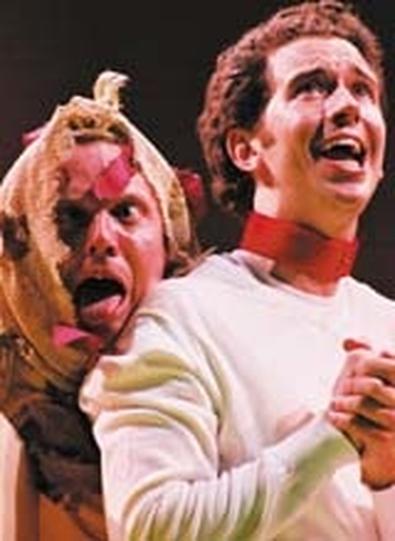 A 1989 Broadway revival of Sweeney Todd at Circle in the Square that used just 14 actors and a synthesizer band of three was wittily re-dubbed "Teeny Todd." Now a new cut-price West End version of this tale of throat cutting employs only nine actors and no band -- the actors double as musicians -- to become "Teeny-Tiny Todd."
"These are desperate times," Sweeney tells Mrs. Lovett -- his accomplice in murder and bakery -- "and desperate measures are called for," as they work out how to turn his handicraft (killing) into hers (meat pies). But he could, of course, be talking about the state of the theatre, where corners are now being cut everywhere, even on such long-running and immensely profitable shows as Les Misèrables, which earlier this year saw the orchestra cut by more than half when it moved from the Palace to the smaller Queen's Theatre, with the sound being augmented by the "virtual orchestra" of Sinfonia -- a technology that producer Cameron Mackintosh is also now about to employ for the new U.K. national tour of Miss Saigon.
Turning the actors into a living orchestra, however, turns out to be more perverse than ingenious, especially for a score as brooding and brilliant as Stephen Sondheim has written for Sweeney Todd. A Mrs. Lovett (Karen Mann) who also plays the trumpet or a (perversely female) Pirelli playing the accordion may fulfill the dictates of a Sondheim lyric from another show, "You Gotta Get a Gimmick," but the novelty soon wears off, and their inadequate playing makes the music sound frugal, diminished, and hopelessly underscored.
Instead of offering triple threats as musicians, singers, and actors, this company could mostly have a new phrase coined for their shortcomings: They are thrice deprived. No one's quite good enough in each discipline, and there simply aren't enough of them, in whatever capacity, to do justice to the soaring music or even the basics of the plot, with the number of murders witnessed, for example, being unceremoniously cut for lack of bodies to kill. But if some bodies are spared, the text and score have been butchered instead. There's so little sense of time, place, or narrative continuity that newcomers to the show might have trouble following it.
Sweeney Todd is being staged at the new Trafalgar Studios, a one-level auditorium steeply created out of the old two-level Whitehall Theatre off Trafalgar Square, with unduly compact seating making it rather hot, cramped, and uncomfortable. It's not the only London theatre currently being given a major makeover, but the news of the work done at the Prince of Wales Theatre -- another 1930s building -- is somewhat better.
Here, after a refit that's cost over £7 million, the theatre is now a show in itself, and so are the nearby streets looking towards Piccadilly Circus that you can watch from its splendid new glass-fronted bars, which are the epitome of style and grace. With its wide yet intimate two-level auditorium, no one's too far from the stage, either; the new seating is positively luxurious and the color scheme of burnished reds is warm and inviting.
But more importantly, Mamma Mia! (which transferred here after a run of five years at the Prince Edward, soon to be home to Mary Poppins) has also been sparklingly recreated in this spanking new environment that recalls its Broadway home, the likewise lavishly refurbished Winter Garden (but with better legroom here). A less welcome comparison to Broadway, however, has been the introduction of an additional "restoration levy" (75 pence per ticket) on the price of tickets for the first time in the West End.
Now there's news of two more terrific theatres in town. First, the Menier Chocolate Factory adds yet more exciting luster to the bustling theatre district of Southwark on the South Bank -- already magnificently populated by the National and the Old Vic (where next month Kevin Spacey launches his inaugural season as artistic director with Cloaca, a new play that he's directing) and Shakespeare's Globe, plus enterprising fringe spaces the Union Theatre and the Southwark Playhouse.
Located a stone's throw from the Tate Modern, the Menier (pronounced men-ee-aye) is another "found" space rather than a purpose-built theatre, part of an 1870 building that originally housed a chocolate factory and later became the home of an engineering company. Now it's been converted into a restaurant and theatre and, since February, both have been run by David Babani and Danielle Tarento, with a particular emphasis on American plays that saw them kick off by bringing John Clancy's 2000 Edinburgh hit, Americana Absurdum, back to Britain.
They've followed it with the British premiere of Becky Mode's 1999 Off-Broadway hit, Fully Committed, with original New York star (and co-creator) Mark Setlock hilariously recreating his Vineyard and Cherry Lane Theatre performance as the struggling actor juggling the phones of a swanky New York restaurant. The run has just been extended to October and couldn't be more appropriate to the venue's excellent twin attractions. It's virtually site-specific theatre!
Meanwhile, literally beneath Charing Cross station in the cut-through of arches off Villiers Street, the Players Theatre -- once a members-only space for music-hall performances -- has been returned to theatrical use after a few derelict years, only now it's open to everyone.
One of London's previously "lost" miniature theatres, this is an intimate and welcoming space, ideal for small-scale musicals like its opening attraction -- a revival of Snoopy!, the Off-Broadway show that brings characters from the immortal Charles Shulz "Peanuts" comic strip to life. It is directed once again, like the 1981 Off-Broadway production and its subsequent 1982 West End staging, by veteran producer and director Arthur Whitelaw. But despite the best efforts of a youthfully engaging cast, it's ending its run early on Aug. 15 -- another victim of an industrywide summer slump in theatre attendance. But a short late-night showcase for Broadway composer-lyricist Jason Robert Brown (and friends) from Sept. 23-26 will test the venue's cabaret mettle.
Next month will also see the hallowed Theatre Royal, Haymarket turned into a cabaret boite, with appearances by Barbara Cook, Michael Feinstein, Michael Ball, and classical pianist Joshua Rifkin and soprano Ida Faiella, in a season that runs from Sept. 7-Oct. 16. They follow the current stage version of When Harry Met Sally playing there, which has recently been newly reinvigorated by the takeover of film and TV actor Michael Landes and Brat Pack film actress and Broadway regular Molly Ringwald as the eponymous duo.
Finally, new productions of two classic musicals enliven the summer. Sondheim, Gelbart, and Shevelove's A Funny Thing Happened on the Way to the Forum proves an irresistible treat at the National Theatre's Olivier Theatre, with witty choreography by Broadway's Rob Ashford to complement the funniest book of a musical on the London stage this side of the fall arrival of The Producers. And London's third in the last 21 years screen-to-stage adaptation of the 1952 MGM classic Singin' in the Rain doesn't entirely answer why it needs to be done on stage at all when the film is so perfect, but former Royal Ballet dancer Adam Cooper steps into Gene Kelly's shoes (and puddles) with effortless grace and style.