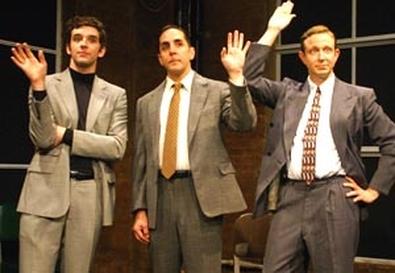 As LGBT people gain greater and greater acceptance in American life, it's important, particularly for younger generations, to know about the hard work that made it happen. Gay artists are reclaiming their history in projects like the award-winning film
Milk
, and now Jon Marans has done something similar for Harry Hay in his bright and affecting new play,
The Temperamentals
.
Hay was a Communist political activist who, with his lover Rudi Gernreich and several other Communists, founded the Mattachine Society, the first organization for gay rights in America, in 1950. The play, which takes its title from a euphemism for homosexuals at the time, is both the story of that nascent political movement and a love story about Hay and Gernreich, a Jewish Holocaust refugee who worked as a designer at MGM and went on to become a famous clothing designer. Marans and his excellent director, Jonathan Silverstein, tell this complicated tale with speed, economy, and piercing emotion, employing only five actors, a few chairs, and some hanging light bulbs.
At the start, Hay is a deeply closeted 39-year-old married father who can't find a single gay man willing to join him in his fight for civil rights. That changes when Gernreich reads Hay's "manifesto" and says, "This document is the most dangerous thing I've ever seen. Count me in." Gernreich attempts but fails to recruit big Hollywood names such as his colleague Vincente Minnelli as supporters. Finally, along with Bob Hull and Chuck Rowland, two other gay Communists, and Dale Jennings, Hull's boyfriend, they move forward. When Jennings is entrapped by an undercover cop in a men's room, his fellow members convince him to fight the charges—unheard of in those days. His acquittal causes membership to take off.
But when Hay is dragged before the House Un-American Activities Committee, his Communist roots are revealed, and he and his co-founders are forced out of the group they began. Hay also loses Gernreich, who realizes that he'll never succeed in his career if he lives his life out of the closet.
The Temperamentals
is particularly successful in dramatizing the horror of a world in which two men publicly holding hands could be arrested. The cast conveys the repression of the era palpably, along with the tremendous bravery of men who refused to accept the situation. Everyone takes on multiple roles except Thomas Jay Ryan, who brings the outsize Hay to blazing life. Ryan is adept at highlighting the many contradictions in Hay, who was simultaneously controlling and vulnerable, and in charting his journey from buttoned-down conformity to the flamboyant charisma of the man who founded the Radical Faeries in 1979. Michael Urie matches him in intensity as Gernreich, capturing the character's Viennese charm and quiet confidence and, despite Urie's dark good looks, locating his sexual appeal in his restless intelligence. Tom Beckett, Matthew Schneck, and Sam Breslin create vivid and distinct fellow travelers as Rowland, Hull, and Jennings and contribute virtuoso work in all the remaining roles, with a special nod to Beckett's Minnelli.
Gernreich's artistic credo was "a bold statement on a classic pattern," and Marans has taken his advice, successfully shaping for the stage a sprawling story more naturally suited to film.
The Temperamentals
deserves a much longer life than this limited showcase run.
Presented by Man Underdog at the Barrow Group Arts Center, 312 W. 36th St
.,
3rd floor, NYC. May 4
–
18. Fri
.–
Mon
.,
8 p.m
.;
Sun
.,
4 p.m
. (
212
)
868-4444 or www.smarttix.com
.