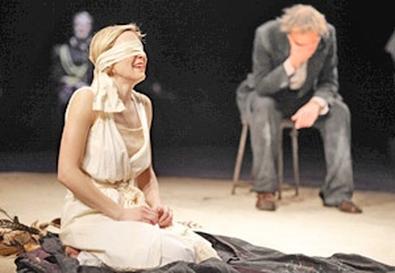 After a lyrical and airy production of "As You Like It," the Bridge Project, Sam Mendes' company featuring British and American artists, continues to dazzle and delight with a gritty yet equally moving mounting of "The Tempest." Most productions emphasize the magical elements of Shakespeare's late tale of the shipwrecked duke Prospero; his daughter, Miranda; his ethereal aide, Ariel; and the monstrous Caliban. Mendes brings the proceedings down to earth and turns what is usually a mystical diversion into a touching family reunion.

For starters, he has Prospero dressed like a Beckettian bum. He really looks as if he's been stuck on an island for 12 years. As played by Stephen Dillane, he's disheveled, disillusioned, and world-weary. Dillane carries over the wry cynicism of his Jaques from "As You Like It" to the deposed duke. The actor adds compassionate wisdom and turns Prospero into a combination down-at-heels magician and roadside shaman. Seated at a music stand with a book of spells, this Prospero stage-manages the action of regaining his title and reconciling with the treacherous brother who usurped him.

Yet this is not the only family connection in Mendes' concept. The flighty Ariel and the earthbound Caliban are seen almost as Prospero's sons, as well as aspects of his personality. One is an androgynous creature of the sea and air; the other is a jealous schemer imprisoned in the earth. Mendes adorns the former with mermaid gowns and wings—fantastic costumes by Catherine Zuber—while the latter literally crawls out of the sand from beneath the stage, one of the many ingenious tricks in Tom Piper's deceptively simple set.

Christian Camargo plays Ariel as an otherworldly teenager, eager to please his spiritual father but chafing at the restraints of his servitude. Ron Cephas Jones' Caliban is more complex than the usual howling abomination. You can see his deep love for Prospero, which has been twisted into rage by his ambition to supplant his mentor as ruler of the island. You can also see Prospero's affection for both creatures in Dillane's detailed performance.

Juliet Rylance pours passion into the normally passive Miranda. Her profound expressions of horror as her father recounts the tale of their banishment and her equally unbounded joy as he later presents a fairy pageant for her nuptials with Ferdinand speak volumes of subtext.

The scenes featuring Thomas Sadoski and Anthony O'Donnell as a pair of drunken servants conspiring with Caliban produce the necessary comic relief, but having Sadoski attired as a kind of 1950s lounge singer is a gambit that falls flat. It's the only false note in this otherwise harmonious "Tempest."


Presented by Bank of America, the Brooklyn Academy of Music, the Old Vic, and Neal Street at the BAM Harvey Theater, 651 Fulton St., Brooklyn, N.Y. Feb. 25–March 13. Schedule varies. (718) 636-4100 or www.bam.org. Casting by Nancy Piccione and Maggie Lunn.