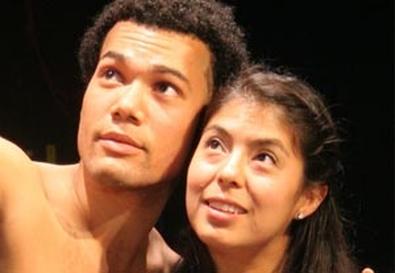 The virtual extinction of the native Taino people by Spanish colonizers in 16th-century Puerto Rico serves as the background for "Temple of the Souls," a new musical currently running at the West End Theatre. Playwright-lyricist Anita Velez-Mitchell and composers Dean Landon and Anika Paris (Paris also contributes some additional lyrics) use a "Romeo and Juliet" love affair between a Taino man and the daughter of a conquistador to depict the tragic consequences of that cultural collision, which they achieve with passion and clarity. However, because they present the conflict in black-and-white terms—Taino good, Spaniards bad—they reduce their characters to types and their show to a lesson.
Amada and Guario are forbidden to be together by Amada's father, Don Severo, but they defy him and meet on top of a mountain known as the Temple of the Souls. Don Severo wants Amada to marry his nephew Nemesio, but this becomes impossible when Amada discovers that she's pregnant with Guario's child. Don Severo and Nemesio go to the Temple of the Souls to bring Amada back home, but in the darkness Don Severo accidentally kills Nana, his mistress and Amada's mother. He then kills himself in remorse. Amada begs Nemesio to spare Guario, but Nemesio kills him anyway. Amada determines to raise their child, the last of the Tainos, and write a history of their people.
Director Lorca Peress makes the scenes involving the central characters crisp and pointed, but she has less success with the more generic group scenes. Milteri Tucker's choreography provides welcome energy, even though some of the dance moves seem more suited to a concert hall than a Taino ritual.
Jen Anaya's Amada comes to life when she releases her inner Taino, as you would expect in a show that comes down on the Taino's side. Joshua Torrez underplays Guario, rendering him less heroic but more endearing; Ricardo Puente fittingly chews scenery as the bombastic Don Severo; Kenneth Kyle Martinez, as Nemesio, brings personal charm to a role that could have been a cliche; and Robmariel Olea convincingly limns Nana as a woman torn between conflicting loves for her daughter and her lover.
On the technical side, Mark Richard-Caswell's costumes elegantly draw the distinction between Europeans and Caribbeans, and Peress' set wisely provides a bare stage that allows action to shift effortlessly from town to mountaintop.
The most successful element in "Temple of the Souls" is its score, which is filled with accessible melodies in an Andrew Lloyd Webber vein. "I'm Not Dreaming," a duet sung by Amada and Guario, is as achingly tender a ballad as I've heard all year. MultiStages can be proud for having introduced us to this songwriting trio. I hope we hear more from them.
Presented by MultiStages at the West End Theatre, 263 W. 86th St., NYC. Dec. 9–23. Tue.–Sat., 8 p.m.; Sun., 3 p.m. (Thu., Dec. 15, performance is at 7 p.m.) (212) 868-4444 or www.smarttix.com.