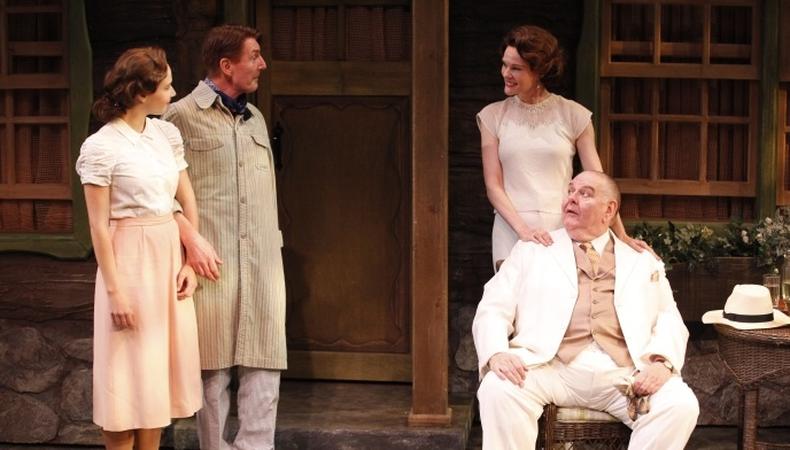 Alfred Lunt and Lynn Fontanne, the first couple of 20th-century English-speaking theater, were stage-obsessed (they turned down million-dollar movie offers), insisted on always working together, and treated their offstage lives as one big rehearsal, even when in residence at their country retreat. Alfred built that home in a rural area of his native Wisconsin, and kept adding to it until it had eleven chimneys. Before he installed the last one, Lunt dubbed the house "Ten Chimneys." The New York premiere of playwright Jeffrey Hatcher's play of the same name invites audiences to witness the domestic life and peek inside the home of acting royalty. Who wouldn't want to visit?
Scene and lighting designer Harry Feiner hasn't recreated the titular big house for this small stage, merely the studio Alfred had built on the property for Noel Coward to write in when he visited. (I trekked to Ten Chimneys earlier this year and so was pleased to see that Feiner got this out-building just right, inside and out.) Feiner has crafted an authentic and charmingly cozy set that feels lived in by the show's seven-member ensemble cast, who portray these attractive and flamboyant historical figures with fluid direction by Dan Wackerman. I'd move in tomorrow.
Hatcher has wisely limited the action to a couple of August days in 1937, followed by a recap of the events some eight years later. The first act takes place in the pool area outside the studio, the second act in the great room within. Alfred (Byron Jennings) and the British-born Lynn (Carolyn McCormick) are rehearsing a scene from their upcoming tour of Chekhov's "The Seagull," but his Trigorin and her Arkadina are frequently interrupted by Alfred's termagant mother (Lucy Martin), his half-brother Carl (John Wernke), and half-sister Louise (Charlotte Booker). The latter two, who live nearby, are treated more as dogsbodies than as siblings. Noel is nowhere to be seen, though he's referred to often and his singing voice is heard on entr'acte recordings.
The many intra-familial conflicts already in progress are heightened by the arrival of two more "Seagull" cast members who have come to rehearse at the house: the established character actor Sydney Greenstreet (Michael McCarty) and a fresh young talent named Uta Hagen (Julia Bray), who is to play Nina. Just as Chekhov's Trigorin and Nina have an affair that leads to her pregnancy, Lunt's and Hagen's rehearsals quickly lead to real-life complications, revelations, and a lot of scheming.
I suspect that much of Hatcher's dialogue must be contrived (he cites no sources) but it certainly has the ring of truth and offers insight into the relationship of a complicated couple. Lunt and Fontanne retired in 1960 and made only one movie, 1931's "The Guardsman," so most contemporary audiences never got to see them and may know little more than the Broadway theater named for the couple on West 46th Street. I'd suggest this production as a must-visit, just two blocks west.
Presented by the Peccadillo Theater Company at the Theatre at St. Clement's, 423 W. 46th St., NYC. Oct. 3-27. (212) 352-3101 or www.ovationtix.com or www.ThePeccadillo.com. Casting by Michael Cassara.
Critic's Score: A