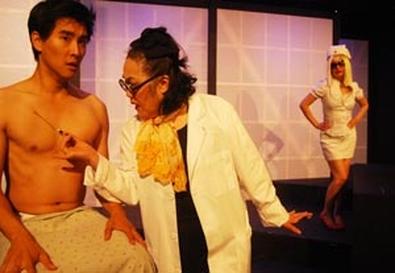 Now in its 10th and final year, Lodestone Theatre Ensemble has never been afraid of taking chances and exploring unexpected, dark places. In the company's latest outing, four playwrights find interesting ways to take us to extremes in individual works that make terrific use of an impressive pool of talent. The plays in
Ten to Life
are definitely cut from the same cloth, however—the same patterns and designs repeating throughout all four. And this in itself becomes a problem.
Annette Lee's
Hacienda Heights
is perhaps the most risky of the plays in that it surprises us with powerhouse performances by Emily Kuroda and Janet Song as narcissistic mothers from a special kind of hell. Ewan Chung plays a troubled student whose private plans for the day are foiled by a visiting census worker (Fedor Chin). But while the actors plumb the delightfully graphic material here for everything it's got, what it doesn't have is a sense of truth to ground its shock-value components. To some degree, the same is true of
RE:verse
, by Nic Cha Kim. Clever and well-executed—director Alberto Isaac has some fabulous tricks up his sleeve—this tale of passion lost and found at whatever cost is a bit like a sweet sketch that's stretched a bit too thin.
Working on Philippe Levine's versatile set (beautifully lit by Christopher M. Singleton), Isaac's directorial hand is subtler but just as effective in
Be Happy
, a two-hander by Tim Lounibos, featuring Chin and a wonderfully fragile Peggy Ahn. A twisted look at a sharp turning point in a marriage, Lounibos plays with needs and intimacies in an intriguing way, but within this evening the play feels too familiar and gets lost. Although Judy Soo Hoo's
The Red Dress
covers much of the same ground, it rises above what could be a been-there-done-that, got-the-myth-down tale of true love and transformation. Here Song and Elpidio Ebuen are a happy couple with real-life concerns that connect to quite another world; Jully Lee does a fabulous best-friend turn, and Kuroda's Grandma is a capper worth waiting for.
Presented by Lodestone Theatre Ensemble at GTC Burbank, 1111-B W. Olive Ave
.,
Burbank. May 2
–
June 7. Fri
.–
Sat
.,
8 p.m
.;
Sun
.,
2 p.m
. (
323
)
993-7245 or www.lodestonetheatre.org
.