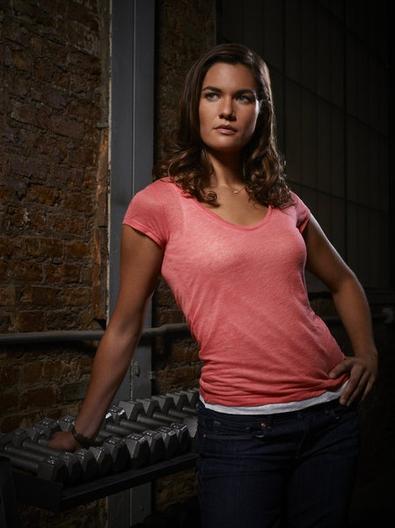 Dick Wolfe, who made television history by creating "Law and Order" and its offspring, has a new life-and-death drama premiering this season on NBC. "Chicago Fire" follows the firemen, rescue squad, and paramedics of Chicago Firehouse 51 as they save lives, bicker, and—if the pilot is any indication—bare their perfect bodies in and out of the shower. As doctor Hallie Casey, Teri Reeves doesn't have to deal with backdrafts or looking sooty; instead, she stars in what she calls "the heavy-hitting drama" as the estranged wife of Jesse Spencer's fireman character Matthew. Backstage spoke to Reeves from Chicago about what happened between Hallie and Matthew, her résumé's surprising lack of Wolfe shows, and the show's hunks.
Before we really dig in, we have to ask the question that will be on everyone's minds: Why would Hallie ever leave that hunk of man, Matthew?
Reeves: [Laughs] They actually changed the original pilot because they wanted me to be more sympathetic so the audience is on my side.
Phew! So what's the reason now?
Reeves: Well, Hallie is a resident doctor in the ER. She's focused on her career but madly in love with this man who wants to start a family, but she's not ready yet. So that's where the conflict lies. But as the show progresses they try to figure out how to work around it. And then here comes this cute EMT who also has her eye on that hunk of man!
Tell us about your character.
Reeves: Hallie serves mostly for the heavy-hitting drama. She's what happens when the firefighter goes home and has to deal with his real life. I come in, we laugh, we cry, we break up, we get back together. [Laughs] I'm the emotional rollercoaster of the show. Which is neat for me as an actress because I typically play women who are very strong but like to hide their emotions. Hallie is one who feels big and isn't afraid to be upfront about it. So it's a little daunting to be vulnerable in front of so many people [on set].
Had you done any "Law and Order" series, or if this your first Dick Wolfe experience?
Reeves: No, never! It was an incredible gift that I was so excited for. The integrity [Wolfe] tells his story with is enormous, and you know you're working with someone you can trust. And he was on set with us for a good amount of days on the pilot and it felt like we were really well taken care of and on a professional journey together, which is nice for an actress!
Backstage: And you actually get to film in Chicago, right?
Reeves: Yes! I love it! We're in the middle of shooting episode seven. When your show is set in the city and the city is sort of a character on the show, it helps you as an actor to absorb. It gives it more authenticity. The real firefighters of Chicago are on set with us on a daily basis. The people of Chicago are on the show and influencing our characters and how we tell their stories.
"Chicago Fire" premieres on NBC Oct. 10.