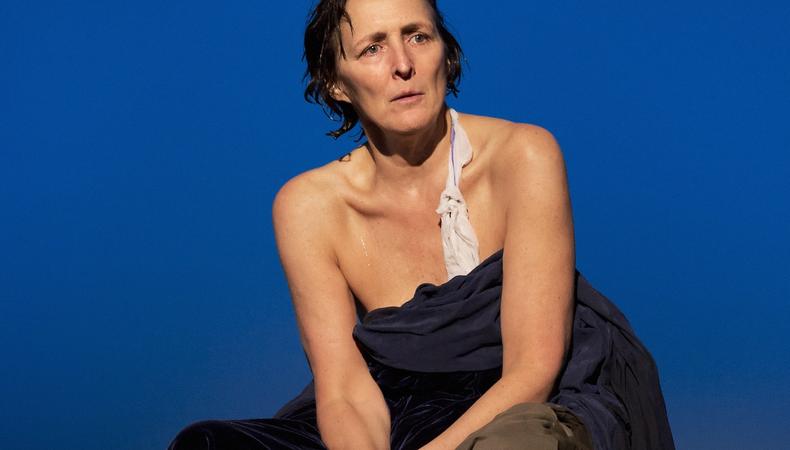 That Fiona Shaw is a force of nature is indisputable. As a very human Virgin Mary in playwright Colm Tóibín's 90-minute monologue "The Testament of Mary," Shaw prowls about Tom Pye's object-strewn set declaiming her lines in everything from a whisper to a shriek and all stops in between while jangling large metal nails, hurling a hefty wooden ladder this way and that, stripping naked and plunging out of sight into a pool of water, and even at one point conveying a large yellow-beaked black vulture offstage. Working with longtime collaborator Deborah Warner as her director, Shaw is never less than a compelling presence. I'm not convinced, however, that all the symbolic clutter is the best elucidation of Tóibín's simple, moving deconstruction of one of the world's most beloved religious icons.
As the author points out in a program note, Mary barely speaks in the Bible, a shadowy figure, which allows believers to impose their needs upon her. Tóibín imagines her as a loving mother and wife. This Mary is no fan of her son's activities as an itinerant preacher and healer—"I'm not one of his followers," she insists when warned that she is in danger, calling them "a group of misfits"—and believes that when Jesus raised Lazarus from the dead he "mocked the very way things are in the world." Angry at her son's willful embrace of destruction and locked into a grief that will not dissipate, she can't even say his name. When one of the disciples explains the concept of the virgin birth to her, she is contemptuously dismissive: "I barely listened. I knew what happened."
Mary tells her story from a house that Biblical scholars believe she was installed in by Jesus' disciple John, on the outskirts of the ancient city of Ephesus in what is now Turkey. She thinks of the unseen two disciples who provide her with necessities as "my minders, my guards." They are busy writing the New Testament, and she is distressed as they interview her about the day of the crucifixion at how they are manipulating her son's life for their own ends. Yet the program says that the time is "Now," the stage is littered with a mix of properly historical and more-contemporary items, and Mary is seen smoking what appear to be joints of marijuana and swigging from a commercially labeled liquor bottle. None of these things are in the printed script, and they begin to feel so calculated and intellectualized that an airlessness pervades the proceedings. Similarly, Shaw's vocal mannerisms and dramatic use of physicality increasingly seem not only imposed and inorganic but also repetitive.
Tóibín appears to be suggesting that Christianity would be better off if it abandoned the dubious idea of Jesus' divinity. I haven't been a Christian for 40 years, so that's a question I'll leave to others, except to say that the case might be more compellingly made with less.
Presented by Scott Rudin, Stuart Thompson, Jon B. Platt, Roger Berlind, Broadway Across America, Scott M. Delman, Jean Doumanian, Roy Furman, Stephanie P. McClelland, Sonia Friedman Productions/Tulchin Bartner Productions, the Araca Group, Heni Koenigsberg, Daryl Roth, and Eli Bush at the Walter Kerr Theatre, 219 W. 48th St., NYC. April 22–June 16. (212) 239-6200, (800) 447-7400, or www.telecharge.com.
Critic's Score: C-