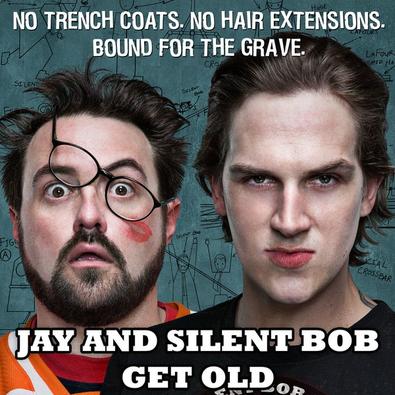 Jay and Silent Bob get old onstage; the Austin Film Festival adds a digital competition; and it's the comedy stylings of "Jaws." It's also this week's Texas news roundup.
Jay and Silent Bob's Mid-Life Crisis
The popular podcast "Jay and Silent Bob Get Old" by Kevin Smith and Jason Mewes will be onstage this August at Oak Cliff's Texas Theatre. The duo have toured throughout the U.S., recording each event and then releasing the audio as a free podcast, resulting in the show being ranked the top podcast on iTunes Comedy. The shows are a look into what happens when two guys from New Jersey grow up together in the Hollywood limelight.
Austin Film Festival to Launch Digital Competition
In a nod to the web's growing importance in filmmaking, the 2015 Austin Film Festival has announced a digital series competition for scripts and films. Finalists will have their film screened during the festival, which takes place October 29 to November 5, 2015.

"Jaws": Live!
To honor the 40-year anniversary of the quintessential summer movie, "Jaws," the members of the Old Murder House Theater will perform it live. The same group who brought you live versions of "Jurassic Park," "Aliens," and "Robocop" will re-create the film's shark hunt, complete with Robert Shaw's famous "USS Indianapolis" speech. It all takes place at Austin's Scottish Rite Theatre.
Inspired by this post? Check out our Texas auditions listings!